The flexible and digital workplace of Barco
Published on 11/12/2018 in Customer Stories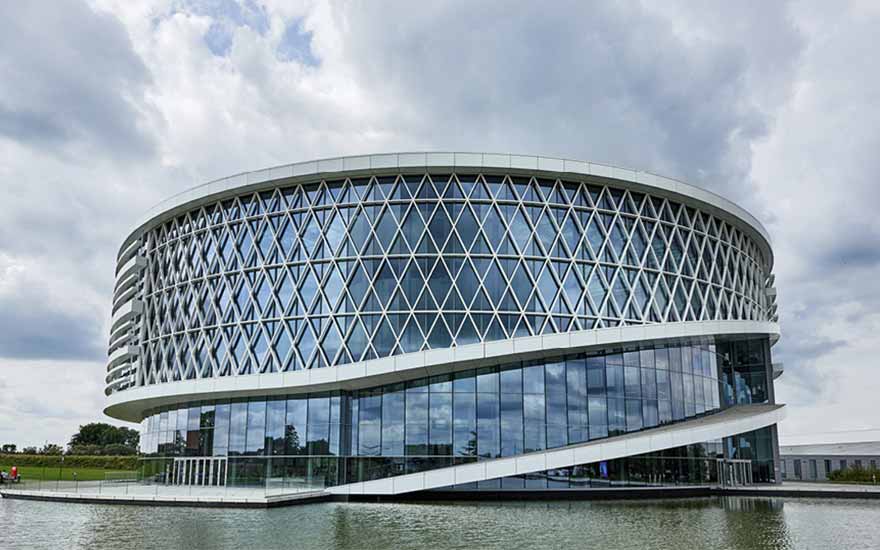 In 2016, Barco in Kortrijk moved to a new site where the most striking feature is the circular, glass building, The Circle. With it came a new way of working, flexible and digital, catered wholly to the needs of modern employees.
Yves Bryse, Campus Manager: "Historically, Barco was founded and built on two sites in Kortrijk and Kuurne. Not only had the buildings there become outdated, we also had the impression that there was little synergy between the two sites. When the idea of investing in a new building came up, we questioned the staff in depth. We compiled their ideas and wishes in a manual that we took to the architect. The new building had to be welcoming, in a location where everyone could work together well and in a place that could easily be adapted over time to the development of the company, without having to constantly rebuild."
Barco is applying flex work in the new building. How did you take this into account during the construction works?
Bryse: "In new office buildings, sometimes you see an exclusively open-plan layout - and nothing else. We didn't fall into that trap. For the new way of working, we opted for a wide range of different workspaces. Yes, there is a lot of open space, but at the same time there are other rooms on all floors, where people can hold meetings or work in silence. We believe it is important for everyone to be able to work together well, but also take a break easily. There is a terrace and at least one coffee area on each floor. Centrally, there is a large restaurant where people can meet throughout the day."
The internal network
What was the most important motive for evolving towards a digital workplace?
Bryse: "We realized that staff usually had a strong network outside the company – with other companies, universities, etc. – but that the internal network was often much smaller. With the digital workplace, you always have all your information at hand, so it is far more easy to come together with colleagues and strengthen the internal network. In addition, we wanted to hone cooperation with colleagues abroad. Cross-border working is crucial for us."
The traditional office is not the ideal environment for every task. The fact that now there is a choice between different types of workspace has brought peace and comfort.
Yves Bryse, Campus Manager at Barco
Companies expect the digital workplace to make the organization more interactive, more flexible and more productive. But the biggest challenge often lies in change management. Was that the case at Barco, as well?
Bryse: "Definitely. It really is a big change. The staff have to think about the place where they work, depending on the type of job they have to do. The traditional office is not the ideal environment for every task. The fact that now there is a choice between different types of workspace has brought peace and comfort, but it does require quite an adjustment in habits adopted over the years."
Give it a chance
How did you bring your staff on board?
Bryse: "We invested a great deal of time in talking. I myself gave small groups of 20 staff members tours during the construction work 130 times. So we really told people what was happening. In the run-up to the move, 80 staff members acted as campus coaches. They made the difference in helping to make a few clear arrangements with everyone. All the workspaces are shared, eating at your desk is no longer an option and there are a number of basic rules about holding meetings. Eventually, a charter was produced, with the main arrangements on working and working together. We didn't impose anything on staff, but we asked them to give the new concept a chance."
5 fundamentals for a digital workplace:
Home zone


With flex desk capacity utilization of 85%, everyone has their own zone, the basic principle being that everyone is welcome everywhere.

Output management


How and where a given task achieves the best results determines the location and the tools.

Shared workspace


Everything is shared and everyone can work (together) where it is most suitable for their task.

Clean workspace


The health of staff takes priority: hygiene and ideas such as 'sitting is the new smoking' are attracting a lot of attention.

Powerful meetings


Digital tools and clear rules enhance efficiency in meetings.
Better digital cooperation
What role does the Digital Collaboration Specialist play on the new campus?
Nathalie Vuylsteke: "A while ago, a lot of work was put into a reliable intranet platform. But digital cooperation has evolved a great deal in a short period of time and it is clear that we need to expand our view to take in the entire digital workplace. My job is to make contact with the staff to see how we can cooperate more and better digitally on a worldwide basis. We also conducted a survey to find out what staff think of certain tools and what else they need. On the basis of these findings, we are currently drawing up a roadmap that will lead to the introduction of a number of new tools."
How do you use digital tools to improve cooperation and interaction among staff?
Vuylsteke: "The intranet is still an important channel for communication, supplemented by digital signage in the building. As regards digital cooperation, we have been using Microsoft Skype for Business for quite some time now. Since the move, we have focused more on Microsoft OneNote and OneDrive. At a later stage, we want to give staff a platform where they can chat within a team about a specific task, call one another and share documents, all without having to switch to other applications.
Download the free ebook the digital workplace
Barco develops connected visualization solutions for companies in the entertainment and healthcare sectors, among others. Barco employs 3,500 people worldwide, records a turnover of €1.1 billion and is listed on the Brussels Stock Exchange.
Nathalie Vuylsteke has 17 years of experience at Barco. Since 2017, she has supported the development of the digital workplace in the company as Digital Collaboration Specialist.
Yves Bryse has over 20 years of experience in HR. He has worked at Barco since 2010. As Campus Manager, he makes sure that staff, visitors and partners can work together in optimal conditions on the new One Campus.
One
One magazine is the Proximus B2B magazine for CIOs and IT professionals in large and medium-sized organisations.
Other articles of One