Lecot goes digital for shorter time-to-market
Published on 06/07/2021 in Customer Stories 
Lecot plans to stay relevant to its customers by always thinking one step ahead. The largest hardware store in our country is strongly committed to communication and cooperation, founded on a high-performance IT infrastructure.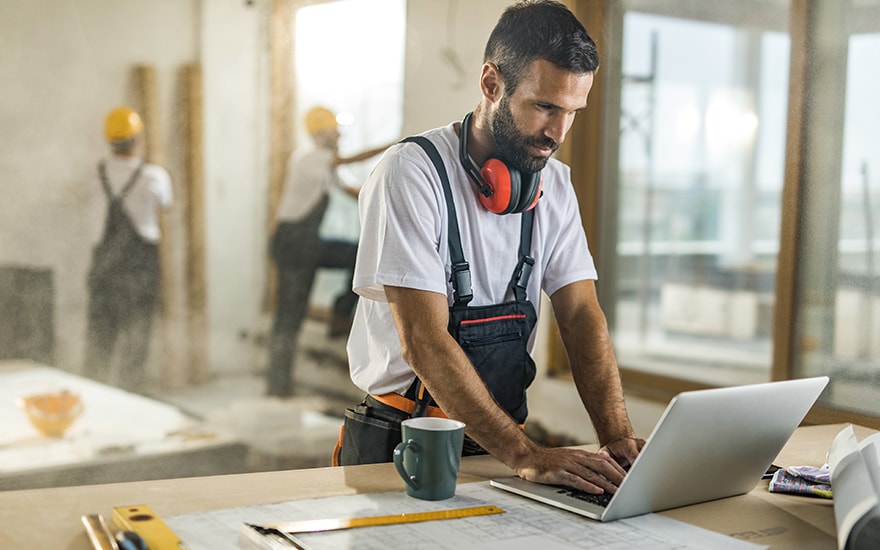 Lecot's history dates back to 1888, when Charles Lecot started a hardware store in Heule near Kortrijk. In 1911, Jean Raeschelders took over a hardware store in Maaseik. Both companies experienced strong growth over the years until they merged in 2008. The result: a specialist in fittings, machines, fasteners, and access control with 700 employees distributed among 66 branches and 2 logistics centers – still where it all began in Heule and Maaseik. Customers include window and door manufacturers, joiners, electricians, and plumbers.
Connect the entire company virtually
"We have a clear vision for the future of the company," says CIO Eddy Evens. "To prepare for that, we have invested heavily in communications and IT infrastructure." All the company's sites are connected to Proximus Explore. "As we have seventy stores with which we must be able to communicate efficiently, continuity is very important. Currently, we are using some fourteen Webex rooms, for example to demonstrate new products online to our representatives and customers.
We then combine these with Microsoft Teams for one-on-one meetings. The lines are also easy and quick to scale, without technological barriers or limitations. You don't want to be in a situation where you can't help a customer 'because the Internet is slow today'. That's frustrating for everyone, but it's a risk we never take with Explore and Fiber."
Digitally prepared
Lecot began looking for a communications platform that would not only support video meetings, but also simplify teleworking and enable remote training. "When the coronavirus crisis broke out, we already had a plan of action," said Evens. "For us, the key was to shift gears and accelerate the rollout." Moreover, the situation removed previous barriers. "Suddenly, teleworking was a requirement, forcing us to take steps quickly."
End of the classic 9-to-5 economy
Specifically, Lecot made a strategic choice in Cisco Systems, with Cisco Unified Communications Manager (Unified CM) for telephony, Room Kits and Webex for videoconferencing, and Jabber to work together. "We're always thinking ahead," Evens explained. "We had long understood that the classic 9-to-5 economy no longer exists under the influence of e-commerce and omnichannel."
We went from 3,000 to 3,600 paying customers a day. Professionals who can't get to their suppliers find us online.
Eddy Evens, CIO at Lecot
Seamless experience
It ensures that the company can continue to serve its customers. A lot of competitors fail to do so. "We can see that from the figures," said Evens. "We went from 3,000 to 3,600 paying customers a day. Professionals who can't turn to their trusted suppliers go online to find a solution. And that's how they find us. Our digital channels can offer them a seamless experience as well." During the lockdown, Lecot did this in part by stocking additional stock itself and offering extra options for delivery or pickup of orders.
Time-to-market as a differentiating factor
The investment in omnichannel communication – both internally and at customers and channel partners – also fits in with Lecot's strategy of supporting employee training in a new way. "Time-to-market is an increasingly differentiating factor," Evens explained. "When a new product is available, we want to train our employees right away so that they can advise customers correctly." That's why Lecot chose the LMS365 learning platform. "We organize the training centrally, but can bring the content to employees digitally through various channels."
The key to a successful digital transformation is finding a partner who understands the challenges of your business.
Eddy Evens, CIO at Lecot
Flexibility
Lecot has provided a video studio in the new building in Heule. The idea is to give presentations and demos there, for example, on new machines, which employees can follow remotely. It's an approach that offers a lot of new possibilities, especially through the combination of classroom training and online modules. "This provides more flexibility. The integration between Webex and Teams has proven to be essential in this process. This makes it easy for employees to schedule a training module in their calendars. Again, we focus heavily on short time-to-market."
Employees' digital skills are also a prerequisite for success, tells Ulrich Petré, VDAB Digitization Expert.
Cybersecurity
The importance of cybersecurity also increases as more employees move to the digital way of working. "Each device is potentially a door through which unwanted parties can enter. We take a very practical approach to this by applying two-factor authentication everywhere. At the same time, we are focusing on audits, to know where we stand, and on raising awareness, so that employees also have a better understanding of what the risks are and how they can avoid them."
How do companies handle cybersecurity?
What about the employees?
Fast changes, using new technology, working from home: it all sounds nice and agile, but of course you have to get your employees on board. "There was a Covid-wave, but there was at the same time a digital wave. And as a company with some 700 employees, we are by definition a reflection of society. This means that we have people with digital know-how, but also people who need a bit longer," says Eddy Evens.
"That's why we brought in on-site digital coaches who make a continuous effort to get everyone on board – an effort that will never stop, by the way – and give everyone time to catch up, so that key users can continue to work with late adopters. The most important thing is that people are motivated, because everyone can learn."
Essential support
"We used to be a hardware and machinery store," said Evens. "We're now primarily a logistics company. Our strength is that we adapt our communication and our logistics to the different channels and target groups." The use of new technology provides essential support in this process. "Our relationship with Proximus is key to the company's success. At any point in the logistics chain, there is an active component that Proximus connects through its network."
At the same time, Proximus is advising the company on possible next steps. "Customers are already in contact through our sales representatives, by phone, or through the online channels. Do they prefer to communicate with us via a chatbot? Then we'll look at what's possible together with Proximus. How to best solve our customer's problem is and always will be our starting-point. For us, all that matters is staying relevant to the customer."
Technology is also at the heart of high-performance customer service at Volvo dealer Malcorps Motors.
Are you looking for a networking solution to provide the best customer service?
One
One magazine is the Proximus B2B magazine for CIOs and IT professionals in large and medium-sized organisations.
Other articles of One