We're preparing your personalized experience
It's almost ready...
Challenges we face together
The technological landscape is evolving rapidly and at an unprecedented pace. Companies and public organizations need to innovate, become more efficient, agile, and customer-centric while ensuring business continuity and security.
Secure mobile payments at events with 5G Slicing
Find out how EventPay uses 5G Slicing to ensure secure mobile payments at events and festivals. 5G Slicing segments the 5G network into virtual networks specifically tailored to the needs of customers and their applications.
Proximus NXT is an ecosystem of specialised affiliates and local partners. They help you manage your ICT and take advantage of new technologies in cloud, data or cyber security.
MyProximus Enterprise: discover your advantages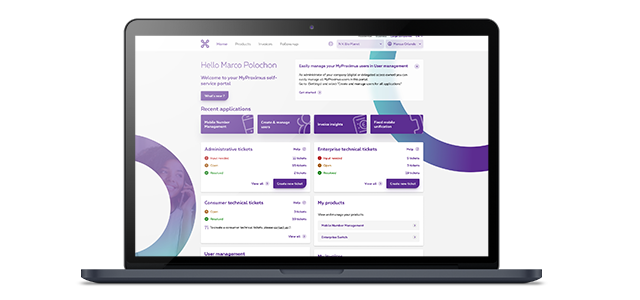 Not yet a MyProximus Enterprise user? Get convinced by the advantages of our platform to manage your subscriptions, your bills, and much more. Find all your Proximus services and products in one place.
Discover MyProximus Enterprise