Enterprise Mobility Management
Management and security of mobile devices
Prevent company data leaks. Remote provisioning, security and stock management. Indispensable when you want your employees to work securely on the move.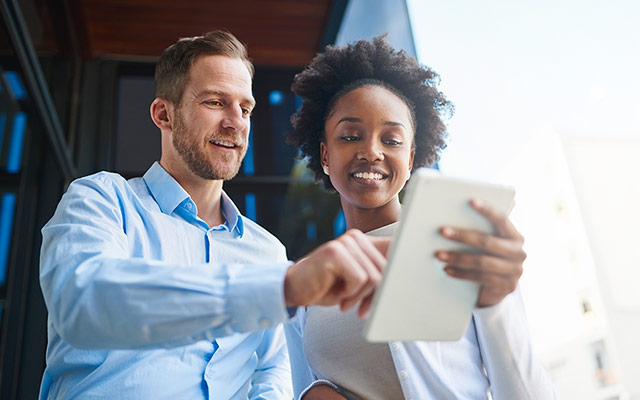 Building a successful enterprise mobility strategy
Easily manage and secure the mobile devices
Mobile Device Management
With this solution, you can open your network to mobile devices without endangering security.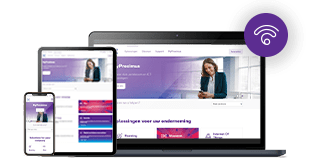 Protection against malware
Automatic updates of the antivirus system
Scans all files received by SMS, Bluetooth, Wi-Fi, etc.
Self-service
Registration of devices
Locate devices on a map
Lock and delete devices
Inventory management
View of all mobile devices of the company and the employees (details and age)
Remote provisioning
Remote configuration and updating of the device and account settings (e-mail, VPN, Wi-Fi, etc.)
Security
Lock or delete devices
Mandatory password policy
Mandatory locking policy
Unified Endpoint Management
Manage your PCs like you manage your mobile devices.
Have complete control over PCs with Enterprise Mobile Mobility
Manage PCs remotely, over-the-air:

Defining a peripheral device
Creating desktop shortcuts
Determining the hardware connected to the device
Visibility into software on the device
Add a security layer to your mobile devices. Integrating MTP with MDM/EMM is fast and easy.
Protection against:

Zero-day malware
Malicious links sent through SMS messages
Malware-infected apps
Compromised Wi-Fi networks
Attacks using vulnerabilities of mobile operating systems

Prevention of SMS phishing attacks
Integration with SIEM for advanced security analysis and correlation
Enterprise Mobility Management with MobileIron
Residents of the city of Antwerp expect their city to offer a qualitative and efficient service. To fulfill this service in an ever-changing environment, the city of Antwerp is strongly committed to digitization.
Expensive equipment out, mobile app in
More and more organizations are replacing expensive equipment with mobile solutions. Kind en Gezin is now doing eye tests with an iPhone app. Cheaper? Yes. Handy? Definitely. But is it safe to store medical data on a smartphone?
The Maria Middelares General Hospital in Ghent
Smartphones and tablets are important tools for professional communication within and outside organizations these days. The use of mobile devices can increase your people's productivity, but security remains a thorny issue. With the Mobile Device Management solution, you are safe.
Digital recruitment office in Antwerp harbor
In the port of Antwerp, dockers no longer have to go to the recruitment office to take on their job for the day. Via the MyCepa platform, they can log in from a distance and gain access to various HR applications.
Proximus offers the top EMM vendors on the market and has the highest certification levels.