Proximus supplies SNCB with tools to manage 26,000 mobile devices
Published on 02/06/2021 in Customer Stories 
SNCB will soon own a fleet of 26,000 mobile devices. "Digitization is everywhere, even in direct customer contact" says Pascal Rooms, NMBS ICT Coordinator.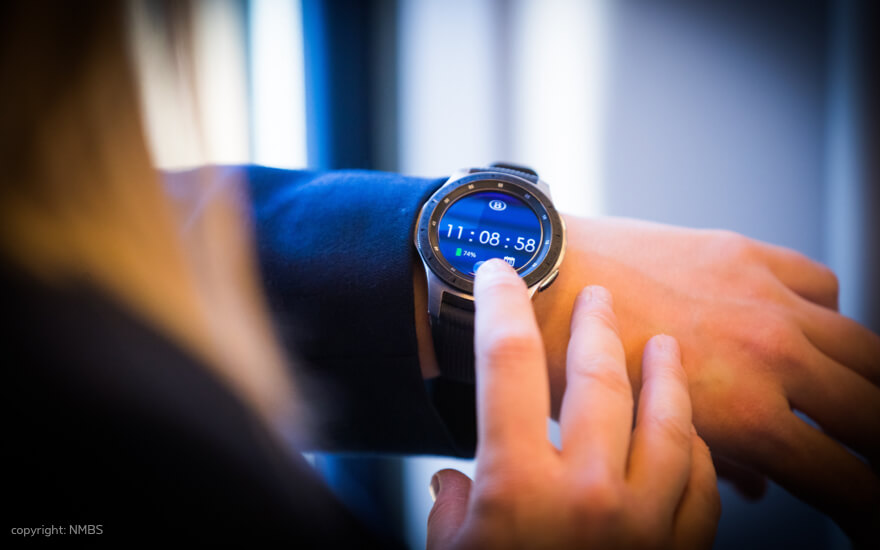 SNCB train conductors, train drivers, station personnel, and security staff work with mobile devices. Proximus is providing the hardware and Mobile Device Management (MDM) solution for the smartphones, tablets, and smartwatches that are part of the fleet. SNCB decided to go for Samsung devices. "They replace outdated models and offer new features," explained Pascal Rooms. "We're especially invested in using digital documents. At the same time, the devices help enhance our passenger services."
Digital staff support
Train drivers, for instance, now have a tablet and a smartphone. "Device use goes hand-in-hand with our digital staff support policy," said Rooms. "Train drivers get real-time updates on their route, stops, and related safety instructions on their tablets. However, that also gives them access to the HR portal – which is just as important. Among others, that's where they can view their work schedule and request leave."
A boost for passenger services + greater accessibility
Train conductors rely on a smartphone and smartwatch mix. "We guarantee the conductors' accessibility with smartphones, even when no longer on our own private mobile network." For example, SNCB felt that conductor smartphones should provide easy access to apps from other mobility providers, such as De Lijn, MIVB, and the Dutch and French railway companies. "That way they can provide passengers with better service, to include more detailed info on the bus and metro systems."
Our employees are more accessible, communicate more easily and use digital apps with a focus on solutions.
Pascal Rooms, SNCB ICT Coordinator
One striking innovation is the smartwatch that every conductor now wears. It features an app that facilitates the train departure procedure. "Smartwatches turned out to be the most ergonomic device for this. Conductors have a variety of responsibilities, including supervising passenger boarding and disembarking, along with ensuring that the doors are closed on departure. That just isn't as convenient with a smartphone in hand." The smartwatch is also connected to the train display systems. Their status automatically updates anytime the watch is swiped during the procedure.
What is more, the project covers smartphones for station personnel and security staff. "Everyone on the security staff has a smartphone now, compared to the past when each shift only had access to one standard cell phone. That has boosted employee accessibility considerably," said Rooms. "And the device augments digital work processes here too, e.g., with applications to record events, and draw up official reports."
All SNCB applications run on the device from inside a shielded container, in order to have a secure, high-performance device.
Pascal Rooms, SNCB ICT Coordinator
More punctual trains
To manage and secure its fleet of devices, SNCB integrates its MDM platform, Microsoft IntuneNew window with the Samsung KNOX on the Azure cloud platform. One of the things Proximus is responsible for is to ensure that employees locate the right apps, tailored to their job specifications. All SNCB applications run on the device from inside a shielded container, so that employees have access to a secure, high-performance device.
"That's something that everyone benefits from, ultimately," Rooms concluded. "It makes work more satisfying overall for employees. They're more accessible, can communicate more easily, and use digital apps to get the job done efficiently with a strong focus on solutions. In the end, that benefits passengers too."
Pascal Rooms started his career at SNCB as a train conductor in 1998. Since then, he has held a variety of jobs but has been active as the ICT Coordinator since 2017.
Your mobile devices partner?
Better service with digitalization
One
One magazine is the Proximus B2B magazine for CIOs and IT professionals in large and medium-sized organisations.
Other articles of One