Working at home in a reliable way, office monitoring and data surveillance
Published on 07/08/2021 in Sectors 
Digital working was already part of our professional lives...
The digital workplace has become very important, in both the public and private sectors. From cloud storage to automated processes, from digital connectivity to office occupancy monitoring.
Interested in our tools for today's digital workplace?
Customer stories
A single workstation for every two Flemish civil servants
Flemish government employees will continue to work part-time from home, even after the pandemic. That's why the renovated WTC building provides a single workstation for every two employees. Frank Geets, Administrator-General of Het Facilitair Bedrijf, explains.
Telephone availability boosts dispatch efficiency
Three police districts to the north of Antwerp always reach the right inspector or officer right away through Dispatch. And they make it happen with Proximus Voice Managed Services. "It speeds up our response time."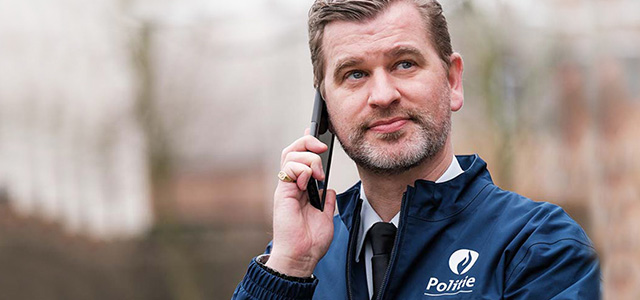 Proximus supplies SNCB with tools to manage 26,000 mobile devices
SNCB will soon own a fleet of 26,000 mobile devices. "Digitization is everywhere, even in direct customer contact" says Pascal Rooms, NMBS ICT Coordinator.
Solutions for the digital workplace
Building management and monitoring
Proximity and Floor Occupancy Monitoring are perfect tools to automatically monitor how many people are present in a workspace. Visitors are immediately alerted on a display, in an app or through text messages.
Meeting rooms automatically appear as 'booked' in your room booking system, and by using Wayfinding your team can quickly find their way to an available flexible workstation.
Data analytics
You can use Proximus Analytics to analyse the data from the monitoring tools. We make it easy for you to find smart solutions for overcrowded offices and create a pleasant working environment.
Secure digital workplace
We secure your end-users' workplaces with effective end point security. Together with our partners, we identify security gaps through ethical hacking so that they can be addressed immediately.
Connectivity and network
Remote collaboration is only possible with good (mobile) coverage, lightning-fast internet, secure smart networks, user-friendly virtual meetings and reliable storage space in the cloud. We've got you covered.
Home and telework
Besides connection, your employees also need devices and tools to carry out their work. In addition to secure device management, we offer personalised service and a suitable mobile device for each user.
Find out more?