Pickx
The Proximus TV platform, included in your Pack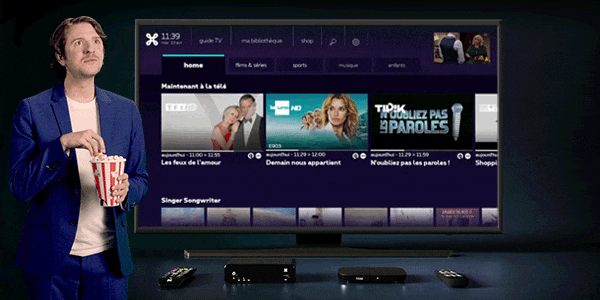 Not a Pickx TV customer yet?
Want to enjoy TV & Entertainment, opt for a Flex pack with TV
Would you like some extra content?
Choose the TV option that suits you best
Would you like an overview of all TV options?
Pickx on all your favourite devices
You just need a TV subscription & TV Box
Conditions
The Terms and Conditions and Pricelist & tariffs apply.
The TV options of our partners are supplementary TV options reserved for customers of the basic TV offer. TV offer is available in a pack with Internet starting from €69.99/month.
Try one month: 1 TV option for free trial during 1 month : personal offer valid from 23/04/2019 until 31/01/2024. 1 single time for every residential TV subscriber that subscribes to a new tv bundle free of choice in an exclusive list. After the first month the option becomes paying and is prolonged for indefinite term. You can unsubscribe from the option at any time free of charge. Cannot be combined with other actions or promotions. Proximus reserves itself the right to extend or stop the promotion earlier.
Do you want to enjoy Pickx, the Proximus digital TV platform or extra TV options?
Then choose a Flex subscription that suits you: determine your Internet, mobile and TV experience or add extras.
What are the Proximus TV options?
Promotion: Enjoy a FREE trial month of the Proximus TV option of your choice
TV option
Extra info
price/month
1 month free trial
3 months free trial
Pickx Mix

€

10

.99

/month
Pickx Sports

€

16

.99

/month
Pickx+

€

4

.99

/month
Disney+

€

10

.99

/month
Netflix
Basic/1 screen

€8.99 /month

Netflix
Standard/2 screens

€13.49 /month

Netflix
Premium/4 screens

€17.99 /month

Be tv
Promo

instead of

€24.99

€

14

.99

/month
Streamz
As from 11.95€/month
Adult

€

19

.95

/month
Studio 100 Go Pass

€

5

.95

/month
TV Replay +

€

8

/month
VRT Net gemist

€

5

.95

/month
Pickx All Stars
Promo

instead of

€29.99

€

24

.99

/month
Pickx All Stars & Sports
Promo

instead of

€39.99

€

34

.99

/month
To optimize your TV experience Proximus offers various TV options:
Pickx Mix
More than 30 entertaining channels catering to all the members of your family.
Pickx Sports
The Proximus Pickx Sports TV Option and its very numerous channels dedicated to a wide variety of sports (Football, Basket, Hockey, Cycling, Tennis, Formula 1, …) is there for anyone who doesn't want to miss their favourite sports and competitions.
Netflix
Watch the original Netflix series and films whenever and wherever you like! Something for all the film buffs among you.
Be tv
The Proximus Be Tv Option enriches your TV experience with 6 additional channels.
Studio 100 Go Pass
The Studio 100 Go Pass and its many heroes, clips and interactive games are the TV Option for anyone who wants to please the youngest members of the family.
Adult
Enjoy eroticism and X to the max with the Proximus Adult TV Option.
TV Replay
Use the TV Replay Option and don't miss you favourite programmes!
VRT Net gemist : All programs of the VRT (Eén, Canvas and Ketnet) of the past 7 days can be (re)viewed unlimitedly.
Pickx All Stars: Netflix, Disney+, thematic channels and plenty of movies and series on demand in a single subscription: Pickx All Stars. 4 TV options in one for €29.99 /month.
Pickx All Stars & Sports: All of our sports competitions combined with Netflix, Disney+, thematic channels, and movies and series on demand in a single subscription. For only €39.99/month.
The best of national & international competitions
Netflix : watch anywhere, anytime!
All the fun, where and when you want!
Be tv, six channels with very recent movies and series!
An offer dedicated to adults