Proximus Assistant
Your assistant via chat and call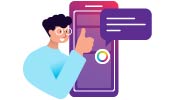 Improved customer experience
Goodbye to complicated phone menus. Proximus Assistant uses voice recognition to understand and answer your question in a personalized way.

Available 24/7
Thanks to Proximus Assistant, you get immediate support, day and night, without queues.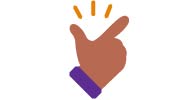 Quick and easy solution
Proximus Assistant answers your question immediately. Complex situation? Then you are quickly connected to a colleague who helps you further.
How Can Proximus Assistant Help You?
Click on the chat icon on the right to try it out right now!
I'd like more information about the different subscriptions.
What's included in my pack?
Can you help me modify my subscription?
My TV isn't working.
I'm getting the error code P130 on my screen, what do I do?
My Internet is down can you help me?
My 4G is not working, can you help me?
I'm unable to make phone calls with my mobile phone.
Where can I find my bill?
I want to know what's my balance.
I'd like a duplicate of my bill.
I'd like to change my appointment with Proximus.
My issue is solved, I'd like to cancel my appointment.
I've lost my PIN code, can you help me?
Where Can You Interact with Proximus Assistant?
Chat with Proximus Assistant
Go to Contact our customer service | Proximus or chat with us on the MyProximus app.
Click on the chat icon, in the bottom right corner
Ask your question to start the conversation
Let Proximus Assistant assist you or connect you to an agent.
Call Proximus Assistant
Dial 080033800.
Explain your request.
Let Proximus Assistant provide guidance or transfer you to an agent.
How to Interact with Proximus Assistant
One question at a time
Proximus Assistant can respond to one question at a time. So ask only one question when you write or call the digital assistant.
The assistant leads the conversation
Once you asked your question, let the digital assistant leads the conversation for a better interaction.
Rephrase your question
It's possible that Proximus assistant doesn't understand your question, don't hesitate to say it in another way. If the conversation doesn't seem to go the right way, you can always interrupt and ask another question or ask to speak to an agent.
Everyday, Proximus Assistant Gets Smarter
Learning from you is the best way to grow
Thanks to machine learning, every conversation contributes to Proximus Assistant's growth, enabling it to better understand and assist you with each interaction.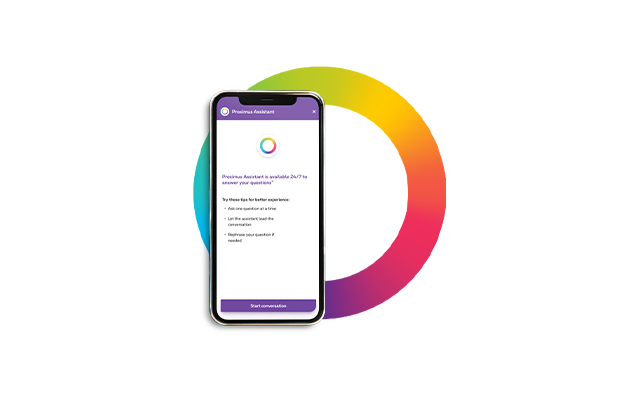 Discover What Our Clients Say About Proximus Assistant