4K and Ultra HD, what's that?
Published on 30/10/2020 in Tips & tricks from…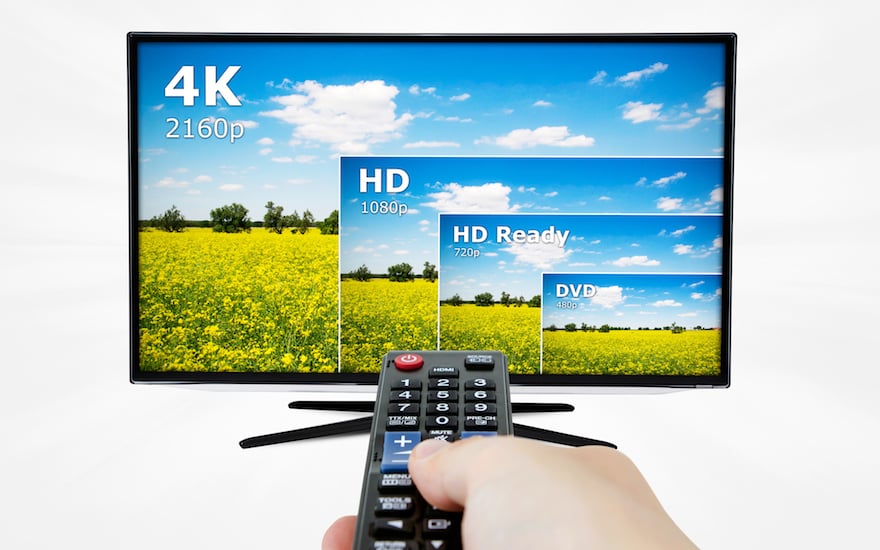 That's indeed the million-dollar question. Because these days everyone's bombarding you with terms such as UHD, 4K and 8K. To such an extent that you almost long for the time we all had the same television sets with thick cathode-ray tubes and watched the BBC. Almost, but not quite.
Because once you know what all these terms really mean, you can make a wise choice. Such as choosing whether to already go for Ultra HD now or not.
What's that? Ultra HD?
The term "Ultra HD" has to do with TV screen image resolution. Or put differently, the pixels in the image. With Ultra HD there are 4 pixels instead of just 1 with regular Full HD. An Ultra HD television therefore has a resolution of 3840 x 2160 compared to the regular 1920 x 1080 of Full HD.
This is also where the name "4K" comes from. To be absolutely clear: 4K and Ultra HD mean the same thing.
But what's the real difference?
Be that as it may, on paper it all sounds very nice, but do you really notice a difference in practice? The answer is a resounding yes! Images in Ultra HD are definitely nicer and sharper than those of a traditional LED TV in Full HD. Tastes differ, but this is something you can't get around.
For instance, there's the magnificent High Dynamic Range or HDR in 4K. This ensures that both very dark and very bright parts of the image are reproduced nicely. And that's certainly pleasing if your favorite series is more "on the dark side". Because with HDR you see many more details.
The only catch: whatever you're watching must actually be offered in Ultra HD. Otherwise you'll simply still watch it in Full HD, even on a 4K television. Now, a good number of TV sets do improve the quality of Full HD so it approaches that of Ultra HD.
The good news is that more and more programs are actually offered in 4K. Netflix already has a fair few series in Ultra HD available, such as Breaking Bad and all Netflix Originals. This means you can also enjoy the House of Cards, Stranger Things and Narcos in razor-sharp image quality. And if you buy a movie on 4K Blu-ray, you can watch it in Ultra HD on a corresponding 4K Blue-ray player, or a game console such as the PlayStation 4 Pro and Xbox One S.
Also, an increasing number of still-image and video cameras take pictures in Ultra HD so you can enjoy your most memorable moments in top quality as well. The same goes for the latest generation smartphones by the way. Just take a look at the iPhone 11, Samsung Galaxy S20, OnePlus 8 and Nokia 8.3 5G.
Sophie
Avid web & apps user, must admit a tiny bit FOMO, so never getting out without my smartphone! #friends #family #travels #web #popculture #graphicdesign #art #fun
Other articles from Sophie