"Let's fibrate!"
A series of videos that answer all your questions about fiber
Published on 10/05/2022 in Tips & tricks from… 
Welcome to our blog "Let's fibrate!". Through a series of videos presented by Nathan Soret, we answer all the questions you might have: What is fiber? Is it more eco-friendly? Where is it already available? How to install it in your home? …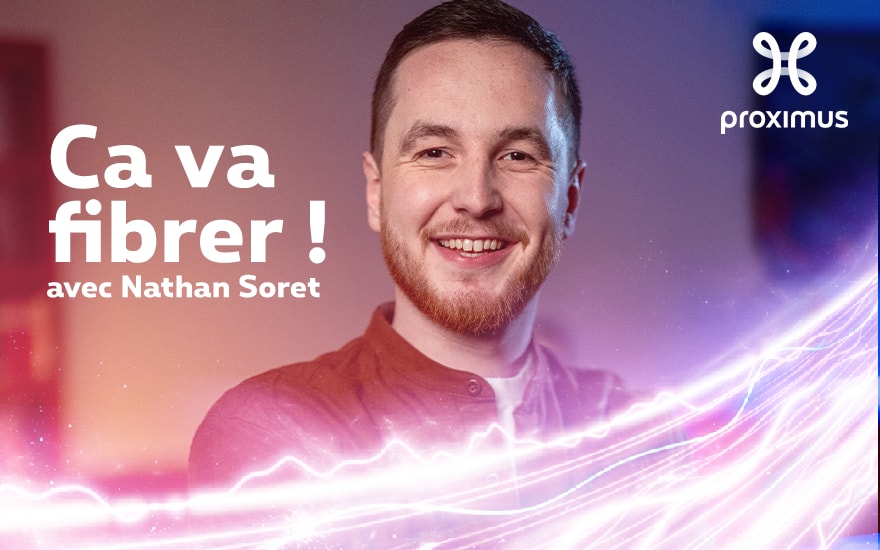 Fiber is the technology of the future. It is highly performant and provides real comfort for users. We are currently upgrading our network to bring fiber to more and more people every day, with a goal of covering 70% of the population by 2028. Find out what a fiber cable can do for you.
Where is fiber available already?
Proximus is working every day to roll out fiber throughout Belgium. It is already available in many major cities and will cover 70% of Belgium by 2028. In particular, this will be possible thanks to our partnerships with Fiberklaar in Flanders and Unifiber in Wallonia. Nathan shows us this fiber roll-out in a video.
Is fiber more eco-friendly than copper?
Fiber is a stable, ultra-fast technology that carries our data at the speed of light and also saves energy. Let's hear more from Nathan Soret about the benefits of fiber for a greener society.
Our needs are evolving and we increasingly require a highly performant Internet connection, especially when the whole family is connected at the same time. Nathan Soret shows us in concrete terms how fiber is the solution for a stable and ultra-fast connection.
Fiber has been laid in your street and you can now bring it into your home for free. How can you proceed? Let us guide you through the different steps that will enable you to surf at the speed of light!
How is fiber installed in a building?
Good news, fiber is available in your street and you can now bring it into your home! Let's take a look at the installation steps so that you can enjoy it as soon as possible in your building.
Team Proximus
Our team keeps you informed on the latest news whether it is about our products and services or on the trends & novelties.
Other articles of Team Proximus