Turn off your appliances or unplug them? We take a look at the different options!
Published on 14/11/2022 in Service 
Since the French government advised its compatriots to switch off their Internet/TV boxes, many of you have contacted us to ask if you should do the same.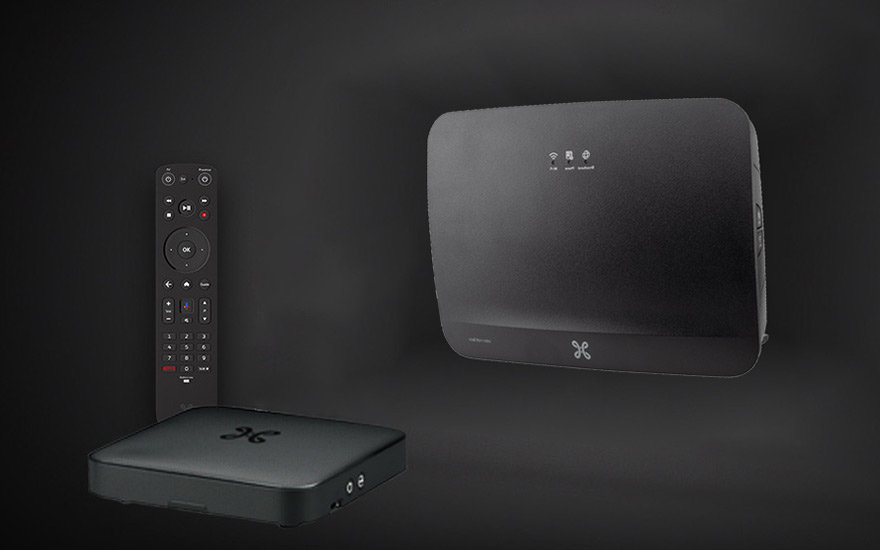 Switching off your devices is obviously the most energy-efficient solution, but there are alternative solutions, such as the deep standby (eco standby) mode, that are less disruptive to your Internet and TV experience while allowing you to reduce your energy bill.
We will give you an overview of the situation so that you can choose the best option with full knowledge of the facts.
Can I switch off my Internet Box (or B-box) when I am not using it?
If you decide to switch it off, you must obviously take into account that all the devices connected to it will no longer be able to access the Internet and that, for some of them, mobile data consumption will take over. So make sure beforehand that you have a complete view of all the devices connected to it.
When you switch it on again, the Internet Box has to resynchronize and this may take a few minutes.
In some cases, updates, normally scheduled to be sent overnight, may be installed shortly after power up and take longer to take effect.
Also worth mentioning: the monitoring set up on your line to measure its quality may also be disrupted by these disconnections, as well as the diagnosis that our technical support could make.
From an energy consumption point of view, the new generation of boxes launched a few months ago is 24% less energy consuming ** than the previous models. It will gradually replace the previous generation, taking into account our circular and energy saving objectives.
Regarding our other boxes, we offer the possibility via MyProximus to temporarily deactivate, for a period of time that you define, all connected devices, device by device.
Please note that the latest generation of Wi-Fi Boosters (compatible with the new Internet Box) is also 10% less energy consuming.
For your information, here is the actual energy consumption of our different Internet Boxes ***:
| | In operation | In standby |
| --- | --- | --- |
| B-box 3V+ | 14,5 | 7,9 |
| Internet Box | 10 | 7,5 |
Switch off my TV Box or put it on standby?
What happens when you switch off your TV Box? Just like with the Internet Box, you might miss all the updates that are scheduled to happen during the night. After a while, you will be forced to do this update and it might happen right when your favorite TV program starts.
Please note that if you have switched off your Internet Box as well, it is better to wait until it has finished starting up before switching on the TV Box again, which can bring the total waiting time to 5 minutes.
Your scheduled recordings will be available in the cloud when you switch on your device.
Our Android TV Box (sometimes referred to as 'V7 decoder'), launched a few months ago, offers 2 different standby modes. Depending on the mode you choose, the restart time will be longer or shorter.
Active standby mode: your box consumes 2 watts and starts directly on restart.
Deep standby mode: your box consumes 0.5 watts but may take one to two minutes to restart. To activate it, simply press the Proximus button for two seconds.
Do you have another box? No problem, you can set it to switch to deep standby mode after a certain period (between 1 and 9 hours - we advise you to choose a 4-hour delay). Through the menu key, choose:
in French: Paramètres > Système > Mode veille > Veille.
in Dutch: Instellingen > Systeem > Sluimerstand > Sluimerstand.
After seeing a warning on the screen, you will then have the choice to activate or not the deep standby mode.
For your information, here is the actual energy consumption of our different TV Boxes ***:
| | In operation | In active standby | In deep standby |
| --- | --- | --- | --- |
| V5 | 8.49 | 5.51 | 0.33 |
| V5 compact | 6 | 5 | 0.33 |
| V6 | 6.5 | 2 | 0.5 |
| V7 | 5.67 | 2 | 0.5 |
(value: Wh)
** The new Internet Box is, to our knowledge, the least energy consuming on the market today.
*** Consumption measured by Proximus
Stéphane
Corporate Community Manager with a passion for social media, manga fan and music lover. I don't only talk with hashtags and gifs!
Other articles of Stéphane