Geert Christiaens, Manager of IT at the Tienen Sugar Refinery
Published on 16/08/2016 in Inspire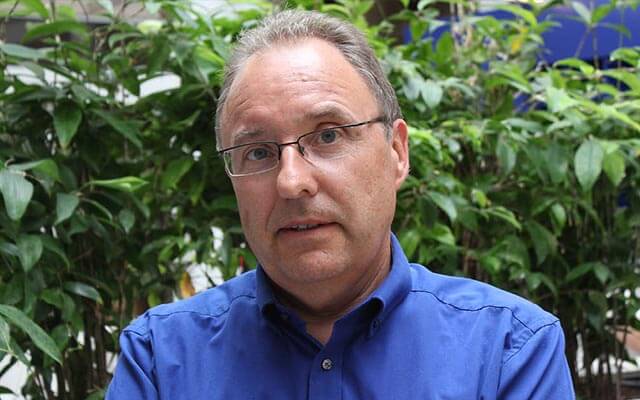 Geert Christiaens' staff and colleagues are always welcome in his office. That way, problems are resolved more quickly. But they shouldn't schedule meetings too late on Thursdays, as that's when he goes to his bridge club. On other evenings, he likes to go to concerts or the theater with his wife.
Career
Geert studied commercial and consular sciences and began his career in an industrial waffle bakery. From 1988 to 1997 he was a buyer of packaging and technical goods at Côte d'Or (Mondelez International). He has now worked for the Tienen Sugar Refinery for more than 15 years. He has been Manager of IT Services & Business Processes since 2006.
Company
The Tienen Sugar Refinery was established in 1836 by Joseph Vandenberghe de Binckom and Pierre Van den Bossche. But it was Henri Vinckenbosch and the brothers Paul and Frans Wittouck who made sugar a success story. The Tienen Sugar Refinery remained a family business until 1989 and is now part of the German Südzucker Group.
Employees
With an annual output of 5.4 million tonnes of sugar and a consolidated annual turnover of €6,778 million (2014/15), Südzucker is the market leader in the European sugar market. It employs a total workforce of 18,500. Geert leads a team of four people in the Belgian ICT department.
1. What is your greatest professional achievement?
That over the past 15 years I have helped transform the Tienen Sugar Refinery into a modern, innovative and progressive company. As a matter of fact, we were among the pioneers who optimized the purchasing process by means of an e-procurement link with the SAP system.
2. Who would you like to sit next to in an airplane and what would you like to ask them?
Bill Gates. Like me, he's a passionate bridge player. He says it's one of the last remaining games where computers are still a long way from beating people. I'd like to discuss that with him.
3. How would you describe your job?
Mine is mainly a coordinating role. The Tienen Sugar Refinery is part of the Su_dzucker Group. My job is to bring our internal customers into line with the ICT policy directed from Germany. But the Belgian ICT team also thinks up solutions at the request of local users.
4. Which (ICT) book would you recommend to everyone?
'The Wheel of Time,' the fantasy series by Robert Jordan (James Oliver Rigney, Jr.). I'm re-reading the series for the third time because I'm so impressed by the storylines, with loads of characters who get mixed up in countless plots.
5. What do you consider the most important innovation of the past 20 years?
When I was eight, I watched the moon landing and, ever since, I've been fascinated by everything that happens in space travel. Lots of technological developments over the past 20 years would never have come about without those first steps in space travel.
6. What would you like to invent to make your daily life easier?
An app that makes people more tolerant and understanding would be handy. Or a work-life balance app that warns us when we go too far.
7. How do you see your role as CIO evolving over the next 20 years? What leadership skills do you think will be important for CIOs?
It would be a shame, I think, if the role didn't evolve. ICT has become an essential part of the work environment and interconnectedness is only going to increase. The aim is for future ICT applications to respond to users' wishes more.
Don't hesitate to visit our Internet networks page for more information
One
One magazine is the Proximus B2B magazine for CIOs and IT professionals in large and medium-sized organisations.
Other articles of One