From the Netherlands to Belgium in two months
Published on 14/03/2016 in Customer Stories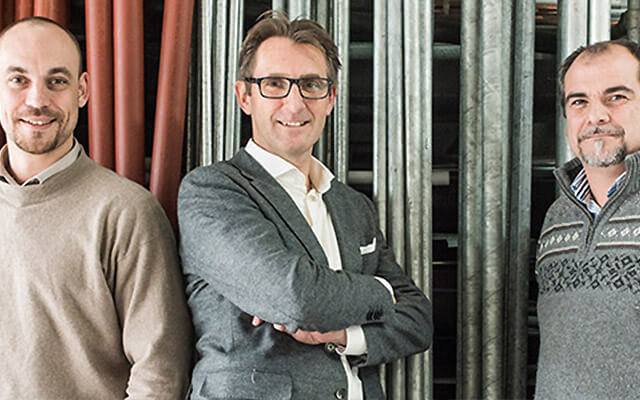 What happens if the parent company of your IT shared service center files for bankruptcy? Imtech Belgium knows all about that. In less than two months, the company built up a whole new IT environment, with Proximus as the sole point of contact for all the expertise required.
Imtech Belgium is a technical service provider. The company designs, produces and maintains installations for complex buildings in the tertiary sector and for industry. At the end of August 2015, the court declared the Dutch parent company, Royal Imtech Group, bankrupt. "But in Belgium, business was good," says Jan Tanghe, IT manager at Imtech Belgium. "So we carried on, even after the declaration of bankruptcy. The services we provide for our clients were never in danger."
Taking care of service provision
It soon became clear that the construction company Cordeel would be taking over the activities of Imtech Belgium. Imtech Belgium became an independent, autonomous entity within the Cordeel group. This ensured the activities in Belgium, but the company immediately faced another challenge. "Over the years, Imtech had built up a shared service center for IT in the Netherlands," Tanghe explains. "All the servers and data were in the Netherlands. Virtually everything IT-related came from the shared service center: Wi-Fi, core switches, ERP, e-mail, Internet access, etc." Imtech Belgium had a redundant connection with the shared service center via Proximus Explore. "The bankruptcy meant that the shared service center could stop working at any time," says Steven Hemelaere, Systems Manager at Imtech Belgium. "So we had to act quickly."
Business-critical
IT Imtech Belgium made a list of all their IT needs and gave themselves two months to disconnect entirely from the shared service center. "An ambitious plan," Tanghe admits, "but we had no choice. IT is particularly business critical." For example: the ERP system is the vital link between the call center, the technicians and clients. Among other things, it manages the maintenance technicians' schedule. They receive their assignments directly on their tablets, where they can also record all their information and the hours they have worked straight away. So it's crucial in order to provide the best possible service for our clients. Imtech Belgium already had a good relationship with Proximus as a client for Explore and mobile telephony. Barely three months before the parent company went bankrupt, Proximus had implemented a vContainer solution for Imtech Belgium. "That was an unexpected piece of luck," says Hemelaere, "because it meant that we quickly had the necessary server capacity in the Cloud."
Total migration
With Proximus as partner and sole point of contact, Imtech Belgium got down to work. Within the time frame, a completely new IT environment was created: 600 mail boxes were migrated, Explore was upgraded and adapted, vContainer was extended, the ERP environment was migrated, Office 365 and Lync were introduced, firewalls were moved, etc. Proximus partner IT-Care took care of the implementation. "At first, we set everything up on a very rudimentary basis," says Dany Dedecker, IT team leader at Imtech Belgium, "so that we could guarantee business continuity. We are now in a consolidation phase, where we are finishing off all aspects of the project in detail." However, the whole process took place behind the scenes. "Most of our staff didn't notice anything," Tanghe concluded. "At most, they had to change their password." Every month, Imtech Belgium discusses the situation with Proximus. Eventually, the company wants to rehouse more elements of its IT infrastructure in the Proximus datacenters.
Business benefits
Building an independent IT environment in just two months
Business continuity always guaranteed
Sole point of contact
About Imtech Belgium
Imtech Belgium specializes in technical service provision. The company designs, produces and maintains installations for complex buildings in the tertiary and industrial sectors. Imtech Belgium employs 800 staff and posts a turnover of € 150 million per annum.
Jan Tangle is IT-manager.
Dany Dedecker is IT Teamleader.
Steven Hemelaere is systems manager at Imtech Belgium.
One
One magazine is the Proximus B2B magazine for CIOs and IT professionals in large and medium-sized organisations.
Other articles from One