Get our checklist for your WPaaS RFP
Workplace-as-a-service (WPaaS)
Productive and satisfied employees
Always up to date with the new possibilities
Predictable monthly cost per user
All-in-one solution for your digital workplace
With WPaaS, your employees have everything they need at their disposal to achieve their goals. In addition, your IT personnel can focus more on your business needs. We'll take care of the following:
User infrastructure: PCs, mobile devices, meeting room equipment, ergonomic home office
Lifecycle management of all devices and software licenses
Software to collaborate productively and communicate smoothly
Internet connection and security at home and in the office
Remote and on-site support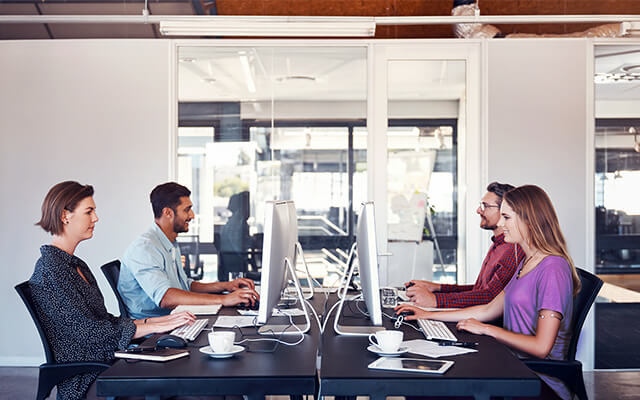 Satisfied employees are more productive and committed. Companies with more committed employees perform up to two times better than companies with low commitment. Your digital workplace has an impact on this.
For your employees
Higher satisfaction thanks to minimal interruptions
Secure work conditions always and everywhere
Quality, styled devices
Support through various channels
Ability to always use up-to-date tools
For your business
Get transparency in the cost of your workplaces
Increase digital literacy in your organization
Remain digitally relevant for your employees and customers
Get ahead of the competition
Extend corporate social responsibility to less transport, recycling, donation programs...
Today's workplace is evolving
Cost efficiency is an end result, not an objective as such
Digital workplace for everyone
Green workplace and circular economy
Simplicity through streamlining and standardization
Digital self-service portal
Proximus sets up a digital self-service portal for you with an extensive product and service catalog.
We also lay the foundations for the automation and support of your employees. In doing so, we can integrate AI that allows us to proactively detect and solve problems. And chatbots or voice bots that answer your employees' FAQs.
End User Services
The service desk for your employees for remote or on-site support (including at home).
Monitoring tools for reporting, down to the employee satisfaction level.
User adoption and training.
IT services: hardware & software
All hardware components: PCs, tablets, smartphones, printers, meeting room equipment, phones, headsets, speakers and other accessories; including asset management of these materials.
All software: the OS configurations, productivity software such as Windows and Office, communication and collaboration applications and licensing and lifecycle management for all these applications.
Complete protection of all users and devices according to the Zero Trust principle.
Telecom expertise
Of course, Proximus has in-depth expertise in all types of telephony and connectivity services:
Fixed telephony with integration in the digital workplace
Internet lines for your organization and your home workers
Mobile telephony
Mobile data, useful for employees on the go or when the home internet fails.