Digitization supports the fight against cancer
Published on 28/07/2022 in Customer Stories 
Kom op tegen Kanker fully commits to digitization for a more efficient organization of its campaigns and to address the youngest generations more easily, the organization is fully committed to digitization.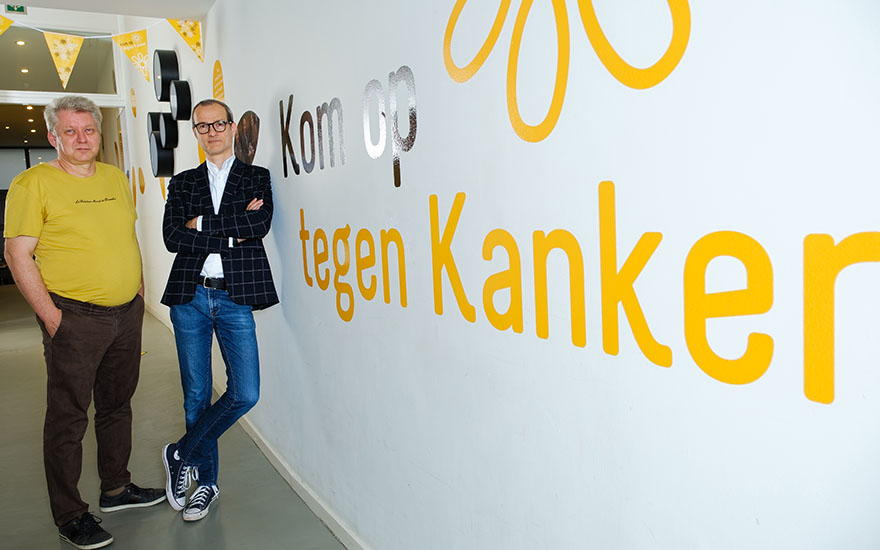 "Our activities are focused on preventing, fighting and alleviating," says Digital Manager Yves Braeckman. "We help people change their lifestyle to prevent cancer, we invest in cancer research and we support not only the actual cancer patients, but also the people around them."
Optimum digital experience
Bequests make up half of Kom op tegen Kanker's budget, i.e. approximately EUR 35 million per year. The organization raises the other half through awareness-raising campaigns, such as 'the 1000 km' or the sale of azaleas. "The digital part plays a key role here," said Braeckman. "For instance, those who want to cycle along can register online and organize their fundraising on our digital platform." Kom op tegen Kanker is digitizing its operations to offer an optimum experience to everyone who participates and helps.
Video calling, chatting, integration with Outlook, document sharing, seamless switching between PC and smartphone: these are benefits offered by Teams that we can no longer do without.
Serge Borremans, IT Manager at Kom op tegen Kanker
Switching to Microsoft Teams
At the same time, Kom op tegen Kanker wants to offer its employees a modern, digital workplace. "Working together efficiently and achieving great results is what we are all about," Braeckman explained. For Kom op tegen Kanker, it is important to use the available resources as efficiently as possible. That's why the organization switched to Microsoft Teams through Proximus during the COVID-19 crisis.
"Our IP phone exchange was no longer suitable in the context of homeworking," says IT Manager Serge Borremans. "The benefits of Teams - which include video calling and chats as well as telephony - came at just the right time." Now, staff at Kom op tegen Kanker can't do without Teams. Borremans: "Integration with Outlook, document sharing, seamless switching between PC and smartphone: these things are here to stay."
With the integration of Microsoft Teams, you can work efficiently as a team anywhere and on any device. Find out what benefits it can bring to your organization.
Fiber at the basis
However, the arrival of Teams was by no means the first step towards working digitally at Kom op tegen Kanker. The organization had already opted for Proximus' fiber network, with a 200 Mbps connection and a 50 Mbps backup line, during the renovation of its headquarters in 2015. "Fiber lies at the heart of our digital story," said Braeckman. "The number of users and applications will only continue to grow. Thanks to fiber, we can offer everyone the best user experience."
One million households and businesses are ready to be connected immediately to fiber. Check whether fiber is also available in your company's region.
We have chosen to go digital in order to offer the best possible experience to everyone who works with us and helps us.
Yves Braeckman, Digital Manager at Kom op tegen Kanker
Migrating on-premise servers to Microsoft Azure
That's also why Kom op tegen Kanker migrated most of its on-premise servers to Microsoft Azure, which are being managed by Proximus. "We still have some servers in our own data room," said Borremans, "but those may also shift to the cloud in time. This will allow us to easily scale up our IT infrastructure according to our growth. We know Proximus is the right place for the guidance we need."
Microsoft Azure is a public cloud platform that hosts and manages your applications in the cloud. Documents and data are always securely accessible from anywhere via Azure. What can Microsoft Azure do for your business?
Grow faster
"By opting for digitization, we can grow faster with the existing team," Braeckman continued. "We prefer a tech-intensive yet labor-extensive path." The big challenge for Kom op tegen Kanker is to get everyone involved in the digital story, including the older generations who are sometimes less adept when it comes to their smartphone. "We're doing this by completely redesigning our online user zone, among other things," concludes Braeckman, "and by supporting new forms of online payment. That's how we continue to make progress. Digitization is a project with no well-defined end point."
Kom op tegen Kanker is an independent NGO and non-profit organization. It is a pioneer and point of contact in the fight against cancer in Flanders. The NGO is committed to three goals: less cancer, more cures and a better quality of life for those with cancer. Headquartered in Brussels, Kom op tegen Kanker has about 100 employees.
Yves Braeckman is Digital Manager at Kom op tegen Kanker.
Serge Borremans is IT Manager at Kom op tegen Kanker.
One
One magazine is the Proximus B2B magazine for CIOs and IT professionals in large and medium-sized organisations.
Other articles of One