Why Belgium is not behind on digital transformation
Published on 03/05/2018 in Inspire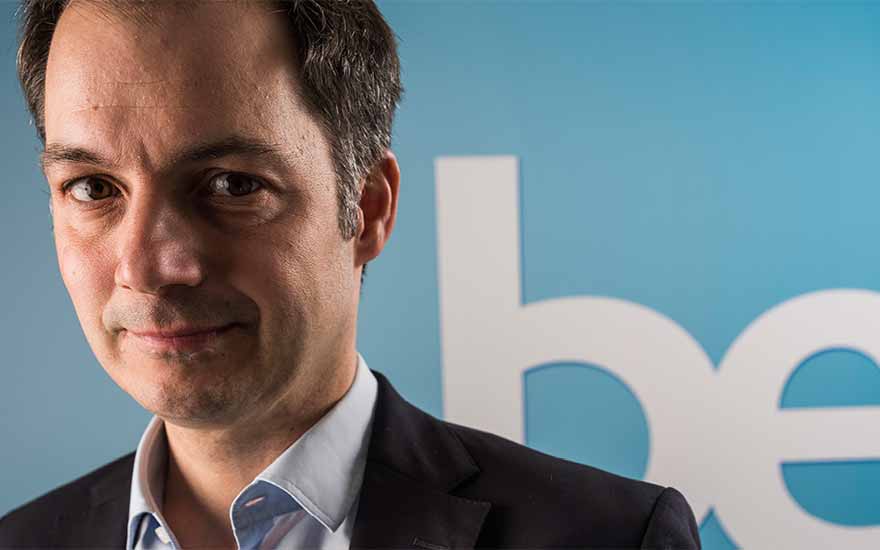 "There are opportunities for everyone in the digital world," says Minister of Digital Agenda Alexander De Croo. "The winner is not necessarily the biggest, but the fastest to offer an authentic and unique solution."
How about Belgium?
Belgium continues to lead the way in European digitization. Belgian companies and citizens must therefore seize this opportunity. "The doors to the digital world are open to everyone. The general public is now following the lead of early adopters. Most of all I see digitization as something that both makes the life of every citizen more comfortable and creates opportunities for companies."
What is the future role of digital identity?
"Electronic identity is of the essence. It is important that we find the right balance between integrity and user convenience. In the past, card readers and tokens provided integrity, but were not always very practical. We need to achieve a balance. The electronic identity card has now been in circulation for 15 years. We were pioneers at the time. However, the full potential of the eID has never been exploited. We are, once again, in a position to lead the way. The government has created a framework in which to allow digital authentication, resulting in itsme®."

Belgian businesses are undergoing a real transformation. Scandinavian countries can be inspiring on that score.

- Alexander De Croo, Deputy Prime Minister and Minister of Development Cooperation, Digital Agenda, Telecom and Post.
With Digital Belgium you have defined priorities for our country's digital future: digital infrastructure, digital security, digital government, digital economy and digital skills and jobs. Where does the focus lie for the next two years?
"Recently we have focused particularly on infrastructure and legislation, including the framework related to e-commerce and the tax shelter for startups. Important aspects in the coming years are digital government and digital skills. This is what has driven the creation of a specification for the eBox. All authorities, citizens and companies must be able to exchange electronic documents using a single digital postbox. A platform like Doccle already allows access to the eBox. This is similar to the way in which itsme® was developed. Once again we are making optimal use of the volume and innovation strengths in companies. And the fact that the government is using the eBox too will add an extra boost."
The second focus is on digital skills. Why are these so important?
"Because they are clearly becoming a bottleneck. Nowadays companies need staff with knowledge and skills which relate to the digital world: they must be able to use a tablet, they need to be familiar with digital marketing, etc. In fact, this is not only applicable to new staff. It is also important to train existing employees. With the Digital Skills Fund, the government is investing €6 million per year to teach people digital skills. In 2017 we used this money to fund 41 projects. One of these was BeCode, offering young people, who have left school but are unemployed and not receiving any other training, the opportunity to train in web development. We will be allocating €6 million to the Digital Skills Fund again this year."

Digitization is not something that happens to you. You can help shape IT yourself.

- Alexander De Croo, Deputy Prime Minister and Minister of Development Cooperation, Digital Agenda, Telecom and Post.
Do you still notice a certain fear in embracing the digital era?
"The question revolves mainly about how you perceive digitization: not as something that happens to you, but as something that you get involved in and can help to shape for yourself. A clear transition is underway. Digitization offers opportunities for everyone, but it remains a challenge to get everyone really involved. This is why I worked together with employer organizations on Tournée Digitale – a series of interactive info evenings to get self-employed entrepreneurs excited about e-commerce."
Where would you position Digital Belgium compared to the rest of Europe?
"We are among the top nations in Europe. Belgium has a really good global reputation when it comes to digital matters. But, of course, you can always improve. That's why we are offering companies the opportunity to test out our new technologies. In doing so, Ericsson has launched Europe's first working 5G network on the Corda Campus in Hasselt, on a section of radio spectrum provided by the government. Also, in the field of big data, we have developed various testing grounds, including some in collaboration with Maggie De Block, as the Minister of Health and Social Affairs."
Which countries can inspire Belgium to do even better?
"We are witnessing most changes in our own country. Belgian businesses are really undergoing a transformation. Scandinavian countries can be inspiring on that score. They are certainly ahead in terms of startups. Again, in other areas – for example, in biotechnology – we are in the top tier. But you certainly cannot afford to rest on your laurels for long in the digital world."
Can citizens still keep up in a world that is changing so rapidly?
"Belgians traditionally do not like to lead the way in the use of new technology. That is why it is important for the government and companies to team up and help keep them moving, and give new initiatives the volume they require. We are well educated, have the appropriate infrastructure and purchasing power. We need to turn that more to our advantage."
What relevant advice can you give to businesses?
"Take a good look at what is going on around you with mobile, big data, the Internet of Things, and all the rest. It is important to see this as an opportunity and not as a threat. The winner will not necessarily be the biggest, but the fastest to offer an authentic and unique solution. This is why we have developed a legal framework for the collaborative economy, to give Belgian startups the chance to have a go. The collaborative economy is not all about large players like Uber. In practice, our market is almost entirely filled with Belgian startups."
Infrastructure
Belgians spoiled by the country's dense networks
"In Belgium the infrastructure is managed by the private sector. And very successfully. With two fully developed networks for permanent and mobile communication we are rather spoiled in Belgium. Even so, there are still a number of hurdles. Think about the standards related to radiation and the tough planning permission procedures in Brussels. However, investment in the network in the future remains a task for the operators concerned. Europe can still also do much more. We are a long way from a single digital market. True, roaming has been abolished, but there are still many local rules related to, for example, data localization, VAT and copyright. Europe could do more by handling such matters at a European level."
Alexander De Croo studied commercial engineering at the VUB and gained an MBA in the US. After a short career at The Boston Consulting Group he went into politics. He was Chairman of the Open VLD, Senator, Elected Representative and Minister of Pensions. Since 2014 he has worked as Deputy Prime Minister and the Minister of Development Cooperation, Digital Agenda, Telecom and Post.
Innovate Identity, a British company, explains the how's and why's.
6 tips to manage security of digital identity.
One
One magazine is the Proximus B2B magazine for CIOs and IT professionals in large and medium-sized organisations.