Digital and agile collaboration? It will increase your company's productivity
Published on 15/05/2018 in Inspire 
Does collaboration in your company still happen like it did 10 years ago? If so, the time for digital reinvention is now as digital and flexible collaboration increases efficiency. Just being better equipped to look things up and communicate can lead to a 25% increase in productivity!
Better decisions
According to McKinsey, a company in the knowledge sector can increase its productivity by a whopping 25% just by sharing information more efficiently. That makes sense, as quickly chatting or sharing a document online takes less time than having to physically move to another location. Through this more fluid exchange of information and knowledge, employers can make decisions more rapidly and efficiently, which creates value for the business.
The same is true for your company: tomorrow people will collaborate differently. Often, dedicated teams are making way for flexible work groups in which new people with different fields of expertise are interacting. Actual virtual teams, that exclusively communicate through digital means, are also on the rise: 4 in 5 employees are already part of work groups that only meet virtually.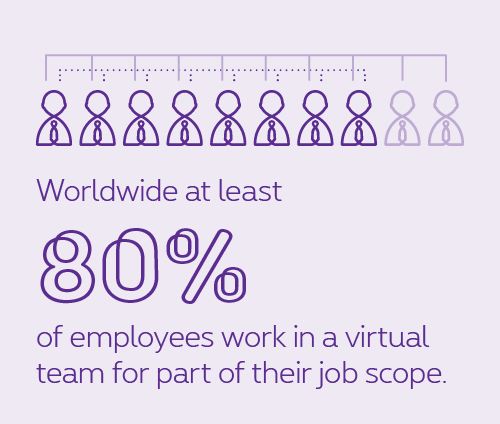 When virtual collaboration becomes an ecosystem
+35%
Collaborating with people outside of an organisation increases innovation and creativity by 35%.
Source: PGi Global Telework Survey, 2015
It's why companies who are leaders in their field are increasingly involving external parties in their decision-making processes. Thanks to new technologies, the contribution of suppliers, customers and other partners is often just a few mouse clicks away. A good digital workplace results in the creation of an ecosystem where everybody communicates with each other in real-time. Everything is centred on aggregating the right expertise, as hierarchy and location are losing importance. And it pays off, as those that look for expertise outside of the confines of their own organisation are expected to achieve up to 35% more innovation and creativity.
From unconnected tools to one system
So, where do you begin your digital transformation? The digital tools themselves are understandably an important cornerstone. Integrated communication tools, in particular, are deemed unmissable today: digital platforms bundle the most important communication channels used by companies. This makes switching more seamless and the operation more efficient.
Where in the past, co-workers needed to manually bridge their analogue telephone, paper planning and computer systems, today it is all integrated on one digital platform. Mails, chat messages, video-conversations: all possible communication channels are always within reach. This makes collaboration so much easier, regardless of physical distance.
The next step? Going agile!
Once your company has caught up on the digital train, it is time to take it to the next level: becoming an agile and viable company. Agile processes or methods make it possible to collaborate rapidly and intensely – even with multi-disciplinary teams or people from different organisations. The eventual goal for a company is always to be able to act more rapidly.

An agile team organises itself more, which has a positive impact on intrinsic motivation.

Philippe Gosseye, Sr. Director, Integrated & High Touch Marketing, Dell EMC
Especially popular are the agile methods that make it easier to oversee big projects. Just remember that these agile methods require a digital workplace, as flexible collaboration is only possible with the right supporting apps. The opposite is also true: you will only get the maximum out of digital solutions if your people adopt an agile work methodology.
Want to know more about digital and agile collaboration?
Download our e-book "The digital workplace"
Perspective
Magazine and online blog for business leaders, brimming with new insights for a fresh look at their company.
Other articles of Perspective