Tips to help you manage your budget
The cost of living is increasing in numerous sectors. You will find here some tips & ideas to keep your budget under control.
Get 5GB data extra
TV Customer? Great news! Benefit from an extra 5GB to use exclusively for the Pickx app.
Life hacks
To help your reduce the energy consumption of your devices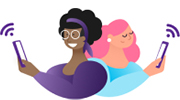 Connect to Wi-Fi when it's possible
By using wifi, your phone consumes less energy, and you also get to keep your data for when it is needed!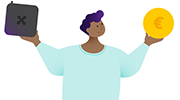 Lower your TV Box's consumption
Find out how to lower the power consumption of your TV Box and start saving.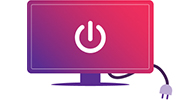 Turn off your TV completely
Your TV when in standby mode still uses between 0.3 and 0.5W. Plug it into a power strip and switch it off to turn off all your devices completely.
Prefer a refurbished smartphone
Replacing your smartphone does not have to be (too) expensive. Get a refurbished one. Good for your wallet, good for the planet!
Entitled to social tariff?
Do you have a special status? Check out the advantages and your elegibility to the Proximus social rate.