Refurbished smartphone: better for the planet, better for your wallet
Published on 01/07/2022 in Smartphones 
Replacing your smartphone does not have to be (too) expensive. And you can even do it sustainably. Prefer not to buy a new one? In addition to 'traditional' second-hand smartphones, you could go for a refurbished model. Rescued from the dumpster, repaired and repurposed, with a new lease on life.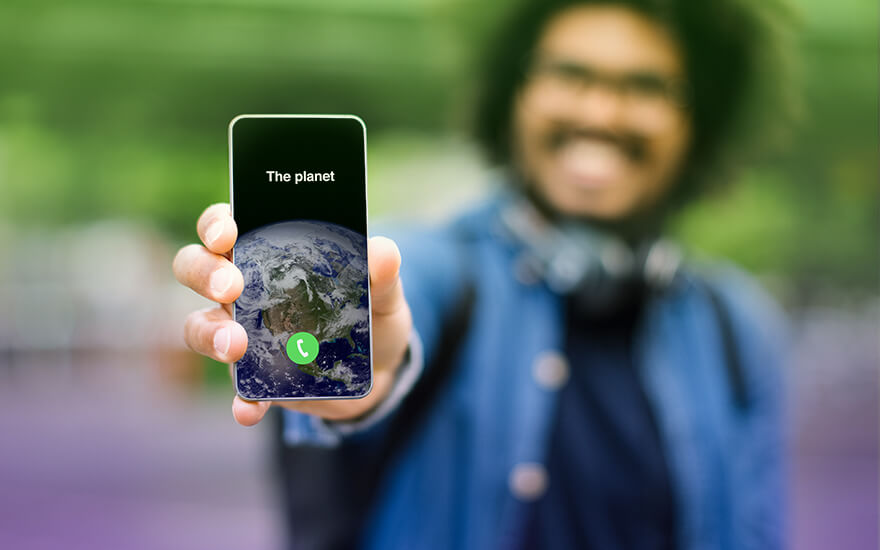 Refurbished, you said?
Simply put, refurbished smartphones are phones that have been fully serviced. They're certainly not new … but they're not exactly second-hand either. Before they are resold, they're cleaned, repaired and elaborately tested. From the screen to the battery, camera, video, charging capacity and sound. Every part is checked and, if needed, replaced. The goal? To offer a device that is guaranteed to be 100% functional, at a very affordable price.
From A+ to C: quality guarantee
Alright, but how can you be sure about the quality of a refurbished smartphone? Well, a score from A+ to C offers you full transparency:
A+ or 'as new': excellent condition
A or 'very good condition': some imperfections are present
B or 'good condition': more noticeable defects
C or 'correct condition': visible scratches and pronounced signs of use
Of course, prices will vary per score. However, by opting for a higher grade, you're sure you're buying a smartphone that will last you a long time. In general, refurbished smartphones are 30 to 50% cheaper compared to new models, at a very similar quality. At Proximus, you'll also enjoy a 2-year warranty on refurbished smartphones, just like on new models.
Better for the planet
Refurbished smartphones are not just better for your wallet. They also allow us to reuse high-quality smartphones, which means fewer new ones have to be produced. A smart and responsible approach that's better for our planet – and perfectly in line with Proximus' sustainable ambitions.
Thanks to the refurbishing, CO2 emissions are reduced, some electronic waste is eliminated and fewer raw materials are used. In short: a great way to combat programmed obsolescence and reduce our environmental footprint. Plus, of the 17 rare metals known to our planet, 16 are used in the assembly of smartphones. Extending its life and use is therefore essential.
With refurbished smartphones, we respond to your desire to buy responsibly.
Recycle your smartphone
At least 90% of the precious materials in our smartphones are recyclable! And you, will you also recycle your old cell phones? Go to one of our points of sale and receive a voucher in exchange.
Where can you find a refurbished smartphone?
Proximus offers refurbished smartphones of the best quality on the market, both online and in the Proximus Shop. All defective parts have been replaced and the devices have been fully cleaned and disinfected. Added bonus: you get a 2-year warranty, just like on a new smartphone. Discover our refurbished smartphones
Katleen
Being efficient, that's my 'thing'. Expect concrete tips, apps and services that will make it easy for you!
Other articles of Katleen