Test-Achats: "Proximus has the best mobile network".
Published on 19/02/2021 in Service 
The best mobile network in Belgium? You'll find that with us. An independent survey by Test-Achats now proves it. It's also evident from more than 10,000 tests that were carried out by users throughout the past year via the BeCover+ app.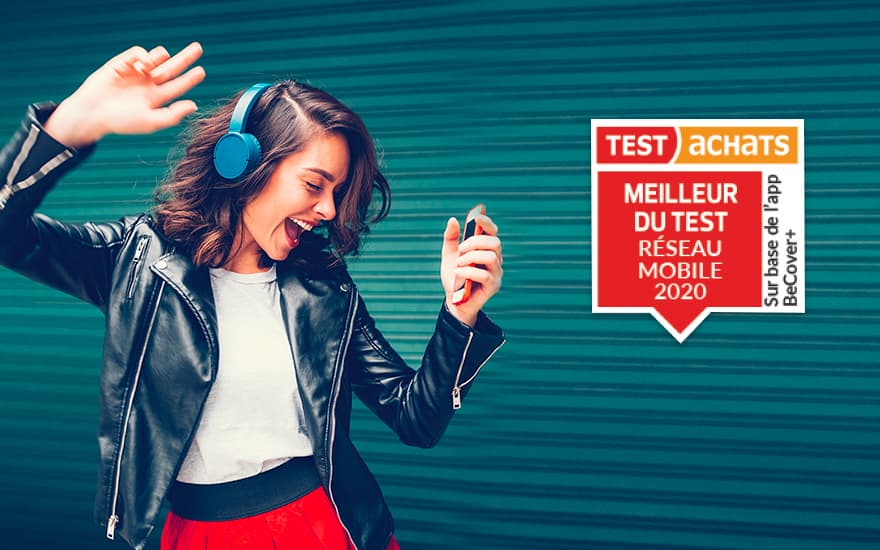 What is BeCover+?
Using BeCover+, the Test-Achats organization collects data from users regarding the network quality of the three Belgian operators. Anyone can contribute to this by downloading the corresponding app for Android or iOSNew window. For this, Test-Achats has joined forces with 4Gmark: a leading company that is specialized in this kind of survey. The result is a handy interactive mapNew window with the results of the past 12 months. As a user, you can immediately see via the app which operator network has the best network coverage at your location.
Compared to the standard tests, BeCover+ provides a more realistic picture of both the network coverage and factors such as mobile Internet speed. The app is, in fact, based on a complete test of the real user experience. You receive a score for the network coverage on your smartphone, calculated on the basis of four aspects:
The download speed,
the upload speed,
the time (in seconds) before a YouTube video starts to play
the average time (in seconds) in which a web page is loaded.
This score is then compared to the average coverage in your area, based on other users of BeCover+. All these tests together determine the final score of Test-Achats for the three operators.
---
What does the best network coverage mean for you?
Whether you just want to surf, download photos or stream music and videoNew window: you have the fastest mobile Internet for all this with Proximus. For our high-quality network, BeCover+ registered an average download speed of 28.2 Mbps in 2020. The upload speed, on average, was 9.1 Mbps.
Our reliable network is also ideal for entrepreneurs. For example, you can quickly transfer filesNew window and continue to monitor and manage your company while on the move.
Sophie
Avid web & apps user, must admit a tiny bit FOMO, so never getting out without my smartphone! #friends #family #travels #web #popculture #graphicdesign #art #fun
Other articles of Sophie