100% digital employees
Published on 26/10/2020 in Sectors 
The Covid-19 crisis is a crash course in homeworking for many companies and employees. And luckily, employers and employees both manage to deal with this new working remotely reality fairly well.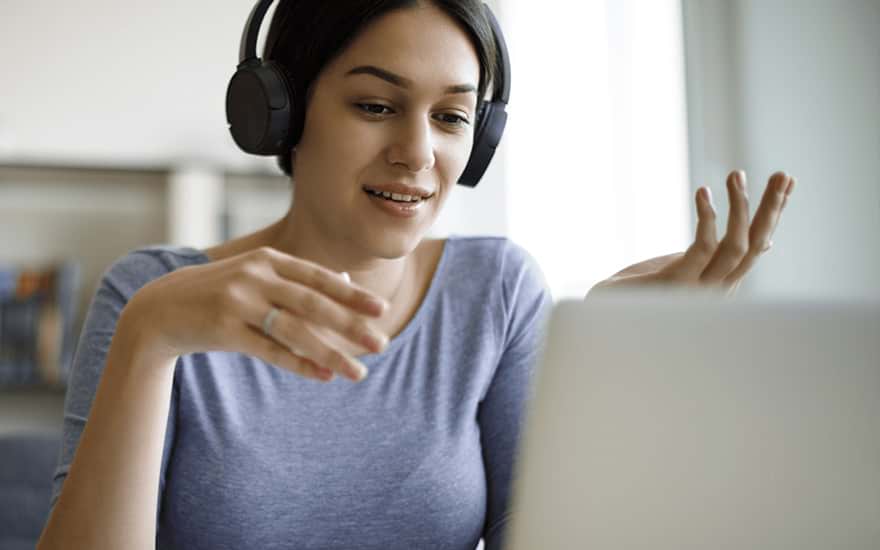 Now's the time to embed good digital workplace habits and close the last non-digital gaps for your employees. With always-on connectivity anywhere, optimized usage of office space and simplified procedures you get a professional at-home workplace for all your employees.
The 100% digital employee (and employer) expects optimal productivity anywhere, anytime. Good digital practices maximize your employees' potential!
77% of the workforce wants to continue working from home, at least once a week even after the pandemic is over.
Source: Global Workplace Analytics, 2020
44% of millennials think their workplace is not smart enough.
Source: Future Workforce Study, by PBS for Dell / Intel
Homeworking without compromise
The way we work continues to shift and employees expect their employers to facilitate that. The upside? Doing so can be highly beneficial for you as an employer as well.
91% of people who work from home indicate that they're more productive than when they're in the office.
Source: Forbes.com
Our internet connectivity packs for employees are a fiscally advantageous salary alternative, where you, as an employer, pay part of the costs of your employee's private Internet subscription.
Discover our Pack for Employees
Lease the latest devices at a fixed price per month per user. Keep an overview of all devices in your enterprise without having to worry about hacking or potential leakage.
With Office 365 and Teams, you open up homeworking to more people. Activate your digital workplace and increase both productivity and employee satisfaction.
Learn more about the digital workplace
Transfer the security of your IT environment to Proximus. With our platform, knowledge and enabling services, you assemble the ideal Managed Security Services package.
Discover our Security Services
Customer story Finance and Justice opt for Security-as-a-Service
The Federal government called on Proximus for a security service comprising all security phases:
Prevention
Detection of threats that manage to get through
Response to the attack
Lessons learned from successful attacks to prevent future attacks
Future ready offices
Even though homeworking is there to stay, employees will gradually return to their offices to meet up in person. Smart buildings make use of data analytics to enable smart work experiences. As an employer, this enables you to move away from 'managing buildings' and instead, focus on optimizing the 'employee experience'.
How much parking space is free? Which desk is available? Which meeting room meets your needs? Internet of Things sensors can greatly improve the comfort of your employees while you optimize floor occupancy, environmental conditions and energy usage.
More on connecting objects and buildings
How ready for tomorrow are you and your employees? Our advisors help you assess your current digitalization maturity level. Identify your ICT related challenges and prioritize accordingly.
Stay in digital shape with our Advisory solutions
Customer story: Discover AXA Belgium's smart building
AXA Belgium's new head office in the center of Brussels fully embraces the new way of working, providing smart technology in an easily accessible building.
50,000 square meters of offices, meeting and breakout rooms.
Usage of offices, workstations and meeting rooms is monitored through 1,850 IoT sensors.
A ratio of 6 workstations per 10 employees further promotes homeworking.
Simplify your human resources procedures
Imagine… one app to handle all your basic HR activities. Whether that's requesting and approving holidays, planning remote meetings, finding a meeting room... and so much more. Discover MyAssistant, our intuitive HR application. The one stop shop for everything related to HR at your company.