Smart Wi-Fi
Smart, fast & stable Wi-Fi
Included in your pack
Manage your Wi-Fi with the MyProximus app
A powerful Wi-Fi at home
Nowadays, we study, we work, we tiktok, we game at home ... And the whole family needs a smart Wi-Fi to do it. That's why a rock-solid connection is more important than ever.
Smart Wi-Fi manages all your connections and adapts to provide you with the best Wi-Fi coverage:
Enjoy optimal speed, without interruptions, when surfing on different devices
Keep a stable connection even when you move from room to room
Discover how easy it is to activate Smart Wi-Fi through the MyProximus app without any costs. It's included in your pack!
Download the MyProximus app and discover Smart Wi-Fi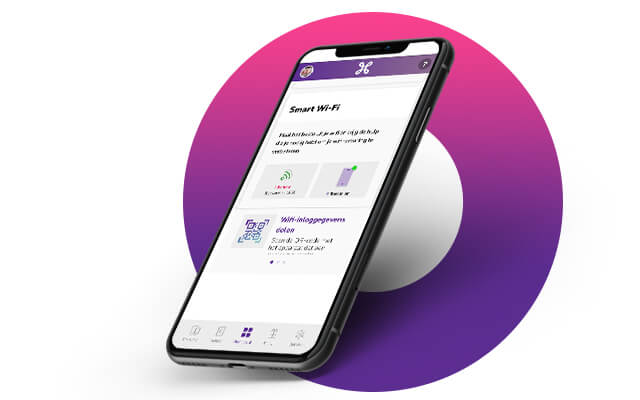 Discover all features of Smart Wi-Fi
Enjoy high quality Wi-Fi & great features in your MyProximus app
Real-time advice
With Smart Wi-Fi, you can see the status of your network at any time and get tips to improve your network.
Test your Wi-Fi performance in every room
Thanks to Smart Wi-Fi you can monitor and analyse the Wi-Fi speed and Wi-Fi strength in any room and get personalized recommendations to improve it.
Need a Wi-Fi break?
Need a digital detox moment to enjoy quality time with friends & family? Or you want to pause the Wi-Fi access during your kids' bedtime or during family dinners? Just need them to stop consuming all your bandwidth during the day?
Simply turn the Wi-Fi access off in a few simple clicks via the MyProximus app.
QR code to share your Wi-Fi
Generate a QR code to quickly share your Wi-Fi access with your friends.
View or rename your connected devices
Some devices on your Wi-Fi network might have hard to identify names (e,g. a printer named "a738b000001").
You can now easily recognize your devices by simply renaming them via the rename button in the MyProximus app.
Automatic switch to Public Wi-Fi
Head out the door and your Wi-Fi switches automatically to Public Wi-Fi so you can seamlessly continue to surf.
Need a Wi-Fi Booster?
Our Wi-Fi is a powerful one, but it could have trouble coming through in well isolated homes. Your Smart Wi-Fi indicates if a Booster is useful to increase your Wi-Fi coverage. It also offers a wireless connection for your TV!
Just scan the QR code with your smartphone and go to Smart Wi-Fi directly
Questions about our offers?
An advisor is at your service