Walloon vaccination centers implemented at record speed
Published on 30/08/2021 in Solutions & services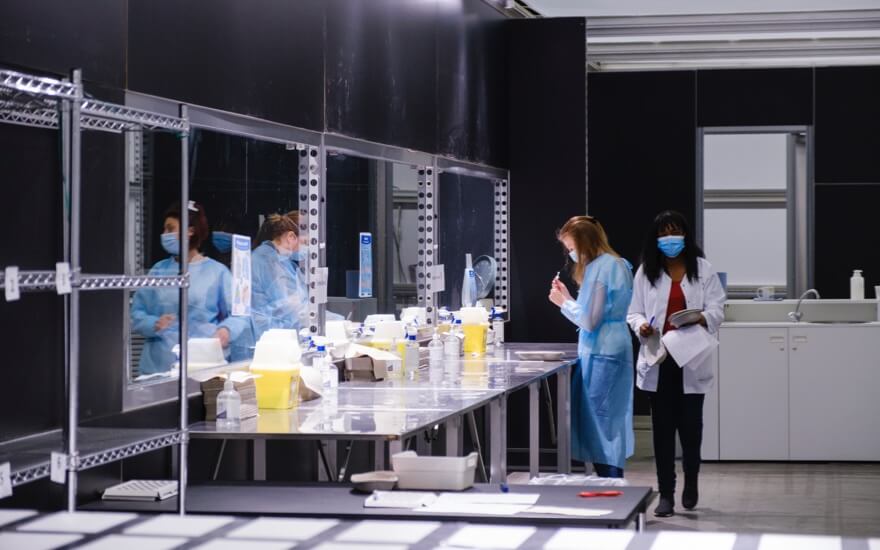 Proximus provided the IT support for some 41 fixed and twelve mobile vaccination centers in Wallonia. A gigantic technical and logistical operation that, thanks to a strong ecosystem, was ready in time for the start of the vaccination campaign.
Proximus' involvement began with a set of specifications, more specifically concerning the IT and communication infrastructure in the vaccination centers.
The scope was:
general infrastructure: secure internet access via a wireless network, wireless DECT telephony, etc.
user devices: laptops, printers, QR code scanners, DECT phones
very specific applications for monitoring the temperature of the vaccines and for monitoring the CO2 concentrations
information screens for visitors
"We found the necessary solutions for most issues within the Proximus Group," explains Geert Blommaert, Bid Manager at Proximus. "We called on our subsidiary Spear-IT for the user devices." Our ecosystem helped tremendously with a task of this magnitude and timing."
Uncertainties as a Challenge
"The supply of vaccines was very variable and unpredictable. This meant we had to react quickly, both for the initial opening of the 41 centers and for the extensions to the 12 mobile vaccination centers that were decided later. The number of vaccination lines also varied greatly from center to center," says Frédéric Janssens, Proximus Client Manager.
Our colleagues gave of their best because they were only too aware of how great the added social value was.
Frédéric Janssens, Client Manager at Proximus
Logistics Operation
"Moreover, there was no more than a week and a half between the publication of the order and the submission of the specifications," Geert explained. "They literally and figuratively worked on that day and night. We had two weeks for the execution. Even before we knew if the deal was in, we already booked equipment with manufacturers. Then there was the logistical challenge.
The suppliers had everything centralized in Brussels. Technicians had to configure the necessary equipment there and then, before it was taken to the vaccination centers. We managed to install all the equipment in the 41 centers on time."
The hardware was centralized and configured in Brussels and then taken to be installed at the 41 centers.
Geert Blommaert, Bid Manager at Proximus
Top Team on the Move
"It is the feeling that we were doing something for society that has stayed with me," emphasized Frédéric. "There were hard work evenings, nights and weekends because you knew it was for a good cause." That additional work was largely voluntary. The core team at Proximus consisted of about 25 people.
All the parties involved added up to a team of 270 people. "It was all about teamwork, with a key role for the project manager for direction. The approach to these projects normally follows a pretty fixed pattern. Now it had to be done differently and especially faster," Geert concluded.
Anticipating Problems
Problems can never be completely ruled out. But the risk can be mitigated considerably. "We always build in buffers in order to provide IT security, but our solutions are, almost always, sufficiently stable so that we don't need them," clarified Geert. There is a 4G-backup for internet access and there are also batteries for the critical components to fall back on in case of power failure.
Further Follow-Up
Mission accomplished, or perhaps not? "Follow-up is a core part of our task," Frédéric explained. "That's the logical consequence of the service we offer. We provide a specific 0800 number. If there is a problem or if they have a question at the vaccination center, this number goes straight to our service desk. There they get someone on the line who is trained to assess the situation correctly and to send the right specialists. In addition, a separate email address has been created where they can go with less urgent questions."
Frédéric Janssens is Client Manager for the public sector in Brussels and Wallonia. He was the designated commercial manager for this particular project.
Geert Blommaert has been Bid Manager at Proximus since 2015. He coordinates the internal activities when preparing complex quotations, such as for this project.
One
One magazine is the Proximus B2B magazine for CIOs and IT professionals in large and medium-sized organisations.
Other articles of One