Vaigo streamlines flexible mobility at Proximus
Published on 16/09/2021 in Inspire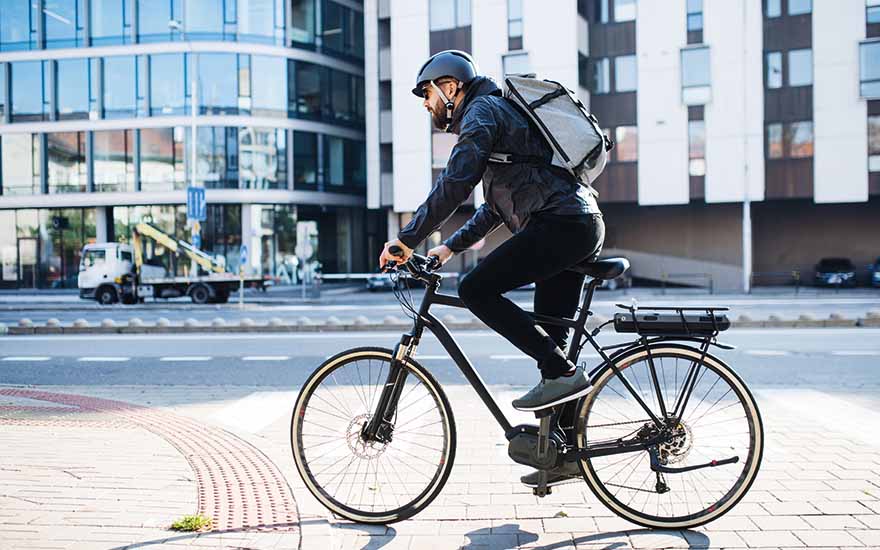 Going to the office? Today, we prefer to decide for ourselves – and be as flexible as possible. Vaigo fulfils those expectations. Tom Broos and Roeland Vanrenterghem describe how their mobility hub contributes to the sustainable vision of Proximus.
Proximus is continuously committed to making its processes more sustainable. Mobility also plays a key role in this area. The employees have had a mobility budget for some time via the cafeteria plan. To reinforce its sustainable vision, Proximus recently stepped up a gear with a renewed and even more flexible mobility policy.
Integration into business processes
"Proximus found that the available software solutions were running into limitations," explains Tom Broos, who founded Vaigo together with Roeland Vanrenterghem. "There are plenty of trendy apps on the market for mobility as a service, but they are only partly geared to business processes, if at all. After all, it's important to bring the mobility budget in line with the wishes of the HR department, while at the same time ensuring streamlined invoicing and maximum ease of use."
Comfort for employer and employee
"That's not all," Roeland added. "Within a company, different target groups also require a separate solution. This is the case, for example, when specific agreements with the trade unions apply, or in the case of takeovers. As a result, when creating Vaigo, rather than thinking of the sexiest solution, we designed one with the greatest comfort for both the employer and the employee."
We kept maximum comfort in mind when creating Vaigo, for both the employee and the employee.
Roeland Vanrenterghem, founder of Vaigo
Personal mobility budget
Vaigo offers the possibility to fully adapt the mobility options to the needs of the employees and the location of the company. Everyone can easily choose from numerous modes of transport and uses their personal mobility budget for this purpose. "All employees are free to decide how and when they want to travel: by bicycle, train, metro, lease car, electric car, and so on. This approach promotes both flexibility and sustainability, because it's perfectly possible to leave your company car at home on a sunny day and opt for the train or a bike lease," Tom explained.
Flexibility and sustainability are promoted: it is perfectly possible to exchange the company car for the bicycle on a sunny day.
Tom Broos, founder of Vaigo
Integrations
Vaigo's mobility hub also streamlines all underlying processes. For example, the hub integrates and manages all costs related to the chosen mobility solutions. Roeland: "Vaigo offers connections with, among others, De Lijn, NMBS, TEC and more. It is also possible for the customer to include additional service providers in Vaigo. This is how the integration with Powerdale was realized at the request of Proximus."
Electric charging at home
Powerdale specializes in the infrastructure for electric charging, such as charging stations, smart cables and a software platform that makes it possible, among other things, to reserve charging stations and register charging sessions remotely. "Proximus considers electric driving a crucial factor for future-oriented and sustainable mobility and therefore also an indispensable link within its Vaigo environment," said Roeland.
When a Proximus team member decides to switch to an electric car, Vaigo carries out the necessary orders and checks. It also facilitates real-time recording of power consumption and allocation within the employee's mobility budget.
Pioneering role
Tom notes that Proximus has assumed a pioneering role in sustainable and flexible mobility. "With its services, Proximus makes the new way of working possible but, as an employer, it is, of course, also directly involved. The company was one of the first to look into the future of the office."
Mobility moves
Vaigo's founders expect mobility to continue to evolve in the coming years. "Many employees have a problem leaving the car at home entirely," Tom explained. "I think it's quite possible to leave the car at home for a number of trips. Many families today buy a spacious diesel or petrol car for that one skiing holiday, while an electric car is perfectly fine for the other 51 weeks. I am convinced that the mobility budget encourages families to consider, for example, the night train to Vienna for that ski trip."
Tom Broos and Roeland Vanrenterghem graduated as economists together. After going their separate ways for a while, they jointly identified the need for a process-oriented mobility hub. They launched VaigoNew window in 2018.
For its mobility plan, Proximus starts from its carbon footprint and the benefits for its employees.
One
One magazine is the Proximus B2B magazine for CIOs and IT professionals in large and medium-sized organisations.
Other articles of One