A sustainable and multimodal mobility plan for Proximus
Published on 16/09/2021 in Innovate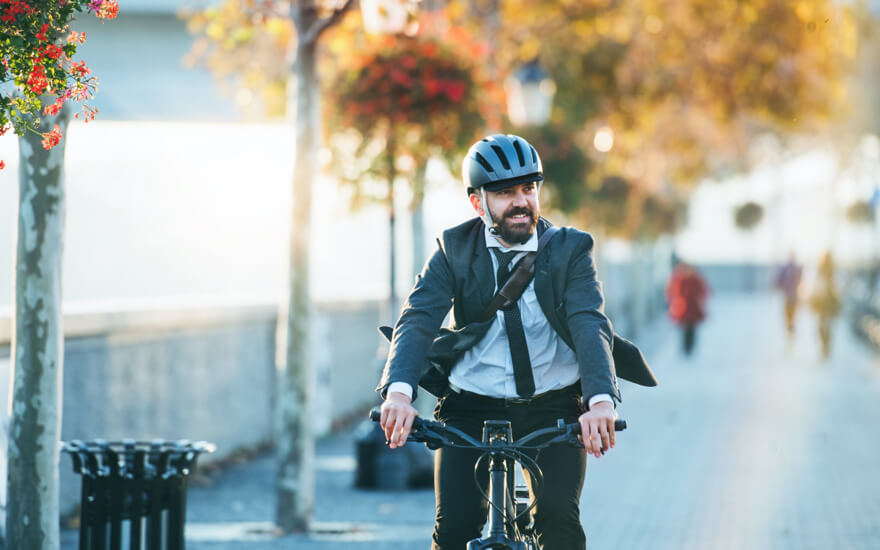 Aligning an environmentally sound vision with the ambition of reinvented mobility. Proximus is tackling this challenge with an innovative mobility plan for all employees, supported by a high-performance digital platform.
Trigger a change in behavior
The mobility budget has existed in the company for a few years now. The experience gained, the new vision and the current health situation are now the perfect levers for a consolidated and revised version of the mobility plan. "We have been encouraging our employees to choose alternative modes of mobility for ten years now. Today, the focus is on the need (or not) for travel, environmentally sound alternatives to mobility and a greening of the vehicle fleet. In short, we are encouraging a profound change in behavior in terms of mobility", explains Gregory Jacobs, Compensation & Benefits Manager at Proximus.
We are encouraging a profound change in behavior in terms of mobility.
Gregory Jacobs, Compensation & Benefits Manager at Proximus
Less kilometers, more mobility (green)
The finding is positive. The average number of kilometers traveled with a company vehicle decreased from 35,000 km in 2009 to 25,000 km in 2019. "The trend is continuing and 70% of the employees concerned are also in the process of obtaining a rail pass", stresses Peter Wambacq, Fleet Manager at Proximus. "Our mobility plan is not a fiscal optimization exercise, it is a real reflection on our eco-footprint and the new benefits for our employees: shared cars and bicycles, public transport, parking lots and even energy consumption… the list is as comprehensive as possible.
Digital ecosystem
A mobility plan is not just empty rhetoric. According to Jacobs, the project meets several objectives in line with the organization's vision. "The plan ties in seamlessly with our employer branding efforts and our position as an innovative market player. It is made possible thanks to several Belgian SMEs that see `digital"' as an attitude. They are joining our existing ecosystem. The best example of this is the Belgian platform Vaigo, which we use for the centralized management of the mobility budget.
Our mobility plan is a real reflection on our carbon footprint and the new benefits for our employees.
Peter Wambacq, Fleet Manager at Proximus
Innovation as a top priority
Does the new mobility plan ultimately differentiate itself from other forms of alternative remuneration? Jacobs' answer is yes. "We deliberately chose a different approach. First, the mobility budget for employees is not linked to a cafeteria plan. In addition, all stakeholders are centralized on a single platform. And, last but not least, the benefits can be enjoyed `on the go' via a smartphone. My department can finally focus on its core activities again and the employees can manage their mobility budget with full autonomy.
Ecoscore: 71
In 2019, Proximus made a commitment to no longer purchase vehicles that run on fossil fuels. This objective is in line with the European 'Green Deal' and requires several steps. "We are analyzing the medium-term vision of car brands as well as the extent to which they participate in the circular economy. Currently, the ecoscore of vehicles ordered must be higher than 70.
The goal is for 90% of the fleet to meet this criterion as quickly as possible." According to the fleet manager, four out of five people have already taken this step, increasing the ecoscore from 65 a few years ago to 71 now. "We are setting the bar as high as possible," concludes Wambacq.
An alternative to traditional charging stations
Charging systems are needed to electrify the fleet. To simplify the work of the employees involved, Wambacq's criteria were clear: "Work directly with an energy supplier capable of offering a digital consumption management tool for both the user and the operator. We came across PowerdaleOpens a new window , a Belgian company that offers a smart and flexible alternative to traditional charging stations: a smart cable that perfectly synchronizes data with our platform. The ideal solution for a fleet of hybrid cars. "
'Campus project' and 'Mobility plan'
No one knows when the pandemic will be over. But one thing is certain, we are seeing a paradigm shift in terms of both mobility and office property. In Brussels and in our local offices, the configuration of the space will be tailored to support collaboration within multidisciplinary teams. Teleworking will be encouraged in areas that require less interaction and we will provide our employees with the necessary equipment. That is the direction we are taking with our 'Campus project', a strategy closely linked to our mobility plan", explains Jacobs.
Next steps
A mobility plan is an evolving project. Wambacq announced that 250 charging points will be installed in Proximus' regional buildings over the next four years. The company will also test electric and hybrid utility vehicles in 2021. "Even the lettering on our service vehicles is being addressed to ensure the visual communication of our environmentally sound and multimodal movement." For his part, Jacobs continues to work on empowering users by promoting greener mobility.
Gregory Jacobs is a top HR professional. As Compensation & Benefits Manager, he uses the mobility plan to convince employees of the carbon-free strategy.
Peter Wambacq has been managing Proximus' fleet for almost twenty years. His motto is the automation of processes and the greening of the company's fleet.
One
One magazine is the Proximus B2B magazine for CIOs and IT professionals in large and medium-sized organisations.
Other articles of One