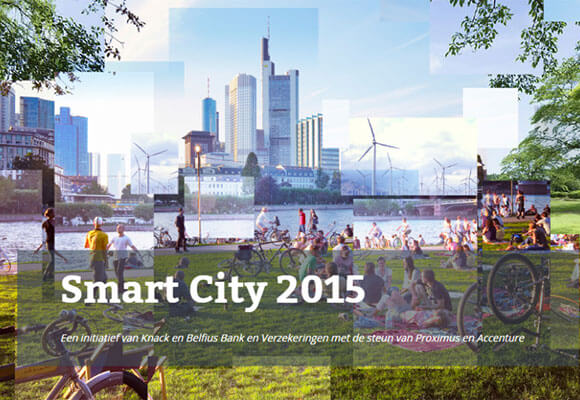 Smart cities are cities and communities that make use of technological solutions to increase their sustainability, mobility, accessibility and their citizens' quality of life. In this way they become more attractive to residents and more competitive for businesses.
Many Belgian cities and communities have already taken smart initiatives in various areas to guarantee their residents even better, preferably digital, services. The city of Lier, for example, has proven that better service is sometimes a matter of the little things. Until recently, all applications for notarial information had to be processed manually and per parcel by employees of the municipal services. At the end of 2013 the process was automated and the digital registries were recorded in one central database. Now the applicant gets a pfd document in his mailbox, without any intervention of an official.
Smart mobility with the bicycle
Deinze has focused on an additional offer in the area of mobility. A third-party payment system for bike sharing has been set up, so that use of a Blue-Bike shared bike has become free of charge for residents and visitors. This makes Deinze the first city in Belgium to finance travel with Blue-Bikes. The basic price of 10 euro for a Blue-Bike subscription still applies, but the amount of 3 euro per ride is fully borne by the city.
In Liège too, the bicycle policy forms a cornerstone in the creation of attractive environments for living and shopping. Vélocité is a unique bicycle rental program oriented toward all Liège residents who want to change their transport habits. Cycling in Liège can be difficult, however, because of the steep inclines. An electric bicycle is an alternative. The only drawback is the high purchase price. So the city is giving 400 persons or families the opportunity to use an electric bicycle free of charge for two months.
Machine-to-machine via LoRaWAN
Thanks to the digital revolution that began in the sixties, smart solutions for local governments are possible. The common theme is connectivity. There too, new technologies ensure continued progress. LoRaWAN™, for example, is an innovative, energy-saving technology that connects devices to the Internet over long distances. Proximus was the first telecom operator in Belgium to roll out a wireless network based on LoRaWAN™. The new network completes the machine-to-machine offer of Proximus.
What's the smartest city in Belgium?
In addition to the smart solutions in Lier, Deinze and Liège, seven other projects have been nominated for the final round of the Belfius Smart City Award (visit the French website). The winner will be revealed on December 2. The Agoria Smart Cities Forum and the Agoria Smart City Technology Awards are also being organized along with this award ceremony.
What about the Netherlands?
In the Netherlands too, Smart Cities are constantly in the media. Read here about the progress in creating a smart urban delta in the Netherlands at the Dutch website www.mijn-gemeente.com.