Easier travel through Antwerp for SMEs
Published on 19/03/2018 in News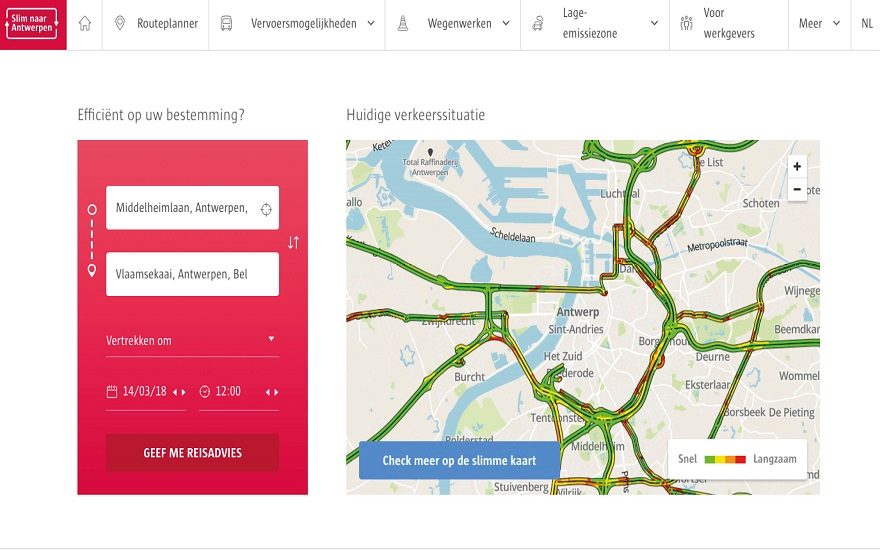 The city of Antwerp has expanded the Slim naar Antwerpen (Smart ways to Antwerp) project to large companies and SMEs. In the meantime over 27,000 employees are already being encouraged to travel smart in the city.
Slim naar Antwerpen is a project of the city of Antwerp in collaboration with partners like the Flemish government, De Lijn, BAM and the NMBS. Be-Mobile, a subsidiary of Proximus, is at the heart of the project. Slim naar Antwerpen aims to make the hindrance from major roadwork such as the Oosterweel connection more manageable with the aid of various initiatives such as a personalized route planner that takes account of the most recent roadwork and detour routes. In addition, Slim naar Antwerp aims to keep 10,000 cars out of rush hour.
For SMEs too
Slim naar Antwerpen was already focusing on large Antwerp companies with more than 150 employees at the beginning of 2016. By the end of that year, thanks to the support of the Flemish government, opportunities were also offered for SMEs with 20 to 149 employees. In the meantime over 28 large companies with more than 150 employees and 32 SMEs have already joined. So altogether, over 27,000 employees are getting help to make their commute faster and more sustainable.
Customized advice
Specifically, companies and employees can not only count on customized advice from experienced accessibility managers; they are also offered a range of services and products that facilitate sustainable commuting: a mobility scan that results in a customized mobility guide, advice and training, trial offers and discounts on public transportation and (electric) bicycles, a communication toolkit and much more.
Smart alternatives
In addition to the many possibilities of Slim naar Antwerpen, there are still other alternatives for anyone who wants to get his employees to work sustainably and efficiently. One of the most remarkable is undoubtedly Office on Wheels, an office bus developed by Colruyt Group in collaboration with Proximus. In the bus, a hundred employees can make use of wireless internet, a coffee machine, a cloakroom, a printer and a toilet. The initiators want to see whether they can convert wasted hours in traffic into office hours. Proximus is supporting this project by converting a powerful high-bandwidth 4G connection into separate, secure Wi-Fi networks for every user group. Discover the sections yourself.
In addition, initiatives like Mobit, the app that lets you find and rent a shared bicycle quickly and easily with your smartphone, and 4411, the app with which you can pay for parking time and bus or tram tickets more easily, also help make more sustainable travel possible.
Watch the video Slim naar Antwerpen for employers