SMEs : inspiration for big companies
Published on 17/09/2018 in Inspire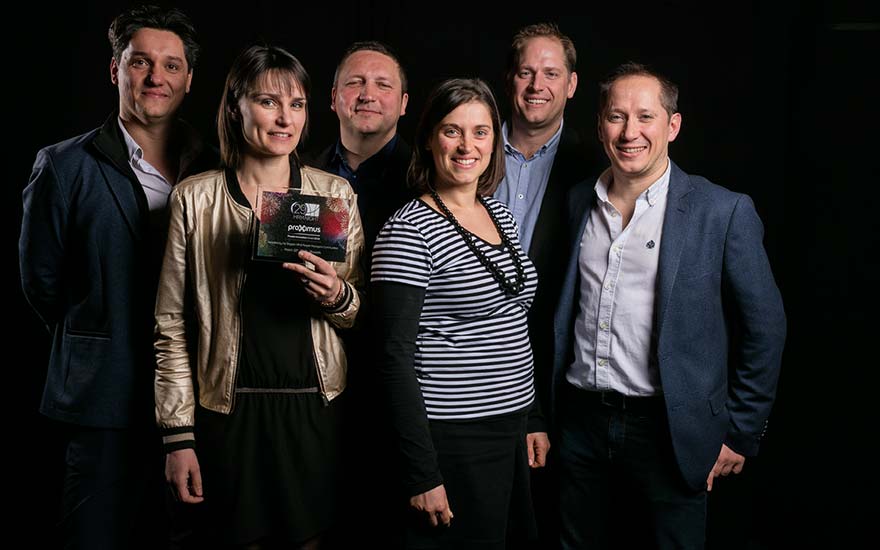 A well-thought-out HR policy has a major impact on the success of your company. SMEs, too, can prove outstandingly innovative in this area. The best of all was recently presented with the Proximus People Innovation Award.
Discover how to combine digital transformation and HR
"Big companies often have a perfectly masterminded HR strategy, drawn up by experts," says Didier Ghysen, HR director at Proximus and member of the jury. "But they frequently have difficulty translating this to the workplace. In SMEs, we often see just the opposite. In many cases, there is not a sign of a HR manager. So the CEO gives his staff the freedom to come up with their own solutions.
And then you often see how these people come up with very creative and innovative solutions. In other words: the lack of means in SMEs is largely offset by this co-creation. The creativity displayed by our nominees is a valuable lesson for many big companies."
Ready for tomorrow
"HR is currently going through a transition under the influence of the digital transformation. Big companies often call on experts and change managers, but SMEs are wrestling just as much with this digital transformation. But they deal with it differently.
And we can learn a great deal from that," according to Ghysen.
Yves Ghys, manager of the Proximus inside sales experts team and member of the jury adds: "Innovative SMEs have shown us in a unique way how to combine digital transformation and HR. We have gained an insight into how SMEs are dealing with this, which digital tools they prefer and which other methods they use to empower their people."
Dealing with your days' off yourself
As well as the winner Group Jean Nonet (see inset), Ghys was impressed by another nominee, Ecoservices: "At Ecoservices, everyone is responsible for their own HR. Employees are expected to deal with their own holidays and other personnel matters. That's fairly innovative."
Ghysen mainly recalls the common thread linking all the nominees: "I was particularly struck by the transparency and the communication with the staff among all our nominees. The way in which they constantly tell their staff what they are doing, why they are doing it and what role the staff play in this. It's done in a very down-to-earth manner, but is particularly efficient."
And the winner is… Groupe Jean Nonet!
"We never expected to be on that podium," laughs assistant manageress Claire Nonet. And yet her company, construction firm Groupe Jean Nonet, was named the winner. She believes they can attribute this to the relationship with their employees: "My door is always open to them. We don't forget their birthdays and always fill up the drinking chocolate in the dispenser. All our staff have our mobile phone numbers.
And I have introduced evenings when I am there so that anyone who wishes can easily come and talk to me." This close link is also what won over the jury: "They adopt an extraordinarily transparent HR policy, both as regards the use of tools and the deployment and rewarding of their people. We thought that was highly innovative, particularly given the somewhat conservative HR outlook in the construction sector."

My door is always open for our employees, literally.

Floreffe-based construction firm
Established in 1958
150 staff
Turnover of EUR 30 million

Discover how to combine digital transformation and HR
Perspective
Magazine and online blog for business leaders, brimming with new insights for a fresh look at their company.
Other articles of Perspective