Missed call, lost customer?
Published on 01/05/2018 in Inspire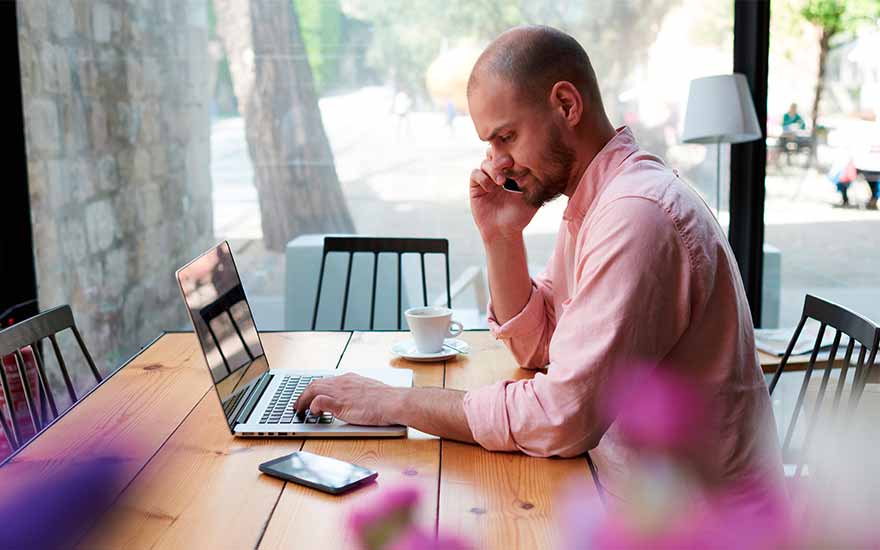 It has long been accepted that mobile working is beneficial for your company and your staff. But have you ever wondered how to adapt your telephony to this?
By allowing your staff to work on the move or at home more often, as an employer you do not have to spend so much on office space, you keep your energy consumption under control and your productivity even increases. 86% of staff work as many or more hours at home. And as there are fewer distractions at home than at work, they spend their time more efficiently. But staff, too, see great advantages to the new mobile way of working. A mobile digital workplace makes them more flexible, so they can balance their work and their private lives more easily. For many millennials, the possibility of mobile working has become a basic condition for wanting to work for a company. Over half of them are even prepared to give up as much as 10% of their salary in order to work from home.
Always reachable, wherever they are?
Above all, customers appreciate the fact that staff who work on a mobile basis can be reached at any time, wherever they are. But if your staff leave the company, you risk losing customers who only have the mobile phone number of your previous staff member. A business smartphone resolves that problem but creates other difficulties. For instance, there is the GDPR, which states that you cannot access personal data on a worker's business mobile just like that. In tax terms, too, a work mobile phone is not always easy. What is more, mobile working does not make customer relations any easier. Because if you really want to offer your customer the best possible service, you need to record every interaction with customers via your CRM system – including those with individual staff members at various locations. Only then can you continue to monitor your customers' needs.
51% of millennials are prepared to exchange up to 10% of their salary for home working.
The solution: synergy
And yet there is a remarkably simple way of making the switch to mobile working advantageous for your customer relations, as well: by combining your CRM system and other operating applications, your fixed telephone exchange and your mobile communication to form an efficient and intuitive whole. Because by synchronizing fixed and mobile devices, your staff can be reached at any time, wherever they are, on their fixed office number. Including on their mobile device. And if they do not want to be disturbed, they can simply switch to their private number and calls from customers are then redirected to colleagues or an answering machine. Invoices are clearly divided into business and private use. What is more, you can record all interactions with customers in your CRM system, whether they go through your contact center or through individual members of staff. This lays the basis for optimal reachability and distinctive service provision for your customers. While your staff and you benefit from maximum mobility and flexibility.
More info
Would you like to reap the rewards of integrating fixed and mobile communication?
Find out about all the possibilities at www.proximus.be/fmu.
Perspective
Magazine and online blog for business leaders, brimming with new insights for a fresh look at their company.
Other articles of Perspective