IP telephony on a secure network at Omnichem
Published on 08/07/2022 in Customer Stories 
To ensure smooth cooperation and communication between colleagues, Ajinomoto Omnichem relies on the combination of Proximus Explore and Business Trunking, supplemented by reliable internet connectivity.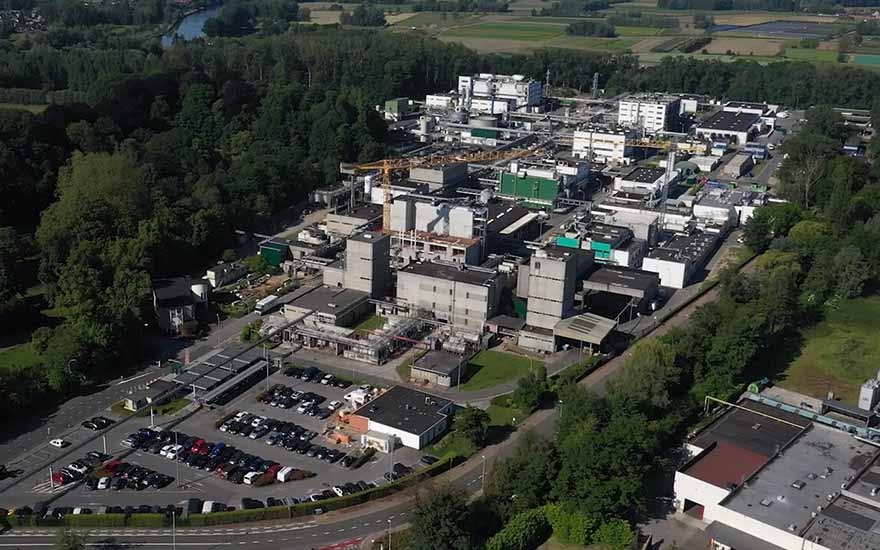 Ajinomoto Omnichem is part of the Japanese group Ajinomoto. The company produces, among other things, active pharmaceutical ingredients on behalf of pharmaceutical companies, components for crop protection and carries out work on botanical extraction and distributes amino acid mixtures. Ajinomoto Omnichem has branches in Wetteren, Balen and Louvain-la-Neuve and employs 870 people. There is also a branch office in India with about 100 employees.
"ICT is very important for our business operations," says ICT project manager Michel Derycke. "Our digital transformation is being rolled out step by step." The company is making increasing use of cloud services. "As a result, we need all sites to have sufficient bandwidth with a local breakout to the internet at each location. Previously, all data traffic from the sites to and from the cloud went through our headquarters in Wetteren."
Business Trunking on Explore
"Our three sites are interconnected via the Proximus Explore network," said Derycke. "The company's IP telephony relies on the Proximus Business Trunking solution and runs exclusively over Explore. It ensures that colleagues can communicate and work together smoothly." This is important not only for the operation of Ajinomoto Omnichem, but also because it is a licensed business. In the context of safety, the continuous availability of communication is essential for Ajinomoto Omnichem.
More info on VoIP, Business Trunking and Fixed Voice Infinity?
Moreover, to facilitate calls between the Belgian sites and the branch office in India, Ajinomoto Omnichem has chosen for Fixed Voice Infinity World, the all-in-one package including a VoIP line and unlimited calls in Belgium, and 5,000 call minutes per voice channel in Europe and worldwide.
Business Trunking handles all IP telephony between sites via Proximus Explore
Michel Derycke, ICT Project Manager at Ajinomoto Omnichem
To make sure that they had a smoother internet connection that did not require any diversions via Wetteren, Ajinomoto Omnichem chose a different approach: redundant connectivity via Proximus and a second provider. An SD-WAN solution ensures optimal use of the two providers' lines. "The solution also combines the capacity of both lines, giving us the optimal bandwidth at all times," Derycke explained. "If one provider's line goes down, the other takes over." That way, an internet connection is always guaranteed.
More info on private networks, Explore and SD-WAN?
We choose to de-duplicate our connectivity, in the truest sense of the word.
Michel Derycke, ICT Project Manager at Ajinomoto Omnichem
Faster and redundant connection
Specifically, each Ajinomoto Omnichem site will have two lines with a bandwidth of 300 Mbps. "These are lines from two providers that each follow a different, physical path," said Derycke. "The two providers also do not rent lines from each other so this is deduplication in the true sense of the word. This increases the level of redundancy of our connectivity."
This redundant approach ensures minimal downtime. "The chance of two providers going completely down at the same time is very small," said Derycke. In addition to this guaranteed operational safety, the local breakout to the internet gives the employees an important advantage. "They notice that everything is much faster now. For someone using Office 365 in our factory at Balen, the connection used to go through our headquarters in Wetteren. The delay that inevitably occurred in doing so is now gone."
How can we help your business?
Michel Derycke studied chemistry at the Katholieke Hogeschool Sint-Lieven in Ghent. He has worked at Ajinomoto Omnichem for almost thirty years and been ICT project manager since 2011.
Ajinomoto is a Japanese group with a history stretching back over more than a century. Ajinomoto Bio-Pharma Services' mission is to improve our health and well-being. Ajinomoto Omnichem, with headquarters in Wetteren, is part of that group.
One
One magazine is the Proximus B2B magazine for CIOs and IT professionals in large and medium-sized organisations.
Other articles of One