Navigating IoT & the cloud towards a greener horizon
Published on 15/07/2022 in Customer Stories 
Consolidating business growth with environmental goals can be challenging. But tanker shipping company Euronav can testify to how smooth you can sail towards that objective by relying on IoT & cloud technology.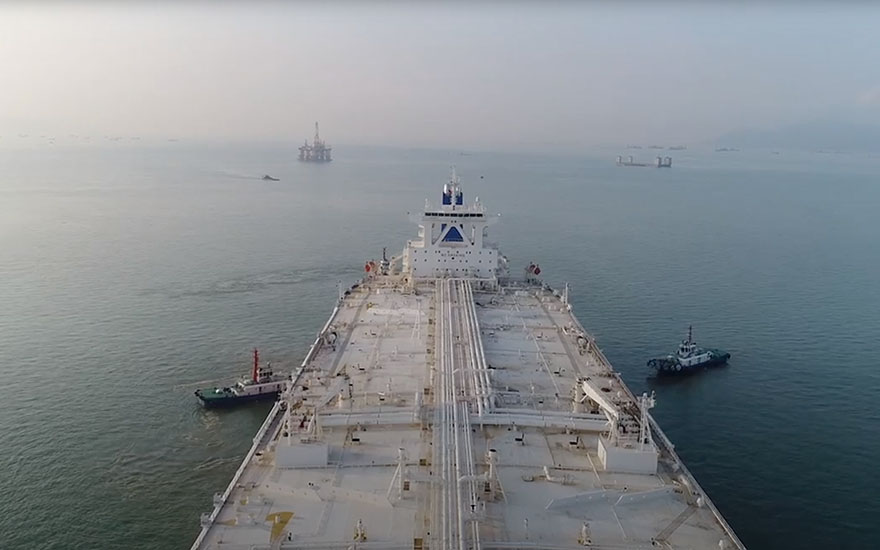 When you make strategic business decisions today, you do so against the backdrop of a world economy that has made carbon neutrality a top priority. The question is no longer if you need to re-evaluate and adjust your business processes in terms of their carbon footprint, but when and how.
Why IoT leads to business growth & zero emission targets
More and more authorities and stakeholders request companies to prove that they are actively contributing to the environment. So, what is the best way to meet those demands? The answer lies in leveraging well-implemented IoT and cloud technology that can exchange and visualize data in real time. Why? Because the results have proven bountiful for early adopters, even in industries heavily reliant on fossil fuels.
Euronav pioneers IoT application in maritime industry
Euronav, a leader in the tanker industry, decided to spearhead the digital transformation of the maritime market by digitally transforming their crude oil carriers using smart IoT technology. Their main goal: to reduce their fuel consumption and carbon footprint so as to hit their zero emission targets by 2050.
The shipping industry needs to lower its carbon footprint. It is for this very reason that Euronav decided to invest in new technologies.
Hugo De Stoop, CEO Euronav
How IoT put the wind in Euronav's sails
Euronav was already working on optimizing their data management by, amongst others, implementing new antennas. While on their decarbonization journey, they found a trusted IoT expert in Codit, Proximus' subsidiary, that could help them navigate the cloud. Codit is a leading IT consultancy firm that specializes in customer cloud solutions.
Codit proved a logical choice for Euronav because they have:
Expertise in IoT backend development
A Microsoft Gold Partnership and experience with Microsoft Azure
Experience in various sectors, including the maritime industry
Proximus' connectivity solutions and expertise to back them up
Euronav created a customized data analytics platform that they baptized as FAST (Fleet Automatic Statistics & Tracking). Codit supports Euronav in the digitalization and data analytics from the vessels. FAST works by collecting data from IoT sensors aboard the crude oil tankers, which the system then automatically visualizes in the cloud. The data can be anything from fuel consumption levels and engine performance metrics to weather information and navigational input.
With the development of the new platform, we lay great emphasis on connectivity. This allows the IT department to update their on-board systems faster.
Rudi Vander Eyken, Head of IT and Innovation Euronav
The results of the IoT solution
The acquisition of real-time data allows Euronav to improve their data-driven decision making in the offices on shore and on the vessels at sea. Consequently, every decision can now be made faster, more efficiently, and more accurately. Euronav's FAST platform provides onshore decision makers with more accurate and relevant data, it also allows better updates of on-board ship systems. As Euronav ships sail all across the world, connectivity is important. When working with potentially sensitive data, you need to have a reliable and secure connection as well. The IoT solution provided that and more.
The results of the FAST IoT platform at a glance:
Improved collaboration and communication
Faster decision making
Reduction of fuel consumption
Lower operational expenses
Raw sensor data preservation at all times
Hugo De Stoop is CEO of Euronav.
Rudi Vander Eyken is Head of IT and Innovation at Euronav.
Would you like to know more about 5G or understand this technology better? Find out everything on our 5G page.
One
One magazine is the Proximus B2B magazine for CIOs and IT professionals in large and medium-sized organisations.
Other articles of One