No yes-men, challenges galore
Published on 17/06/2015 in Inspire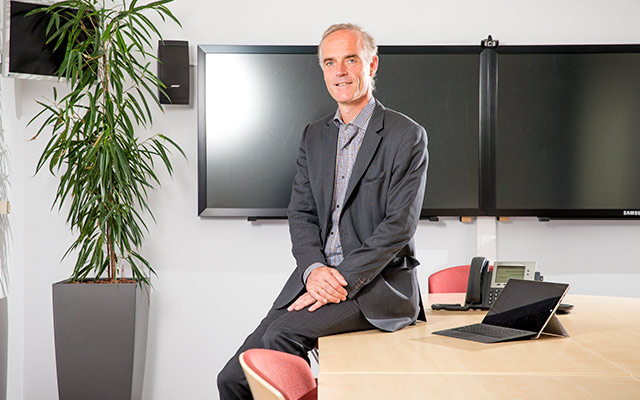 There is never any shortage of electrical energy in the air at the IT department of high-voltage grid administrator Elia. Little wonder you might say, given the complexity of managing 400 interlinked applications and the – not so unimaginable – risk of the entire country ending up in the dark. Luckily, CIO Pierre Loverius has a competent team to bank on.
As manager of the Belgian high-voltage grid, Elia's job is to transport electricity from producers to distributors via 800 high-voltage substations. In that respect, Elia has to keep a close eye on the precarious balance between production and consumption, a task, which in view of the increase in renewable energy coming on stream – and, hence, the greater decentralization of production – is not getting any easier. Up and until last winter, citizens had always been blissfully unaware of these juggling acts but, the so-called switch-off plans, have brought reality home.
Knowledge in our own hands
IT has a determining role to play in management tasks like these. At the head of the IT department is a man who knows a thing or two about IT. He originally came into contact with Electrabel Transport within the framework of a consultancy contract back in 2001. And he ended up staying there, even after it became Elia. In 2007, he was appointed as CIO. Pierre Loverius: "The job description of my position has changed dramatically over the years. Initially, it was all about getting the hang of our own IT. A lot was outsourced and we were far too reliant on third parties. But thanks to the necessary recruitment, that storm has now been weathered. Paradoxically, we now find ourselves in a comparable situation since we took over the German high-voltage grid from 50Hertz Transmission back in 2010: they too seem far too dependent on third parties. We want to gain control of that in-house knowledge again."
Synergy
A few months ago, a central IT department that covers both Belgium and Germany was set up. "This has generated major synergies, among other matters via a common end-user device team and a server team. At this moment in time, I am still managing the entire IT department for both countries; soon I will be heading up this central cell only. What can be done locally, will be kept local." Elia's IT strategy focuses on in-house know-how. "In Belgium, we have some 60 IT people on the payroll and we avail of the services of some 140 recurrent body shoppers; our own staff direct the body shoppers when the workload reaches fever pitch, otherwise it gets outsourced. We do not want to be at the mercy of outsiders."
Freedom has its challenges
Recruiting competent people is one thing; holding on to them tends to be quite a different matter. "Once people have earned my trust, I have no problems delegating. I conduct follow-up meetings with newcomers once a week. I only set them loose once I feel that they are coping and everything is fine. I am not just looking for brilliant techies; they must also be able to manage people." Loverius has no time for sheep. "I am not looking for yes-men. Anyone can question my decisions and I will never try to throw my weight around. That is appreciated, I think. My staff have complete freedom but I make it my business to challenge them on a regular basis." That strategy has led to success. "We are in control of what we do and have all the know-how in house. In many other businesses that know-how is dispersed because far too much is outsourced. Outsourcing is fine as long as your IT is straightforward and your modules operate independently. Since 2007, our IT costs have hardly risen at all. I am proud of the fact that we have managed to attain that degree of autonomy at Elia."
About Elia
Elia, which came into existence after the liberalization of the energy market, has the monopoly on managing the Belgian high-voltage grid (800 substations and 8,000 km worth of lines and underground cables). Elia employs 1,200 people at 10 administrative sites across Belgium. In 2010, Elia acquired the German company 50Herz Transmission. At this moment in time, Elia ranks in the top five of transmission system operators in Europe.
Pierre Loverius, Bachelor of Business Administration and IT, started his career in the banking sector. Following an opportunity in New York, he established himself as an IT contractor, focusing on networking and product development. Before long he was working as a consultant. After 20 years as a self-employed contractor, Pierre Loverius joined Elia as CIO in 2007.
One
One magazine is the Proximus B2B magazine for CIOs and IT professionals in large and medium-sized organisations.
Other articles of One