Rik Donckels and Hans Wilmots: helping family businesses
Published on 21/12/2016 in Inspire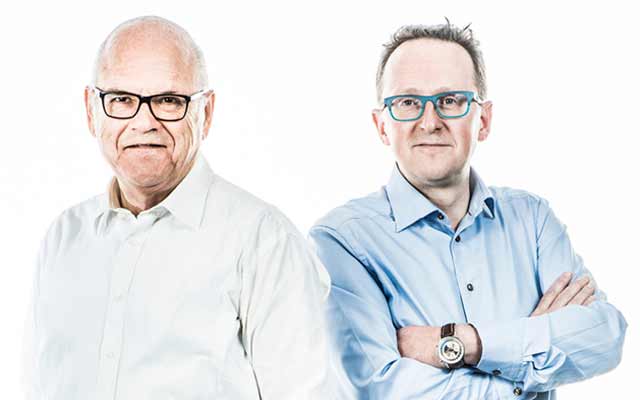 Did you know that three out of four Belgian companies are family-owned? And yet the unique needs of family businesses are rarely covered in specialized reading matter and training courses. Experts Hans Wilmots and Rik Donckels are finally changing this.
It's a dull day in November as we take our seats around the long conference table at BDO, the world's fifth largest auditing, accountants and consultancy organization. Joining us for a chat are the CEO of BDO Belgium, Hans Wilmots, and professor emeritus Rik Donckels. When we explain to both gentlemen that in this series of interviews, we place two experts opposite one another, the professor has to laugh. "Putting us opposite one another won't work. Our noses have been pointing in the same direction for years." This consensus ultimately led to a book: 'Delicate kwesties in familiebedrijven' (Tricky issues in family businesses). "When the professor asked me if I would like to write a book with him, I said yes straight away," says Hans Wilmots, laughing too. "Only afterwards did I ask him what he wanted the book to be about."
Sunday breakfast
The answer proved to be family businesses. After all, this is a subject that has seldom been covered in management courses and books, even though family businesses differ considerably from their competitors in a good many areas. "The big advantage of a family business is that it is often far more maneuverable," Wilmots explains. "The decision-making structure is much shorter. On Sunday mornings, the whole family sits down to breakfast together and important decisions are made then, too. This speed has benefits. For instance, we see that family businesses are quicker to innovate. On the other hand, however, this shorter decision-making structure can also be a disadvantage, for example if there are external directors. They are not at the breakfast table, of course, so they are often not aware of what has been discussed."
Tricky issues
Emotions play a far bigger role in family businesses, too. Wilmots: "Perhaps the father prefers the sister to the brother. Or someone comes back from a training course abroad and is immediately given a higher position than someone else. It's always about human relationships and emotions."
"Sometimes the issues are fairly trivial, you know", Professor Donckels chips in. "I once witnessed a situation where one of the family directors said: I regularly see our sister-in-law drive the children to school in the company car, and that's not what the family agreed. So then there are weighty discussions with repercussions that can spread a long way. That's why it is so important for family businesses to lay down clear rules. Who is going to fulfill which role in the decision-making process?"
I'm off home
According to Professor Donckels, many family members find it difficult to stick to these roles. After all, they are also shareholders in the company. "A lot of family shareholders think: 'They're playing with my money here.' And so they assume that they should be informed of and actively involved in every step the company takes. If the board of directors takes a decision that they don't support, then they say: 'I'm off home!' and they try to get their way. But you can't constantly involve everyone in strategic decisions. You don't get anywhere that way."
"Separating two worlds like this is no easy task," Wilmots agrees. "Suppose you attend a board meeting as a shareholder. And then the next day you have to put on your cap as an office worker with no input to make. The tension that creates is unbelievably difficult."
"Hence the importance of these rules," Professor Donckels repeats. "Maybe not in your blood, but you do have to sign up to them. These agreements have to actually be observed. That's far easier said than done, of course."
Farewell father
Wilmots demonstrates how difficult it is with a concrete example. "Just this morning I was with a client. The two sons want the father out, because he never complies with the agreements reached. Discussing the issue just isn't working. The father agrees and then simply does as he pleases. So we are looking for a legal way to convince the father to stop doing this. Basically, they are going to remove him. That's dramatic, because on Sunday mornings they still have to have breakfast together."
Donckels: "Of course, a man like this means well. And you have to start by trying to mediate. Because removing someone like this is not easy. It involves blood, sweat and tears."
Wilmots: "You have to convince someone like this that he needs to put the business before his own interests. I don't mean to push my own organization, but in cases like this it helps to bring in an outsider. If the children do it directly, incidents from the past are sure to be brought up and the result is a quarrel. As well as bringing in a third party, it is also very important that no-one loses face in situations like this. As far as the outside world is concerned, for example, the father can continue to play an important role as an adviser. Pride and ego have to be gratified."
Ready for the future?
But family businesses are so much more than tricky issues, both men assure me. "Creativity, inventiveness and speed are often far greater in most family businesses," Wilmots stresses. "That's why a whole lot of family businesses in Belgium are totally ready for the future in terms of technology. But in terms of company structure, they usually still have a long way to go. Competition comes from all over the world these days. So you need to adopt an international approach to your organization. And family businesses are far less good at that. I often hear: 'We've had a couple of people take a look around in Germany and France and we see what is happening there.' But when things start moving there, they are immediately hit with fines because the law or the tax rules are different. That sort of mistake creates negative energy in a company."
But according to Professor Donckels, the tide is turning. "Family businesses keep themselves far less isolated these days. They share experiences. There is even a worldwide network organization specifically for them, the Family Business Network. This organization encourages family businesses to be guided by the Pole Star. In other words, by trial and error family businesses have to find their way towards permanency for the future. I find that a striking metaphor."

Rik Donckels
Professor Rik Donckels taught economics at the Catholic University of Brussels for years. In 2006, he was given the noble title of baron in recognition of his many services to the SME business world. He has published about ten books on his experiences in the business world and is still consulted today by family businesses.
Hans Wilmots
Hans Wilmots graduated in Romance languages but ultimately became an auditor. Today he is the CEO of BDO Belgium. BDO is the fifth largest auditing, accountants and consultancy organization in the world. BDO has been associated with family businesses for over 50 years now.
Delicate kwesties in familiebedrijven (Tricky issues in family businesses)
Hans Wilmots and Rik Donckels
Lannoo Publishers
'Delicate kwesties in familiebedrijven' tells the story of five generations of potato farmers, which every family business will be able to identify with. At the same time, it is a practical manual, with theoretical interpretation and practical supplements. With an eye for family values, the book guides the directors of family businesses towards effective governance.
Perspective
Magazine and online blog for business leaders, brimming with new insights for a fresh look at their company.
Other articles of Perspective