D-Hive: first drone network in port of Antwerp-Bruges
Published on 24/05/2022 in Customer Stories 
The Port of Antwerp-Bruges easily spots oil slicks and floating debris with its drones. Aerial surveillance handles issues like that much more efficiently. Using this example, the port also wants to inspire other companies to use drone services.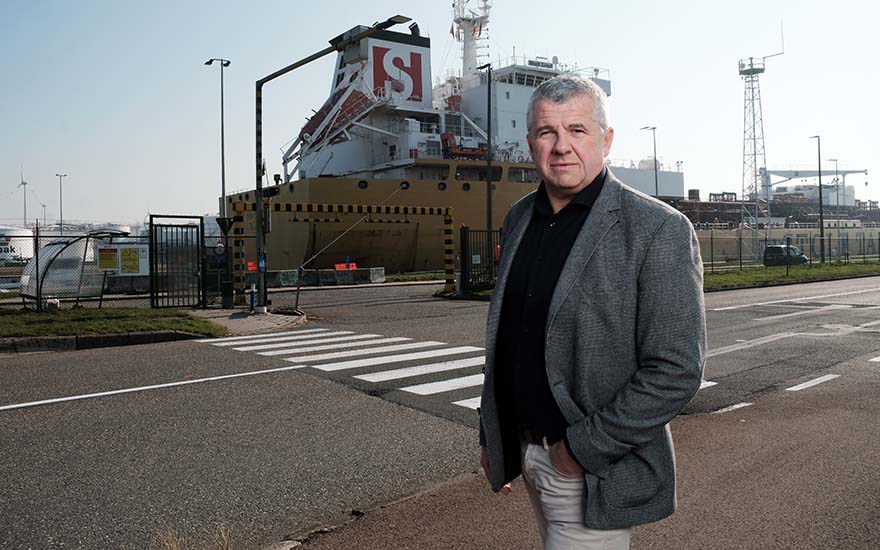 Under the name D-Hive, a real drone network is gradually taking shape in the port of Antwerp-Bruges. The network will be established via the 6th NeTWorK consortium. That was founded at the end of 2020 by DroneMatrix, a developer of drones and drone software, SkeyDrone, a service provider for drone aviation, and Proximus. 6th NeTWorK develops drone solutions in the form of a service: "drones as a service". Companies can use this service for all kinds of commercial purposes.
Eye in the sky
The fact that D-Hive is taking concrete shape in the port of Antwerp-Bruges is no coincidence. "We are strongly committed to innovation," says Piet Opstaele, innovation manager at Antwerp-Bruges Port Authority. "Three years ago we already started looking at the added value that drones could have for the port." Detecting oil spills was the first thing that came up. There are one hundred to one hundred and fifty incidents of oil spillage in the port every year, for example when refueling ships or after a collision incident.
Drones make a lot of new applications possible in the port.
Piet Opstaele, innovation manager at Antwerp-Bruges Port Authority
Spotting polluted locations via drones
"When oil is released on the water, the impact is considerable," says Piet Opstaele. "We have to suspend shipping locally until the oil is cleared. At the same time, we want to avoid oil pollution on land. That is also why the Port Authority cleans up the floating rubbish in the port. That amounts to fifty tonnes of floating waste every year. "We traditionally search for oil or floating debris by boat," explains Piet Opstaele. "But of course you can spot polluted sites much faster from the air."
Port regulates drone traffic
The use of a drone ensures that the port authority can organize the cleaning of pollution in a much more targeted way, which also means less hindrance to shipping. "We came up with a whole series of possible applications for drones in the port," says Piet Opstaele. "For example, a drone can use its camera to identify containers with dangerous goods which means you don't have to send in people. You can have drones doing inspection flights and so on."
By the end of this year, we are aiming for five hundred automated drone flights per month in the port of Antwerp.
Piet Opstaele, innovation manager at Antwerp-Bruges Port Authority
Unmanned Traffic Management is world first
With the wide range of possible applications in mind, Antwerp Port Authority decided to go all in for drone technology. "As a port authority, we manage the entire port, not only what happens on land and water, but also in the air," Piet Opstaele continued. "We are the first port in the world to have an Unmanned Traffic Management system: a solution that allows us to control drone traffic in the port."
New services
That system is at the heart of D-Hive, the name under which the Port Authority orders drone services. "The port covers a large area," explains Piet Opstaele. "We estimate the value of the assets there at two billion euro." They may benefit from drone services in various ways, such as monitoring or aerial support.
In the event of a fire in a place that is hard to reach or at a location with a risk of explosion, drone images can be of great value to the emergency services. Thanks to the use of drones, these images are available without putting people in danger.
5G network essential for real-time communication
The advent of 5G is essential for the development of a drone network. Real-time communication between the drone and the control center for controlling the aircraft is carried out via 5G. In addition, the drone's camera transmits images in real time via 5G. "We have already done our test flights," says Piet Opstaele. "We are starting on the left bank with an initial offer of drone services. After the summer, the rest of the port area will follow step-by-step. By the end of this year, we want to be operating five hundred flights a month."
Piet Opstaele studied history and spatial planning at the University of Ghent. Since 2017 he has been innovation manager at Antwerp-Bruges Port Authority.
Smart stock management, asset tracking and mobile warehouse staff. These are just a few of the solutions that Proximus has to offer in the Transport and Logistics sector. Want to know more?
Would you like to know more about 5G or understand this technology better? Find out everything on our 5G page.
One
One magazine is the Proximus B2B magazine for CIOs and IT professionals in large and medium-sized organisations.
Other articles of One