90 minutes on digital services for the general public
Published on 30/10/2015 in Inspire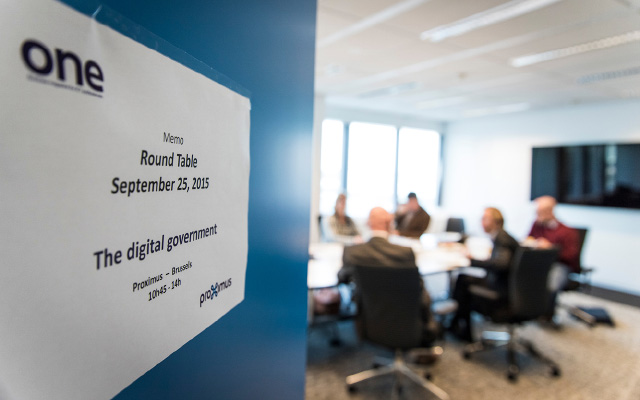 When we talk about the digital world, we are no longer referring to a sort of parallel universe where digital and analog exist side by side. Today, businesses and the general public rely on digital communication and services, and that includes the government.
The range of digital services available from government authorities – federal, regional and local – is constantly increasing. But this transformation will still take time. "All authorities have a wide range of applications," says Eddy Van der Stock, ICT manager for the city of Lokeren and chairman of the Flemish ICT organization V-ICT-OR. "The size of the IT team of a city is usually comparable with that of an SME, but the IT environment is far more complex." What's more, computerization in local authorities has grown historically, from the introduction of PCs and printers. "That's still noticeable today," says Jef Rayen, ICT coordinator of the city of Sint- Truiden, "whereas the IT department of a city or a commune should in principle have to focus less on the technical aspect and mainly consider how it can further streamline the processes behind the services it provides."
Internal and external
One way that Sint-Truiden is supporting digitization is by providing free Wi-Fi in the city. Projects are underway involving an e-desk and a reporting system for the general public. This system is to gather together all reports and process them more smoothly. Greater efficiency is also the big advantage of digital communication between the public social welfare center and the federal government. "Internally, digital is standard now, and paper is the exception," says Guido Verschaeren, secretary of the Arendonk public welfare center. "But externally, it's different. We can't afford to lose touch with our target group. Among other things, the public welfare center provides services for the low-skilled and the over-65s. With these target groups, the digital divide is still very real." But even in that context, digitization is an advantage. Thanks to the efficiency that the public welfare center achieves internally and externally, there is time to provide extra support for target groups that are less likely to use digital channels.
First back end, then front end
Local authorities wishing to digitize their services face a radical change process. Maldegem has opted to start by establishing a firm foundation. "First we are building a back end," says Christine Blondeel, ICT manager in the commune of Maldegem. "We are collecting all the data together in a CRM environment." This central database will serve as a basis on which the commune can develop digital services. The first concrete project is the digital building permit, scheduled for the end of this year. Lokeren adopted a similar approach. With the electronic ID card, members of the public can log in to the city's portal. About 15 deeds and certificates are now available there in digital form – and fully computerized.
Impetus from the public
The projects and plans set up by cities and communes show that in the first place we need to see the public as the driver behind digitization. They can rely on the digital services of their bank in the evening or at weekends, but have to take half a day off – and stand in a queue – to ask for documents from the commune. Members of the public and businesses are no longer satisfied with that. They expect a more flexible, digital service from the authorities. "We are in a transitional phase," says Jef Rayen. "Future generations will think it goes without saying that this type of service is digital." In addition, government services themselves want more digitization. "We are starting to work on an e-notary project," says Christine Blondeel. "Notaries will be able to request data from our systems, connected to a database with geographic information. That will save a great deal of time for notaries and for our own services."
Setting priorities
Saving time and increasing efficiency are also the reasons why the AWIPH, the Walloon Agency for the Integration of People with a Disability, is starting to digitize its services. "We examine systematically the digitization in the context of our priorities," says Cédric Charron, CIO at the AWIPH. "Clearly, using web services has a lot of advantages: the digitization simplifies and speeds up the administrative processes for the citizen. Also our staff can work together better and exchange information with other authorities more easily via the social security central database. Digitization therefore contributes towards achieving the organization's end goal: to help people with a disability faster and better." Managing data about those concerned is essential here. Cédric Charron: "Ultimately, we are growing into an authentic source of information that other government services will be able to use, as well. This avoids the public having to keep on giving personal details over and over again."
Closer to the people
Digitization offers another advantage. Government services that save time and increase efficiency thanks to digital processes can concentrate more on other core tasks. This means they can have more people working in the field. So cities or communes can further develop the social aspect of their services. Although there is a perception that digitization reduces contact between the authorities and the people – because the people have to go to their local authority less – in fact the increased efficiency can reduce the distance from the public. "Let me give you a practical example," says Guido Verschaeren. "Older people prefer to remain in their own homes as long as possible. With digital applications, the necessary monitoring can be carried out from a distance. We can use the time we save to go along and see these people regularly."
Central database
The key to more digital service provision by the authorities lies in the management of data on people and businesses. Local authorities – and their internal services – are still too isolated, each with their own data sources and applications. "You could make huge progress by collecting all the data from these systems, managing it centrally and opening it up," says Eddy Van der Stock. "What's more, you can then build up an applicative layer. That would resolve many of the current issues, on data exchange, the use of data formats, etc." The public welfare centers have made more progress here, partly because their data has to dovetail with the social security central database. But in practice many questions remain, including about the legal framework as regards security and privacy. To be continued, no doubt…
Conclusion
Federal, regional and local government services alike are starting to deploy digital services for the citizenry – a farreaching transformation that will take time but will above all lead to enhanced efficiency. Citizens and the authorities themselves are calling for greater flexibility and automation in these processes of change. The key to more digital services lies in data management, but in practice security and privacy are still raising questions.
One
One magazine is the Proximus B2B magazine for CIOs and IT professionals in large and medium-sized organisations.
Other articles of One