We install Internet + TV for you
We take care of everything!
Do you want to become a customer, or are you already a customer and want to add a product? It's easy!
When you order, your technical situation is verified and we always recommend the type of installation that is the most appropriate for your situation.
You no longer have to worry about whether you should call out a technician or carry out the installation yourself!
What's more, if a technician needs to come by, he will take care of everything!
He will analyse your needs and you will benefit from his expertise and enjoy a full installation.
What happens during the visit?
Installation by a technician
Our technician checks the place where you want to install your products.
He installs or replaces the Proximus connection, checks the existing cables between the connection and the Internet Box, and places more cables if necessary (up to 20 meters).
He installs, connects and configures the equipment.
He will also configure your PC/smartphone and analyze your Wi-Fi network.
He will show you how to use your new products and answer your questions.
Free installation with Flex
(Value €59)
DIY installation
After you order, pick up your installation kit at a UPS point or have it delivered to your home.
Install your Internet Box and TV box in just a few minutes by following the instructions in the installation manual.
Enjoy TV and surf at high speed!
Free installation with Flex
(Value €59)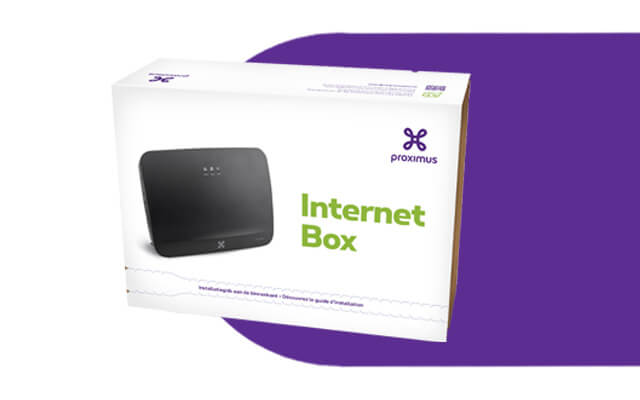 Conditions
Free installation: free installation by a technician (value: €59) for new Flex customers.