The best children's films for the spring half-term
Published on 22/02/2017 in Showtime!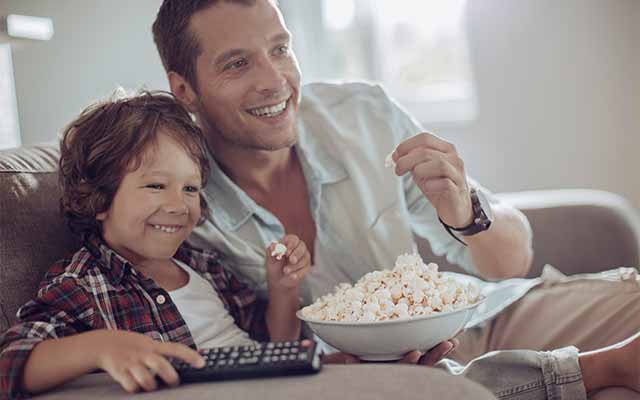 Easy to watch, via our on-demand catalog!
You have to admit, it's not easy to keep your kids entertained all day during the spring half-term. Letting them play in the open air is the best option, but not always possible given our great Belgian weather. Luckily, you can let them relax indoors with a blockbuster that's perfectly tailored to them. Preferably, a recent movie they haven't seen yet.
I've selected five really good movies for you, which were tested and approved by my whole family!
Pete's Dragon
Lose yourself in the story of the orphaned Pete and his best friend Elliott, a huge green dragon. For years, they've been living in a remote location in a forest, until Pete meets a girl. With the help of her friend, she tries to uncover their secret and find out everything about the pair...
Our verdict: a fantastic remake of the original from 1977. This version contains true flesh-and-blood characters. We were also pleasantly surprised at the fine portrayal of the dragon as a soft and endearing character, rather than a caricature.
Robinson Crusoe
Another version of a story you probably know from childhood. The parrot Tuesday and his animal friends live on a tropical island until the arrival of a strange beast: Robinson Crusoe. Living together is quite difficult at first, not least because they don't speak a common language! But slowly, Robinson and the animals become close and they join forces when two evil cats try to conquer the island...
Our verdict: a unique film with a fine message for your children on the importance of friendship.
Trolls
The makers of Shrek have conjured up another fantasy world. This time, it is inhabited by small beasts with colorful hair. Poppy is a cheerful troll who likes to sing all day. Together with the disgruntled troll Branch she has to rescue her friends from the clutches of the evil monster Bergens...
Our verdict: a very entertaining movie, full of music and humor. And the Flemish voices (featuring Laura Tesoro, Umesh Vangaver, and Showbizz Bart) makes it worthwhile for adults too!
Ice Age 5: Collision Course
Scrat and his friends are back for a crazy new story. Scrat's hilarious, eternal pursuit of the acorn takes him into outer space. There, he starts a chain reaction which poses a serious threat to the world. This takes the whole gang to exotic places they've never been before...
Our verdict: if your kids like traditional animation films, this one should be top of your list.
The Secret Life of Pets
Did your kids love the Despicable Me and Minions blockbusters? Then this film's for them. This time, we discover what our pets get up to when we're not around. Apparently, they gossip a lot and hold wild parties. But things fall apart when the obedient terrier Max disappears, along with his large house-mate Duke ...
Our verdict: a film that will also appeal to adult viewers, as each animal exemplifies different human characters or skills.
Want your kids to enjoy these and other great children's films? No problem! Go to our website or press the "On Demand" button on your remote control. Proceed to "Films on demand" and select your favourite one.
But if the whole family addicted to good movies and series, then the Movies & Series Pass is ideal because it allows you to choose unlimited movies and series from this catalog.
Erik
Digital and content marketer. Gardening is my passion just like eating. But right after playing some series or films, because that's my thing.