What time is it?
Published on 31/12/2015 in Bits & Bytes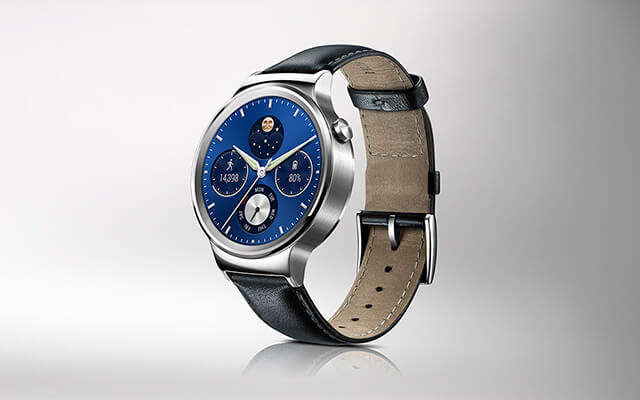 Smartwatches: time to try out this new gadget!
Did you know that smartwatches were developed decades ago? In the 1970s, James Bond would jump out of a moving plane while coolly launching a short-range missile from his watch. Since then, smartwatches have become available for the general public, and although I haven't noticed any missile-launching apps yet, the devices are certainly "smart".
You see more and more people with them these days, ticking and swiping away, not just looking at the time. In spite of the high technology, the square Darth Vader-type smartwatches seem to be evolving towards more stylish models with a circular watch face. They are also becoming more accessible: the smartwatch and its matching smartphone no longer have to come from the same brand.
I thought it was time to try out this new gadget. I tested the latest Huawei Watch , which runs on Android but works with both Android smartphones and iPhones.
My experience began with the fancy box. When I opened it, I was pleasantly surprised to find the device resting on a cushion, flanked with a slogan in elegant script like you see on the stationary of a five-star hotel. Thanks to Android Wear, I was able to connect my smartphone (LG G4) with the Huawei Watch in seconds. My Google contacts and even a few apps were also imported into the watch.
After a few minutes, I received my first text message (from my mother-in-law). And in case you were wondering, a text can be read just as well on a small round screen. To reply, I have to go back to the smartphone though. Features such as the GPS, music player, calendar notifications, and heart-rate monitor work well and are very useful. The GPS of Google Maps is accurate and gives you the exact information you need to find your way if you're walking or cycling.
For the watch face, you have a wide choice of designs, from classic to minimalistic. So your watch can be transformed in an instant. After a few seconds, however, the standby mode kicks in and the face you picked switches back to the default black and white one. Pity, but it does save the battery. I had to recharge the smartwatch after two days of intensive use – that's less often than my smartphone!
After using the Huawei Watch for a week, I can certainly see the advantages of such a smartwatch. Besides the GPS and other useful apps, I can also just look at the time. And that makes this smart wrist gadget even handier!
Michel
Working in the Devices team, I gladly share the innovations we encounter. My passions are photography, modern & contemporary arts and being outdoors.