Always close to your friends? That's Facebook Spaces
Published on 25/04/2017 in Bits & Bytes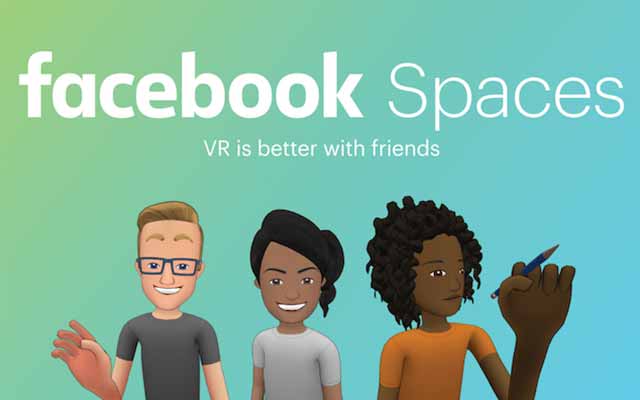 Hang out with your friends in a completely virtual world using a special app.
That's what Facebook proposed to us at the F8 conference in California. Not sure what it's all about? I'll explain it in more detail.
Let's say you're on a city trip in Rome. Well, you can record a 360-degree video in the Colosseum. But now, you can also upload it, with Facebook Spaces, to a virtual world and give your friends a little tour. Kind of like the holodeck in Star Trek!
How does it work?
When you use Facebook Spaces for the first time, you have to create an avatar, which represents you in the virtual world. But don't worry, you don't need to be genius at drawing. The app creates an avatar based on the photos in your Facebook profile. You can then customize it by adapting your skin color, hair color, eyes, mouth and clothes.
Done? Then you're ready to step into Spaces! Decide what your virtual world looks like. You can do this by opening a 360-degree photo you've already uploaded to your Facebook profile, or just choose one from the library. More and more smartphones have special features for taking such shots.
The next step is to invite your friends. After that, you can interact with them in your virtual world – even if they're on the other side of the world.
When is it being released?
Facebook Spaces is currently in beta phase. To use it, you need to have access to Oculus Rift. We still don't know when it will be rolled out to other Facebook users, but we'll keep you informed!
You also need a special virtual reality headset from Oculus to use Spaces. But Facebook thinks this type of technology will soon be just as accessible as a smartphone.
If you're totally addicted to Facebook on your smartphone, then why not choose this app as your favorite app in Tuttimus? That way, you also have unlimited data for Facebook. And can scroll to your heart's content!
Bram
Constantly on the lookout for the newest digital trends, checking which ones we can apply at Proximus.
Other articles of Bram