More tv for 2 weeks: Movies, series & football
Published on 12/01/2018 in Be the first to know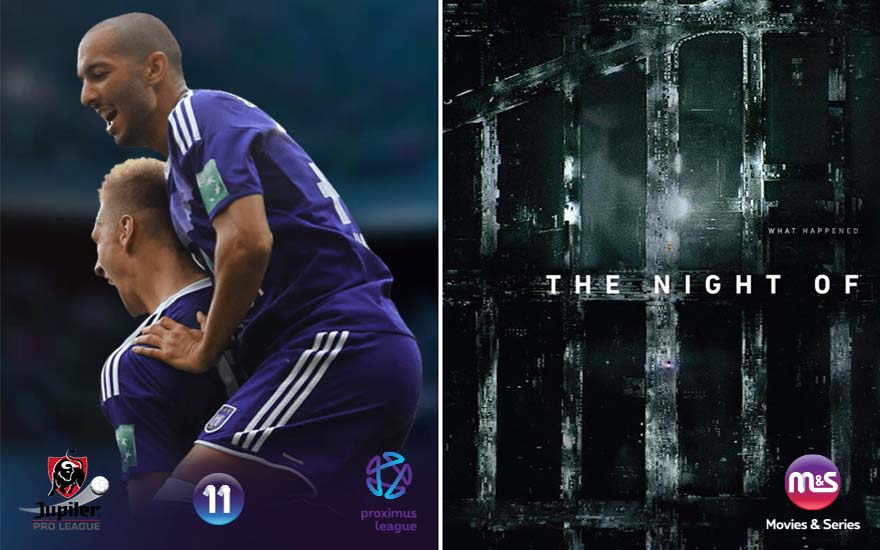 All Proximus TV customers will receive the coming 2 weeks (from 17 till 31 January) an automatic and free activation of the channels Belgian Foot and Movies & Series because of the discomfort caused in recent days.
Following a disruption that impacted our network this week, we are offering all our TV customers automatic access to the Belgian Football and Movies & Series Pass channels, from 17/01 to 31/01.
When can you access them?
As from 17 January; you will be informed individually of the activation of these channels via your Proximus TV menu or by SMS or e-mail.
Find out below what the Movies & Series and Belgian Football channels have to offer.
The Movies & Series Channel
If you dream of spending a great evening watching series or you feel like watching a good movie with your family, make the most of it! You have access to the Movies & Series channel which offers you a varied program of movies and series, 24/7. There's something for everyone!
How do you access it? Directly on channel 198 (HD) or 199 (SD) for French and on 196 (HD) or 197 (SD) for Dutch.
Belgian Football
Do you love sport and, in particular, are you a big fan of football? Then don't think twice and make the most of the occasion by following live coverage of all the matches of the Jupiler Pro League and of the Proximus League! Brilliant, don't you think?
How do you access it? Zap to the Proximus 11 channels which can be found at numbers 701 to 703 (HD), and 711 to 715 (SD) for French and numbers 601 to 603 (HD), and 611 to 615 (SD) for Dutch.
What exactly will you be able to watch during this period?
There will be several top matches you shouldn't miss:
On 19 January at 8 p.m. you'll find the Walloon derby featuring Sporting Charleroi vs. Mouscron and at 8:30 p.m. the big game from the Proximus League featuring Cercle de Bruges vs. le Lierse.
On 20 January at 5:40 p.m. it will be Standard vs. Eupen
And on 28 January, it will be Super Sunday with, among other things, the Clasico! You can watch FC Bruges vs. La Gantoise at 2:10 p.m. and Standard vs. Anderlecht at 5:30 p.m.
Want to know the exact program of the matches scheduled? Go the Proximus 11 website for more details!
Studio 100 HITS (only for decoders in NL)
The music channel for kids with all your favourite Studio 100 heroes.
How do you access it? Studio100 Hits is on channel 162 (HD) or 149 (SD).
What do you need to do to take advantage of this?
As said, you will have free access to these channels for two weeks. But how do you activate them? Actually, you don't have to do anything. They will be automatically activated on 17/01 and deactivated on 31/01.
Important to know:
The channels in question will not be accessible via the Proximus TV app, nor via the Proximus 11 app.
You can record the programs shown on these channels. However, you only have until 31 January to watch them.
Should the channels not appear in your TV guide on 17 January, please reboot your decoder.
If you have renumbered your channels, you might not find the Movies & Series and Proximus 11 channels at the numbers mentioned above. However, you'll find them easily via the TV Guide.
Erik
Digital and content marketer. Gardening is my passion just like eating. But right after playing some series or films, because that's my thing.