Workplace-as-a-Service removes the stress of a digital workplace upgrade
Published on 07/12/2020 in Solutions & services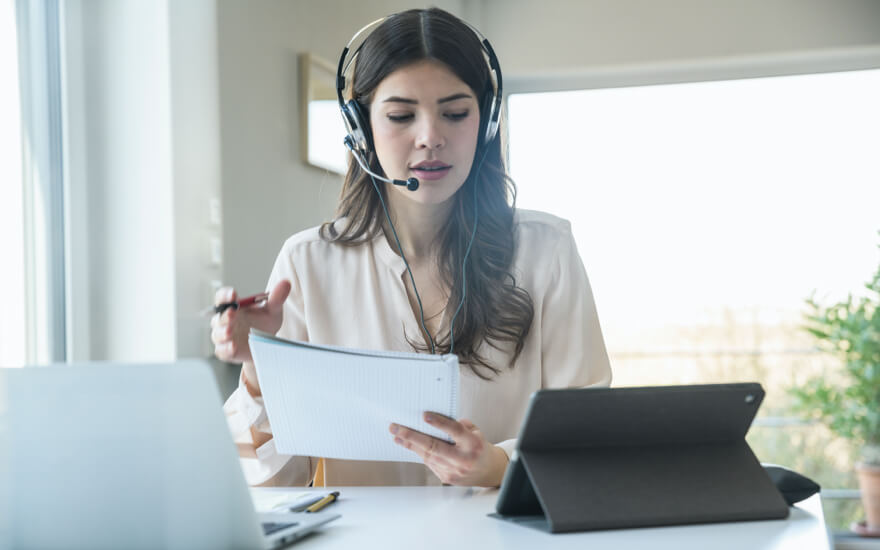 Workplace-as-a-Service (WPaaS) puts the hybrid workplace within reach of every company. The workplace is not just a physical location that requires investment anymore; instead, it is a service that evolves with technology and business needs.
"Telecommuting has been around for a long time, of course, but the COVID-19 pandemic has made it essential," says Yashfeen Saiyid, Proximus Benelux Head of Advanced Workplace. "We can't lose sight either of the fact that a certain cultural change is linked to this. COVID-19 has dramatically increased the support for remote work. And there's also an expectation that we'll continue to telecommute more after the pandemic than in the past."
"That means to ensure business continuity, the availability of a digital workplace is strategically instrumental. What's more, an efficiently equipped digital workplace entails social benefits too. For instance, there are fewer traffic jams and lower emissions because employees travel less."
Relief means focus on the core tasks
With the Digital Workplace-as-a-Service (WPaaS), the company subscribes to a workplace for its employees as a service at a fixed price per user. The concept behind the as-a-service model is that the company focuses on its core business and calls on specialists for other issues like a productive, efficient, hybrid working environment.
"For that matter, maintaining a hybrid work environment – physical and digital, at home and in the office – requires enormous expertise," said Saiyid. "That's a concern we relieve companies of with WPaaS, making it easier for them to take that step toward the digital workplace."
The challenge is in the speed at which technology is evolving. Thanks to WPaaS, employees always use the latest solutions.
Yashfeen Saiyid, Head of Advanced Workplace
More than just technology
The WPaaS concept consists of four parts: several physical elements, the digital aspect, end user support, and securing the whole package.
"WPaaS is more than just technology," said Saiyid. "Physical elements include devices like smartphones, laptops and printers, but also cover meeting rooms, customer reception areas, and any other physical locations. It goes without saying that all the tools and apps the employee uses are digital, e.g. The Office software: a tool for virtual collaboration, video conferencing, or to be externally accessible via the telephone."
However, a successful WPaaS rollout calls for more. "Obviously, the environment must be secure. What's important is that the employee doesn't just receive support for how to use digital tools, but also with the transition to the new way of working. For example, they could receive training or access assistance from a helpdesk. The major challenge remains the speed at which technology is currently evolving," Saiyid said. Stress reduction or relief is the keyword here too. "WPaaS makes it possible for a company to focus on its transformation, supported in that process by employees who enjoy an optimal work environment."
Find out how well your organization supports telecommuters.
The added value of WPaaS
WPaaS goes far beyond telecommuting. "There's the internal added value," said Saiyid, "where company innovation accelerates due to improved collaboration between multifunctional teams. WPaaS contributes to the company's role within a larger ecosystem too. The employees of different partners can communicate more quickly – always securely of course – across company borders."
WPaaS ensures more and better collaboration within the broader ecosystem and between companies.
Yashfeen Saiyid, Head of Advanced Workplace
"Moreover, WPaaS is an asset a business can capitalize on in terms of the war for talent. Potential recruits know in advance that they'll end up in a modern, flexible, and progressive environment. To re-emphasize a point mentioned earlier, we shouldn't lose sight of the financial and environmental gains. Combining remote work and video communication cuts down on travel expenses and the need for office space."
How does WPaaS work in practice?
Proximus starts with an in-depth analysis of the company's current situation and its objectives. "We offer a viable solution based on that," said Saiyid, "including the right devices and applications, customized support via a helpdesk, and so on." Proximus keeps track of everything through close monitoring of the technical performance of the environment and user satisfaction. "With that feedback, we can fine-tune the rest of the roadmap." Because employees who feel supported, are more productive. That is a win-win for everyone involved, from the employees to the company and clients.
Yashfeen Saiyid graduated with a degree in business engineering from Hasselt University. He has worked at Proximus since 2009, acting as Head of Advanced Workplace Benelux since last year.
Would you like support upgrading the digital workplace?
Want to know all about the digital workplace?