Volvo Car Gent puts its trust in fiber
Published on 13/10/2020 in Customer Stories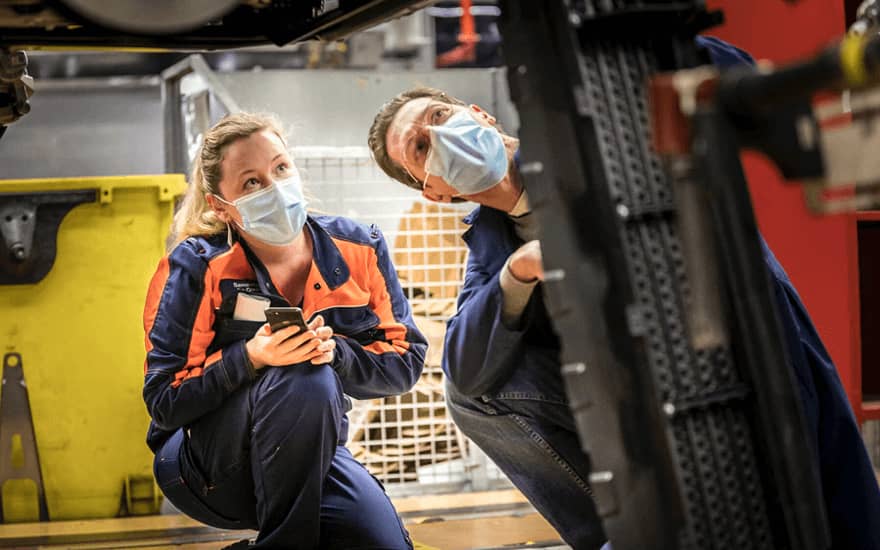 Today's cars are comprised of thousands of parts. How do you ensure that the right part is available in the factory at the right time? Volvo Car Gent puts its trust in fiber to make sure that happens.
The Ghent Volvo plant consists of a large 'main factory' that is surrounded by five warehouses and annexes. "We linked the annexes to the main factory with a fiber network so that the manufacturing systems could be in constant contact with the warehouses to signal which parts are needed when," says IT Infrastructure Engineer, Geert De Meyer. "In an annex like that, for example, engines are built. Naturally, it's absolutely crucial for the right engine to be delivered exactly when the car it belongs to needs it. That means the whole process is just-in-time."
Fiber now connects our warehouse to the main factory. Deliveries run more smoothly and are more accurate.
Geert De Meyer, IT Infrastructure Engineer at Volvo Cars Gent
Printing work orders
"The main factory and annexes were connected in the past too," said Geert, "initially on an ISDN and even operating across 600-Baud modem lines." As the Volvo plant continued to expand, manufacturing became more complex and the production volume sky-rocketed, making the switch to fiber a must. "Now everything runs smoother and more accurately," said Geert.
"For instance, there was a time when work orders were printed in the warehouse, and a warehouse employee would have to go look for the parts by hand. Okay, the plant was a lot smaller at the time, but that method naturally incurs a much higher likelihood of error than when everything is automated. For example, scanning technology now makes it nearly impossible for the wrong part to be delivered."
Volvo has been manufacturing cars in Ghent since 1965. The XC40 and V60s are currently the main focus of our production line. Last year, their contingent of approximately 6,500 employees put together over 206,000 cars. It is the largest industrial employer in East Flanders.
More customer stories about fiber:
One
One magazine is the Proximus B2B magazine for CIOs and IT professionals in large and medium-sized organisations.
Other articles of One