Data support Ghent in mobility management
Published on 03/11/2021 in Customer Stories 
Ghent is committed to a modal shift, making transport more sustainable. The goal: to improve the quality of life for residents and businesses. Traffic Management as a Service supports that policy by offering a new generation of tools for traffic management.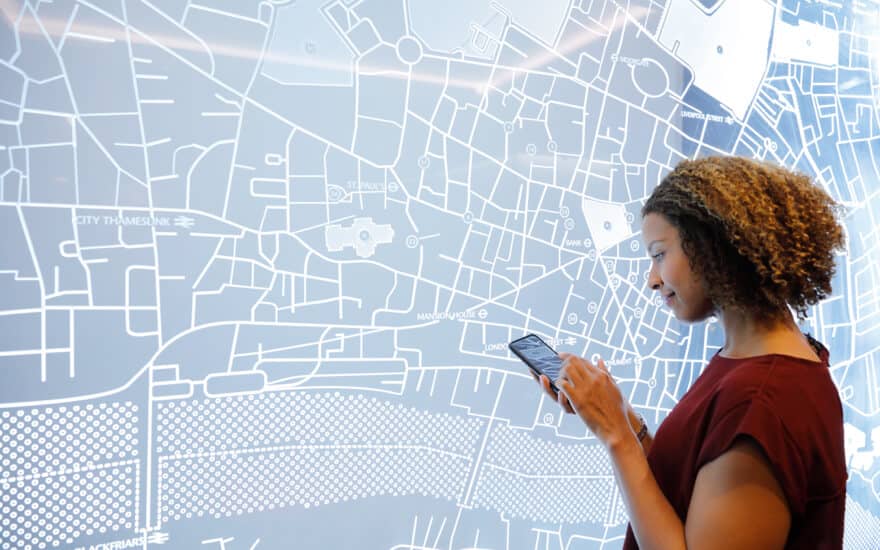 Proximus partner Be-Mobile has set up a digital platform for Ghent together with other partners from the Traffic Management-as-a-Service consortium. The city uses it to process traffic data and monitor traffic information in real time. The platform brings together as much of the available mobility data as possible.
Analysis of that data provides useful information, both for those who manage mobility in a city and for the citizens and businesses counting on that mobility. TMaaS offers mobility officials a tool with which they can better follow traffic flows in the city. Residents and visitors get the opportunity to optimize their mobility.
Proactive traffic follow-up
"Follow-up of traffic is our core task," says Tim Claeys of the Ghent Traffic Center (Verkeerscentrum Gent). "We do that proactively insofar as possible, for example by steering traffic through regulation of the traffic lights and dynamic information signs depending on roadworks or events. Sometimes, of course, we also have to intervene in real time, for example when there is a traffic accident."
Generally speaking, a lot of traffic data are available. This includes not just data from the traffic center, but also data from parking companies, bicycle- and car-sharing companies, De Lijn and SNCB, companies such as TomTom and Be-Mobile, and so forth. "That makes the project unique," Filip Watteeuw, alderman for mobility in Ghent, believes. "TMaaS brings together large and small companies from all sectors on mobility. Competitors work together on a project that brings out the best in everyone."
Personalized traffic information
TMaaS brings all that mobility data together in the cloud and bundles it into usable information. "TMaaS feeds our digital dashboard LINK.GentNew window ," explains Tim Claeys. "The dashboard provides up-to-date traffic information in real time." In addition, the information is multimodal. While most mobility platforms primarily give information for car drivers, LINK.Gent also offers information for pedestrians, cyclists and train, tram and bus users.
Traffic Management-as-a-Service adapts all the available mobility data to the situation of the user.
Evert Gellynck, traffic engineer at Be-Mobile
"The user can adapt the dashboard to his personal situation," says Evert Gellynck, traffic engineer at Be-MobileNew window . "For example, you can plot out your regular route to work on the platform. Depending on your mode of transportation, you then receive personalized alerts." That takes place by text message, e-mail or an in-browser notification. Specifically, this involves information on traffic jams or roadworks, for example, and train delays or the weather forecast for cyclists. "The user is provided with information promptly," explains Evert Gellynck, "so that he can adjust his route. Better yet, our platform itself offers an alternative immediately."
No barriers
"A digital traffic center is ideal for small and medium-sized cities," says Filip Watteeuw. "Thanks to the automatic data processing, operators don't need to watch a screen all day." In addition, with the bundling of data on one platform and the use of alerts, a traffic center no longer needs to invest in a control room with a large videowall per se. The expectation is that other municipalities will follow Ghent's example. In the meantime, TMaaS is also being tested in Antwerp, the London borough of Southwark and Duran in Ecuador.
The TMaaS approach keeps the threshold very low. "Cities that want to map out their traffic flows usually have to invest in sensors and counters," says Evert Gellynck. "And they must install dynamic signs to disseminate information. With TMaaS those barriers disappear. We work with the mobility data already available and communicate directly with users."
With TMaaS we make the residents, visitors and businesses of our city aware of their mobility options.
Filip Watteeuw, alderman for mobility in Ghent
Increasing awareness
"With TMaaS we make the residents, visitors and businesses of our city aware of their mobility options," says Filip Watteeuw. "The platform helps to better plan daily travel. With the platform, businesses have the opportunity to examine all the forms of mobility they can use to allow their employees to come to work quickly."
At the same time, TMaaS offers extra input to the city itself. "TMaaS offers new insights in the area of mobility," Filip Watteeuw concludes. "That is especially relevant in the context of infrastructure planning and the further evolution of the mobility policy in our city."
TMaaS
TMaaS relies on a wide-ranging partnership with, in addition to the City of Ghent, Ghent University and KU Leuven, mobility services companies Be-Mobile and TomTom, software developer Waylay, civic organization EPF and communications consultant De Staatse Ruiter.
Filip Watteeuw is alderman for mobility, public space and urban development in the city of Ghent.
Evert Gellynck is a traffic engineer at Be-Mobile.
Tim Claeys is an employee of the Ghent Traffic Center.
Do you want to improve mobility in your city or municipality and make it more sustainable?
Ghent creates a more livable city center thanks to data analytics
One
One magazine is the Proximus B2B magazine for CIOs and IT professionals in large and medium-sized organisations.
Other articles of One