Factory of the future
Published on 15/04/2020 in Sectors 
Data is what makes your factory ready for Industry 4.0. What integrations are possible for your production processes? Is IoT an advantage for your business? What data can you extract from your factory floor?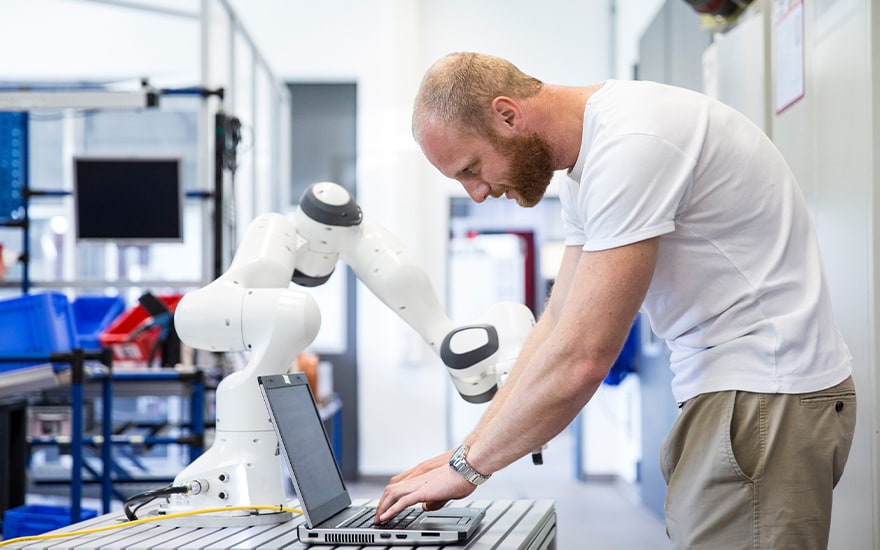 Improve your insights and make better decisions using real-time data. Turn separate silos into a well-integrated business function that co-creates value:
Combine data from devices, websites, applications, servers, cloud infrastructure, networks, and IoT assets.
Monitor and analyze everything from customer clickstreams and transactions to network activity and call records.
1. System and app integration with suppliers and customers
To grow your business in an agile way you need to connect systems and people. Codit is our partner to design and build integration solutions that connect everything and everyone.
Gain valuable insights with Internet of Things:
Get real-time information on your factory's operations
Make substantial cost savings by monitoring and managing energy, lighting and air conditioning remotely
Capture, aggregate and secure data transfers to the cloud
Connect your digital and physical factory data
Customer Stories: Bühler
IoT exponentially increases the efficiency of Bühler Group's food processing equipment. Bühler Group uses IoT in the food processing industry to minimize waste, improve quality, increase yields, reduce downtime and slash energy use. The result for their customers is more control of the food production process and huge cost savings.
2. Innovation in Manufacturing
Predictive maintenance offers you and your customers more insight into the production process by collecting data from machines.
Mere anomaly detection can help you save costs on maintenance, while sensors can even detect unauthorized usage and prevent loss:
Plant asset tracking & management: Avoid unauthorized usage of equipment by tracking your equipment's location, fuel levels, usage throughout your entire company and avoid theft, loss or injuries and equipment failure.
Condition based monitoring: Use your data to monitor the status of your equipment. Detect water leak, vibrations, difference in pressure, humidity in pipe-work, control temperature or prevent corrosion.
Plant or building condition sensors: Sensors enable real-time monitoring of air quality, temperature, lightning or even occupancy at your plant or other buildings.
Drones & robots Drone images provide an overview of the activities at your plant. Robots and cobots on the other hand automate repetitive tasks.
Chatbots & virtual assistants are your customer's assistants of the future.
In 2020 virtual assistance is responsible for 25% of customer interactions.
Customer Stories
They can be deployed quickly and they are a lot cheaper. Ecologically it's great too, because drones are far more environmentally friendly.
says Elwin Van Herck, CEO of Noordzee Drones.
Emergency services deploy camera images from drones on site in real-time. Drones have a supportive role for helicopter units.
Proximus 4G offers the fastest uploading speed and the fastest response times, which is extremely important for fast-growing mobile internet applications such as drone images. Tersec develops and integrates emergency systems. They provide the drone feed and real-time GPS coordinates. This allows emergency services to respond more quickly and more efficiently, wherever they are.