Workforce: from blue collar to digital collar
Published on 15/04/2020 in Sectors 
Mobility is everywhere, from the office to the production floor.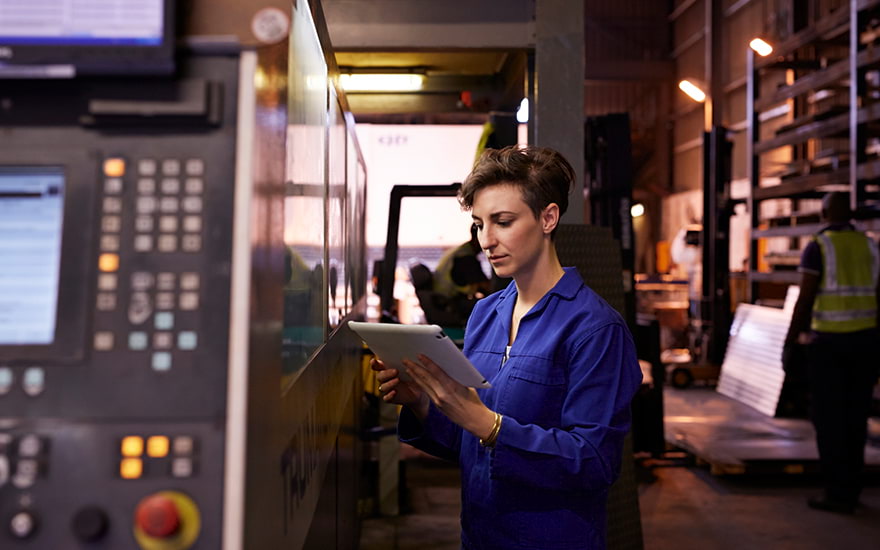 1. Devices & apps
44% of employees think their workplace is not smart enough.
Digitize your staff:
Interact without interfering in your staff's workday.
Enhance productivity by offering a stronger job performance, job satisfaction and company culture.
Request and approve holiday's, plan remote meetings, find meeting room,…
Simplify complicated procedures for product orders, absence requests, homeworking approvals,…
Setup a community or group chat via the app
Store company updates, policy documents, guidelines or training session info in one place
2. Enterprise Mobility Management
Taking the next step in your mobile journey? To manage anything on a mobile platform you'll need to start with Enterprise Mobility Management (EMM).
Drive the emergence of new productivity sources by connecting mobile devices to enterprise workflows no matter the device numbers and types.
Mobile Device Management: Remotely manages the lifecycle of mobile devices and their respective platforms.
Mobile Application Management: Manages mobile applications instead of hardware.
Mobile Content Management: Enables professionals to access content on mobile devices.
Build a sound enterprise mobility strategy & securely transform your critical business processes
EMM is extending into unified endpoint management – combining EMM functions with PC and laptop client devices, from both a company-owned device and BYOD perspective. EMM platforms are also extending to nontraditional connected endpoints, such as IoT-related scenarios
Phil Hochmuth, Enterprise Mobility Research program director at IDC
Customer Stories: Cepa
3. Remote expert
Support is a field that is especially sensitive to new technology adoption. As your company might be expanding, technology can help to provide support from distance to technicians in the field who need more expertise. Use videoconferencing on the mobile devices of your workers to get support from remote experts wherever and whenever they need.
Implement technology for distant support
4. Dect replacement
Integrate your fixed and mobile telephone systems so your staff is always available.
For smartphones and ordinary mobile phones
Separate private and professional calls
Track the usage and costs of your mobile telephones.
One numbering plan for both fixed and mobile phones
No need for mobile data connection
Discover the advantages of mobile integration for better workplace collaboration
5. Advanced Workplace
The advantages of a digital workplace are numerous for an always-on factory:
Workers have access to documents, business applications and contacts everywhere for efficient communication and collaboration.
Instant messaging, presence indicators, audio, video and web conferencing enhances distant support.
You acquire insights on user adoption of digital tools through analyses, reporting and KPI dashboards.
Customer Stories : Barco
The flexible and digital workplace of Barco
In 2016, Barco in Kortrijk moved to a new site where the most striking feature is the circular, glass building, The Circle. With it came a new way of working, flexible and digital, catered wholly to the needs of modern employees.