"Drone services have a huge potential"
Published on 10/06/2022 in Innovate 
Unmanned aviation is on the brink of a major breakthrough. SkeyDrone provides air traffic control for drones. "The more applications there are, the more public support there is."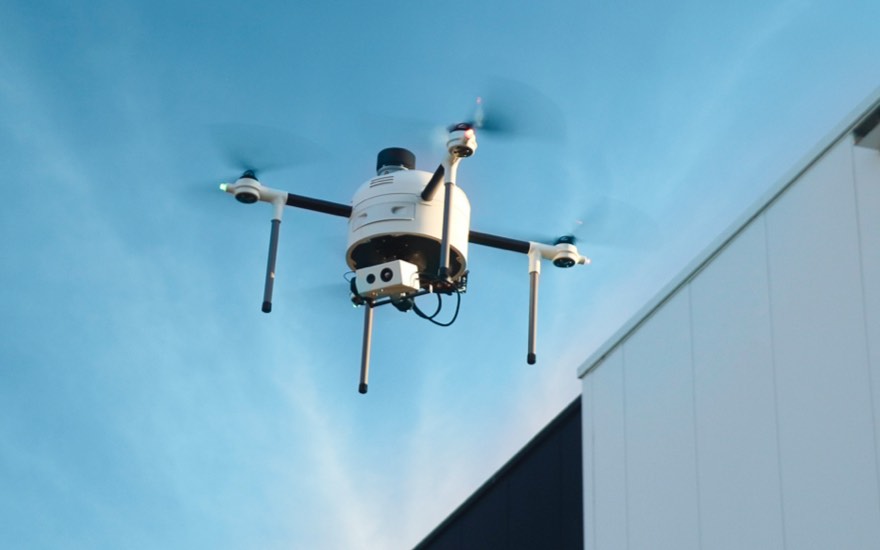 SkeyDrone is a subsidiary of skeyes, the autonomous government company responsible for air traffic control, and Brussels Airport Company. The company's main objective is integrating drones into the lower airspace safely and efficiently. "One of the ways we do this is by providing traffic information services to drone operators," says Hendrik-Jan Van Der Gucht, managing director of SkeyDrone.
The company is getting ready for 'U-space', a new era in aviation in which it will play the role of 'U-space service provider', that is as the manager of the lower airspace where drones fly. Using SkeyDrone's software-based services, operators can prepare and execute their drone flights safely and efficiently.
Consider us the traffic controller for unmanned aviation. We continuously keep drone operators informed of the situation, both on the ground and in the air.
Hendrik-Jan Van Der Gucht, managing director of SkeyDrone.
Real-time information
SkeyDrone's task is to support operators of drone flights. "We offer operators a real-time situational awareness. In other words, we continuously keep the operator informed of the situation on the ground and in the air. It is especially important to have this real-time information when the operator is operating a drone that is flying out of sight. This way, we help operators navigate their drones safely among other air traffic."
In contrast to classic air traffic control for manned flights, which is still largely done by voice where an air traffic controller talks to the pilots in the cockpit, for unmanned aviation everything happens via software and data exchange: SkeyDrone's software 'talks' to the operator's software, as it were.
Large-scale drone services
In the port of Antwerp, formally Port of Antwerp-Bruges, SkeyDrone is part of the 6th NeTWorK, a consortium that focuses on the development of drone services. The project involves DroneMatrix, a developer of drones and drone software, and telecom operator Proximus. Going by the name D-Hive, the consortium will offer automatic drone flights: drones as a service. "Over the years, there have been many drone pilot projects," said Van Der Gucht, "but these were mostly one-off exercises with non-scalable risk mitigation measures. But in the Antwerp-Bruges port, we are taking a big step."
Barely one per cent of drone flights today occur beyond line of sight but these are the kinds of flights that will unlock the full economic potential of commercial drone operations.
Hendrik-Jan Van Der Gucht, managing director of SkeyDrone.
The aim is now to scale up the concept of 6th NeTWorK for other ports and cities. "We offer the market a risk management framework. It is now crucial that the national regulator (the Belgian Civil Aviation Authority) catches up."
Van Der Gucht points out the potential of the market. Barely one percent of drone flights take place beyond line of sight, as the professional term is, where the operator has no direct view of the drone and the growth potential is enormous. "Think of inspection flights for infrastructure (railways, high-voltage lines and such) and large industrial installations, supporting emergency services during incidents and more."
Drone couriers and drone taxis
It is not just the technological evolution that determines how quickly we will see new drone services emerge. "Support from the wider society is also essential," said Van Der Gucht. "That is increasing as more use cases that benefit the wider society emerge, such as the transport of medical samples between hospitals and laboratories."
Will a drone courier soon be delivering packages to your back garden? "Frankly, I doubt it. The risk is too high and there is not much support from society," answered Van Der Gucht. "At this point, it is controlled areas such as the Antwerp-Bruges port that will see the fastest growth in drone services. Flying drones in urban areas comes with additional challenges. But we will get there, including transporting people. The first operational drone taxi service in Europe is already planned for the Paris Olympic Games in 2024."
Hendrik-Jan Van Der Gucht, managing director of SkeyDrone.
Want to know more about the project in the port of Antwerp-Bruges? Piet Opstaele, innovation manager at Antwerp-Bruges Port Authority, explains more in an interview.
Smart stock management, asset tracking and mobile warehouse staff. These are just a few of the solutions that Proximus has to offer in the Transport and Logistics sector. Want to know more?
One
One magazine is the Proximus B2B magazine for CIOs and IT professionals in large and medium-sized organisations.
Other articles of One