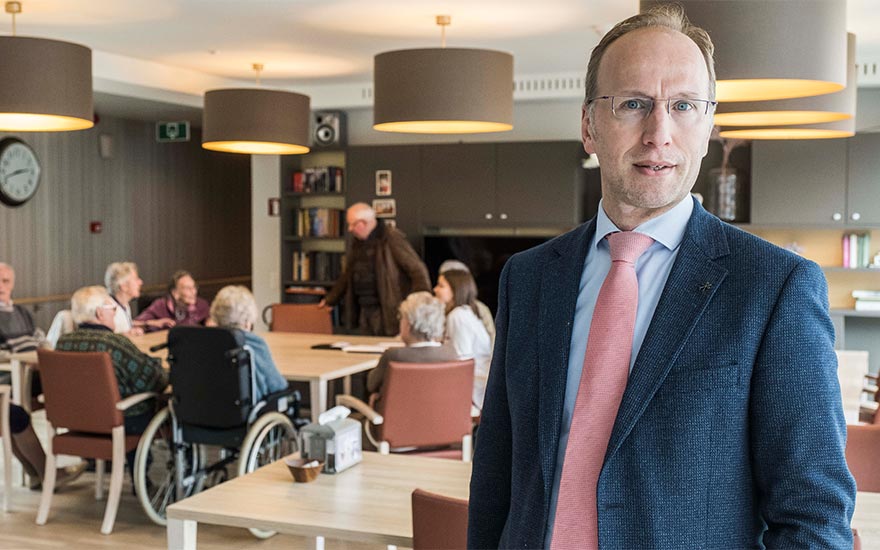 Anima Care positions itself as a fully private player in the Belgian residential care center landscape. It went in search of a total solution for the connectivity of its 21 residences and 2000 seniors.
Connectivity is a must for Anima Care, given its resolutely modern and dynamic approach. The challenge lies in offering the residents maximum wellbeing and automating and digitizing as many tasks of the 1350 staff members as possible. "The seniors we welcome expect at least the same level of comfort that they had at home. So that also includes internet access and television programs, to mention only two items," says Ronny De Pooter, Financial Controller at Anima Care.
Total solution
In 2012 Anima Care started searching for a connectivity solution for its centers under construction. "I quickly realized that, although many solutions existed on the market, they were not necessarily managed by a single partner. In that respect Proximus quickly turned out to be the right choice: a single partner for a multi-partner customized solution," Ronny clarifies.
Working anywhere via tablet
In addition, for Anima Care the solution had to offer a two-fold advantage; it had to mean added value for the residents and the employees. No problem for Proximus Explore, the private and secure network, and Proximus Business TV. Explore makes it possible to integrate several applications (voice/data/video/electronic payments/cloud applications, etc.) into the same network, while Business TV focuses on hospitals and residential care centers with a solution that offers the services of digital television via IP technology.
"When the project started we met the managers of a pilot project to get more insight into the possibilities. I was convinced immediately. Today our staff members work anywhere thanks to their tablet, which is connected with the central network, while our seniors can benefit from the many advantages of Business TV, which we manage in a centralized way," Ronny explains.
Always looking ahead
The seniors of tomorrow belong to different generations. They live in a different world and will have different wishes too. That holds likewise for residential care centers. "The needs of our clients evolve and we are already preparing ourselves now to take advantage of the full potential of IP solutions to offer new services and unlimited connectivity, internally and externally," Ronny concludes.
Anima Care is a subsidiary of the Ackermans & van Haaren group. It was founded in 2007 and is active in the high-end segment of residential care centers for seniors.
21 residences in Belgium
Serving over 2000 seniors
1350 employees
Revenue of 75 million euro in 2017
Ronny De Pooter graduated as a business engineer from KU Leuven in 1996. The common denominator throughout his career is his interest in finance, IT and new technologies. He has held the position of Financial Controller at Anima Care for six years.

The seniors we welcome expect at least the same level of comfort that they had at home. So that also includes internet access and television programs.

Ronny De Pooter Financial Controller at Anima Care