Support and simplify the tasks of healthcare staff
Published on 13/08/2021 in Sectors 
With the right tools and technologies, you support the professional lives of your healthcare staff, so that they can focus, as much as possible, on the care of their patients.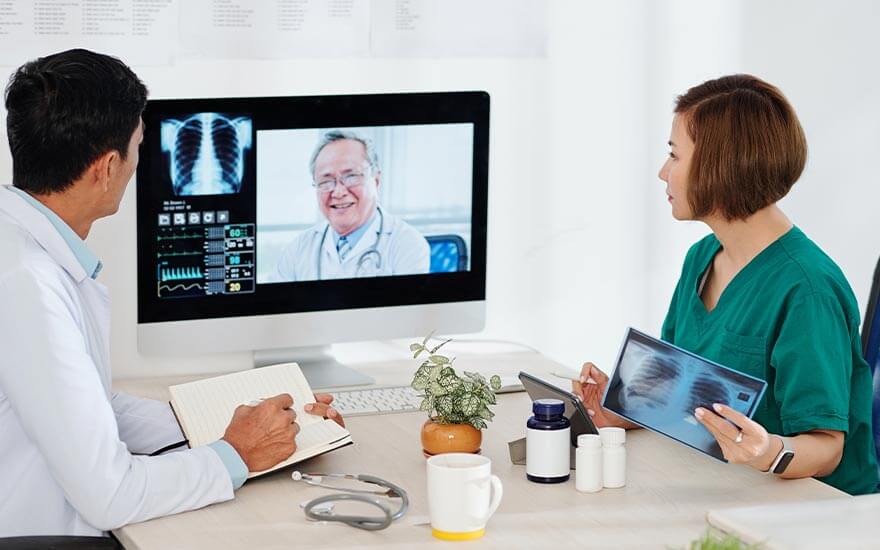 Support the healthcare industry
The healthcare in our country is of top quality and that is why we would like to support the professional life of every care provider and simplify it in all its facets. We have many options to do just that, from alarm systems linked with advanced telephony to innovations such as asset tracking and IoT-based geolocation.
How do we do this concretely? Let us clarify with an example. Medication, vaccines and blood bags must be transported at a specific temperature and humidity. To do this correctly, it is important to monitor the environment. Vaccines that are stored too warm or too cold are no longer useful. Monitoring whether they are moved from one place to another at a constant temperature becomes possible with IoT sensors.
Unite your fixed and mobile telephony with Fixed Mobile Unification
Many of your healthcare workers nowadays have both a fixed and a mobile device. But that is not always easy. Which number should they give to patients, colleagues or external partners? On which number, on which device and on which voicemail do they wish to be reached for professional calls? As a company, you also want to keep track of your costs and impose certain business rulesfor using the telephone or cellphone.
Fixed Mobile Unification (FMU) unites your fixed and mobile devices in your business telephony platform. Your employees share one general phone number, never miss a call, even abroad, and decide when and how they want to be reached.
The benefits of Fixed Mobile Unification…
…for your employees:
FMU is device-independent and works on any cellphone
Not a single call is lost: your employees can always be reached on their professional number, wherever they may be
Easy to use: it is not necessary for your IT department to install or manage apps on the user's cellphone
…for your organization:
Cost effective: no extra costs are charged for calls between colleagues
Simple billing: Calls are billed on the company bill when the user is logged in. If not, they will be billed on their mobile bill
FMU supports your corporate identity: the professional (landline) number is always displayed when calling
Customer testimonial
Fixed Mobile Unification at ISPPC
ISPPC is an intermunicipal health service that manages hospitals, outpatient clinics, rest homes, crèches and youth care centres. In order to optimize mobility and communication, the intermunicipal company has merged the fixed and mobile networks.
To meet the need in terms of communication and mobility, Fixed Mobile Unification was chosen. For example, a cellphone can be used as if it were connected to a telephone exchange and enjoy all the advantages of that exchange. In addition, an IoT solution (Internet of Things) is also used to monitor the temperature of blood samples and alarms when a certain temperature has been exceeded.
What can Fixed Mobile Unification mean for your company?
Discover Fixed Mobile UnificationNew window
Download the brochure(PDF, 645 KB)New window
Internet of Things connects people, objects and buildings
By connecting medical devices, sensors, rooms and buildings, you can dramatically improve the management of parking lots, interactive terminals for patient care or even fall sensors for the elderly.
Moreover, with IoT you can also provide an answer to the challenge of the geolocation of equipment that is loaned between departments. No more endless searches, as the location of any mobile scanner or infusion pump is instantly identifiable.
Thanks to this IoT data, you are aware of everything, optimize your processes and improve the comfort for your staff and patients.
Discover new IoT applicationsNew window
Download the IoT starter guideNew window
Customer testimonials
1. IoT: the CHU Charleroi innovates like never before
Everyday life follows the rhythm of e-health and IoT.
2. Connectivity and much more in the vaccination centers
IoT monitors temperature of vaccines and blood samples.
Smart Asset maps your equipment in real time
Found it! Do you also breathe a sigh of relief when you have finally found that valuable scanner, infusion pump or ultrasound device? From now on you no longer have to do the search yourself: Smart Asset does that for you. Just attach the sensor to your equipment and you'll always know where it is.
Smart Asset literally maps your equipment. In real time: you know exactly which object is where at any time. And how it is being moved. This saves everyone time and you can even trace stolen equipment.
Is your medical equipment transported and stored correctly? Smart Asset tells you if the location, temperature and/or humidity is ok. At the slightest anomaly you will receive an email or text message.
Download the brochure(PDF, 1.83 MB)New window
Discover more?