We guarantee you a secure and continuous business
Published on 13/08/2021 in Sectors 
Thanks to our wide range of connectivity solutions, the continuity of your organization is consistently assured and your sensitive company data is always protected.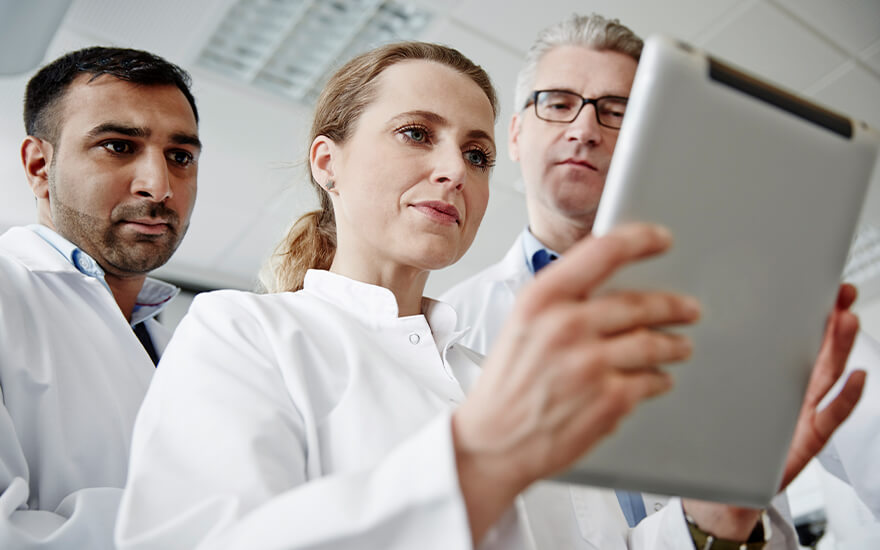 Continuous operation
The continuous operation of a health facility is critical to patient care.
To guarantee continuity, healthcare providers need communication solutions that are reliable in every scenario and protect against any form of privacy violation.
With our wide range of connectivity solutions, ranging from fiber, LAN/WAN, to 5G, Proximus has everything in-house to support you in any digital project. We guarantee that your business will continue to run, so that your employees can focus caring for their patients.
Crystal-clear connections thanks to fiber and LAN/WLAN
A good, solid network is the basis for digital healthcare and ensures that your staff has access to the necessary applications anytime and anywhere, in a secure manner. We provide advice and supply, install and maintain your infrastructure.
Our fiber solutions ensure, first and foremost, that you can enjoy a lightning-fast internet connection. Fiber cables transmit data at the speed of light over great distances and therefore offer many advantages. Unlike most operators, Proximus also installs fiber right into the heart of your healthcare institution. This way your staff gets the best possible results.
A fast internet connection also requires smooth network access. That is why we combine our fiber solutions with a high-performance LAN/WLAN network to give your healthcare staff direct access to your network wherever and whenever.
The advantages of fiber and LAN/WLAN…
…for your employees:
Smart collaboration tools
Separate WiFi access for internal users and visitors
…for your organization:
Automatic reporting and alerts via dashboard in the cloud
Control over increasing number of users and applications
Partly or fully managed by us, so no more stress for updates
Learn more about Proximus Smart Network
Download the brochureNew window
Assist & Care unburdens care facilities
Looking for an ICT infrastructure that meets your needs 24/24, is scalable and operational?
Proximus Assist & Care offers you a range of service options, from which you can flexibly choose the solution that best suits the needs of your healthcare staff. That way you guarantee the continuity of your care.
Choose Assist if you are looking for:
an ICT infrastructure that meets your needs
new solutions that can be easily integrated into your existing IT environment while controlling costs and risks
Secure connections and workplaces
A reliable service starts with a secure network. Not only devices infect an IT infrastructure, but also applications and surfing to unsafe websites.
Therefore, choose the right firewall and make vulnerability management a key topic within your healthcare institution. Keep your IT infrastructure virus-free and ensure a secure network.
Protect your devices and data against security threats such as ransomware, DDoS and phishing. Detect malicious apps, locally, in the cloud, or hybrid.
Manage and secure your mobile devices
Download the Cloud Mail Security brochureNew window
Customer testimonial
Kind en Gezin: expensive equipment out, mobile app in!
Read more
Increase the efficiency & intelligence of your network with 5G
Is your organization already preparing for a future with 5G? If not, it's high time.
The strength of your digital network is the basis for the efficiency and quality of your care. This instantaneousness and reliability are indispensable for applications that require immediate response (virtual reality, autonomous transport, robotization, ...). 5G brings new functionality to the infrastructure of your healthcare company.
5G consumes 10 times less power compared to 4G for the same data package
In terms of efficiency, 5G networks take the cake. They consume little power when there is little traffic, which drastically reduces your power consumption. In addition, your network also becomes more intelligent: when data traffic is low, certain elements are automatically put on standby, and when traffic increases they become active again, which of course also benefits energy consumption.
Additionally, in crisis situations, 5G will be able to help emergency services with the help of network slicing. This allows the network to be divided into 'slices' and assigned to specific applications, such as for caregivers during an event.
The benefits of 5G…
…for your employees:
Data and information are available in every situation
New innovative applications become possible
…for your organization:
You increase the efficiency of all your employees
Your power consumption is optimized
Want to know more about 5G?
More on the launch of 5G(PDF, 278 KB)New window
An answer to all your 5G questions
Discover more?