10GB for free with your Internet
Cloud
Your memories everywhere with you
10GB for free with your Internet
An app to save all your photos
Easy access & sharing from all your devices
To benefit from Cloud, you must be a Proximus Internet customer.
Free
if you're an Internet customer
Please note that using this service consumes mobile Internet volume. To avoid any impact on your 3G/4G volume, we recommend that you use Cloud via Wi-Fi. Cloud isn't included in packs.
Good reasons to shop online
What is the cloud?
Store all your personal content: photos, videos, music, files, etc.
Online and in a secure way
Easy access and sharing from all your devices: your pc, smartphone and table
What does this storage volume correspond to?
With 10 GB you can store:
4000 photos (2.5 MB per photo)
or 20 personal videos (500 MB per 5-minute video)
or 2000 music tracks (5 MB per track)
or 20,000 documents (500 KB per document)
This estimate, based on an average theoretical use, is for information only and has no contractual value.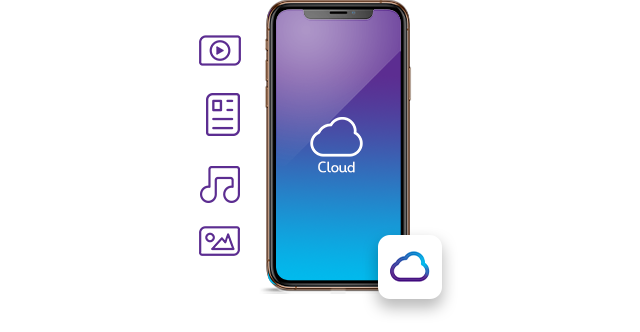 What is automatic backup?
You can choose to save your favourite files of your PC, smartphone and tablet either automatically or manually. Automatic backup allows you to save your files directly in the Cloud without you having to do anything. You decide what types of files (photos, videos, documents, etc.) should be backed up automatically.
Questions about our offers?
An advisor is at your service